HRP 2023 east-to-west: stage 1 - Banyuls to l'Hospitalet
Dipped my boots in the Mediterranean and left Banyuls' stony beach at 5:30am in an attempt to beat the heat.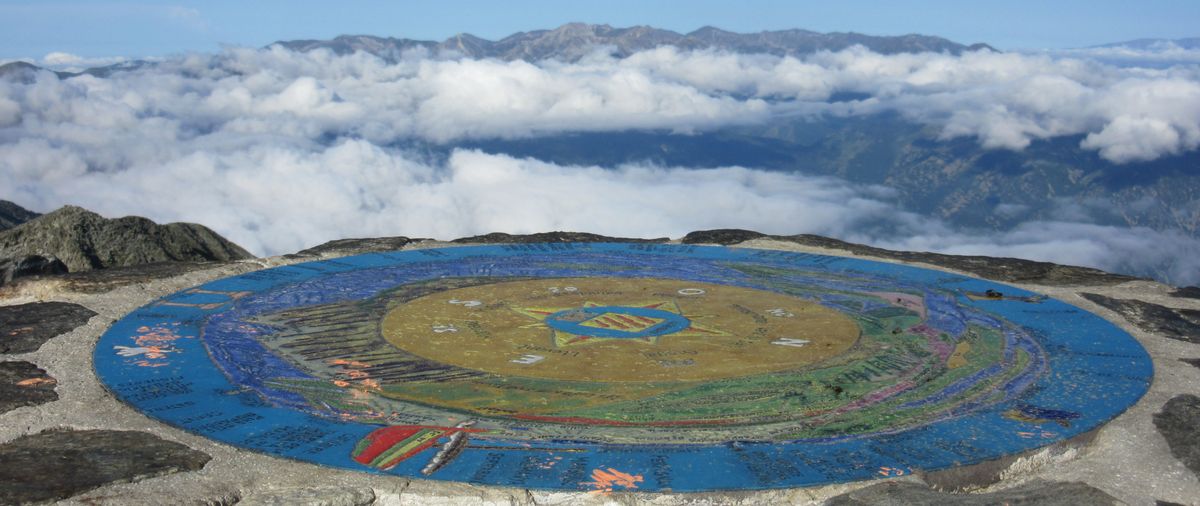 Getting to the start
Flew into Toulouse late and stayed at a cheap and basic hotel near the airport.
The next day I walked into the train station in town, going via the Decathlon shop to buy some stove gas and a newsagents to buy some lighters. And then a midday train to Banyuls with one change at Narbonne.
I stayed at the Hotel Les Pecheurs which is conveniently located near the beach and town centre. Did some food shopping and sorted my backpack out.
Day 1: Banyuls to (just above) Le Perthus
It was still pitch black when I dipped my boots in the Mediterranean and left Banyuls' stony beach at 5:30am in an attempt to beat the heat. There had been a heatwave, and although the temperature had dropped a little over the last couple of days it was still ridiculously warm. There was a bit of a breeze as I climbed... but it was about as cooling as a hair-drier. I took three litres of water with me and I was glad I had: I'd pretty much drunk it all by the Tanyareda water point!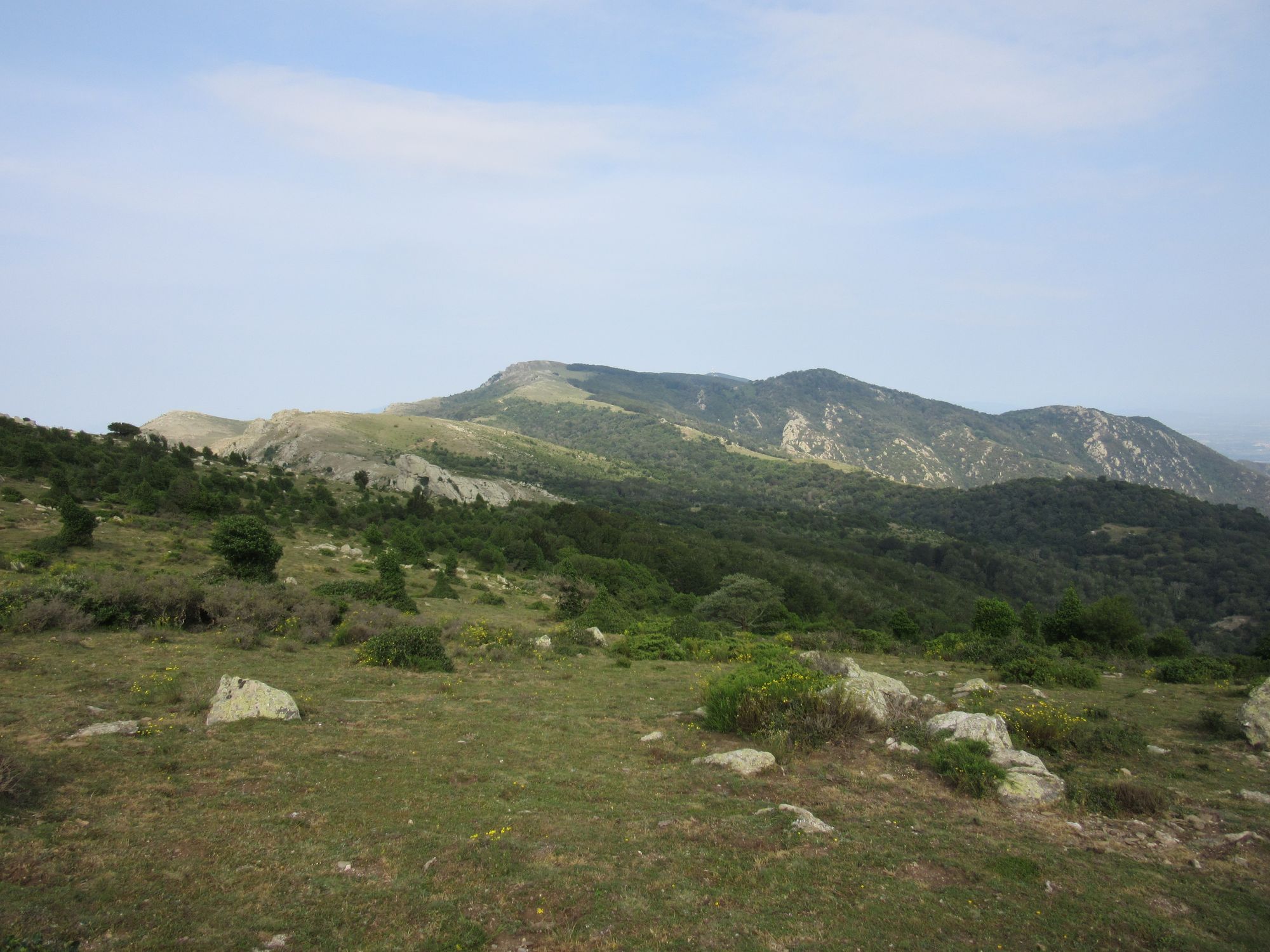 Reached Col de l'Ullat at about 2:30pm. Considered stopping there but what I remember (from my previous 2018 crossing) as a decent flat grassy area for camping seemed to have been turned into an expanded car-park, and with what's left you'd either be on a slope in the picnic area or right next to cars likely to be coming and going all evening to eat at the gite. Underwhelming.
Anyway, pushed on a bit towards Le Perthus... it wasn't easy to find a pitch in the sloping woods but eventually a bit of old overgrown disused side-track sufficed. Got into the tent just as a late afternoon thunderstorm broke.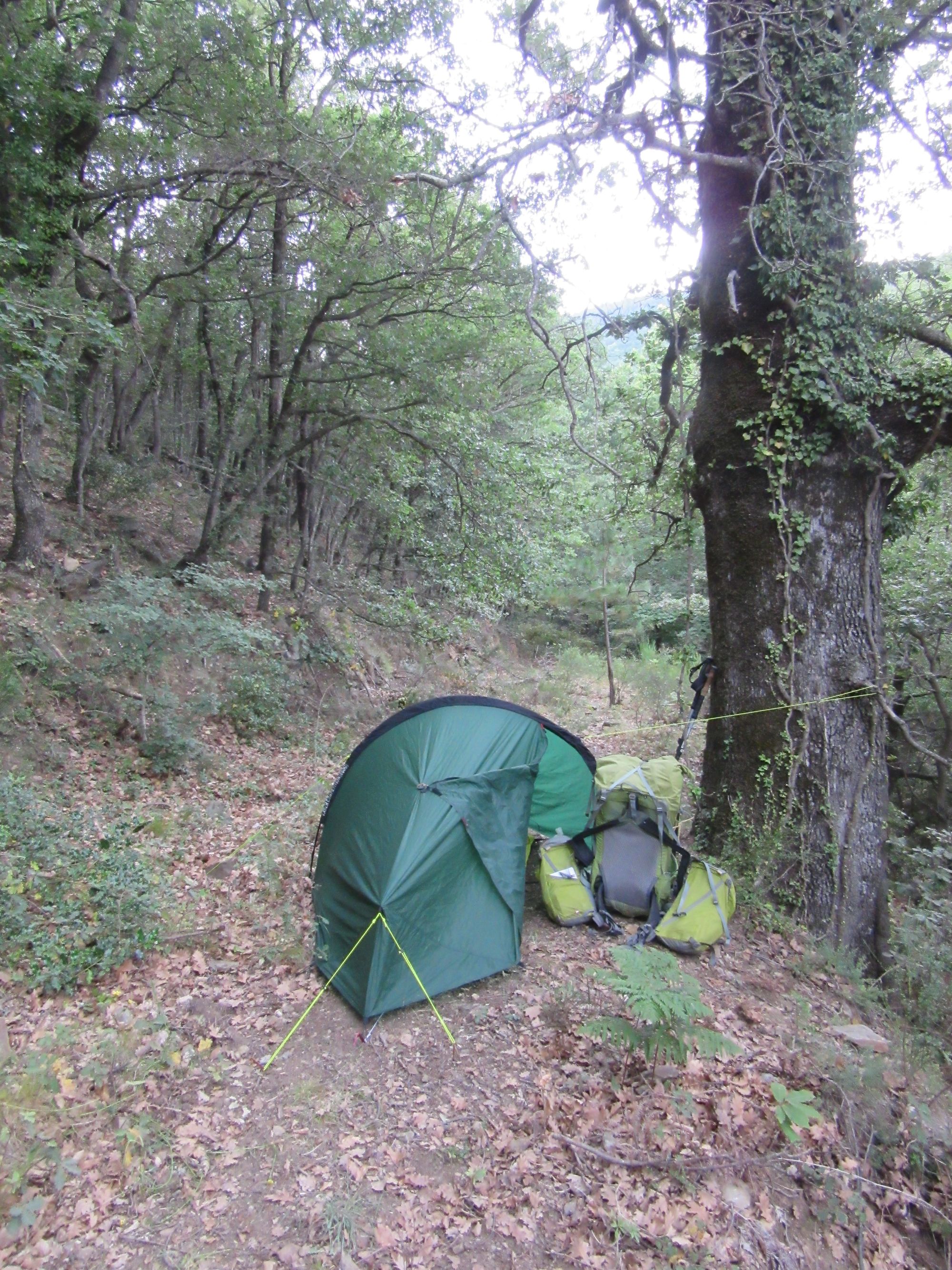 Day 2: Le Perthus to Ermita de las Salinas
Cooler than yesterday and with a nicer breeze and gentler climbs. Descended through the cork forest and under the motorway into Le Perthus for brunch.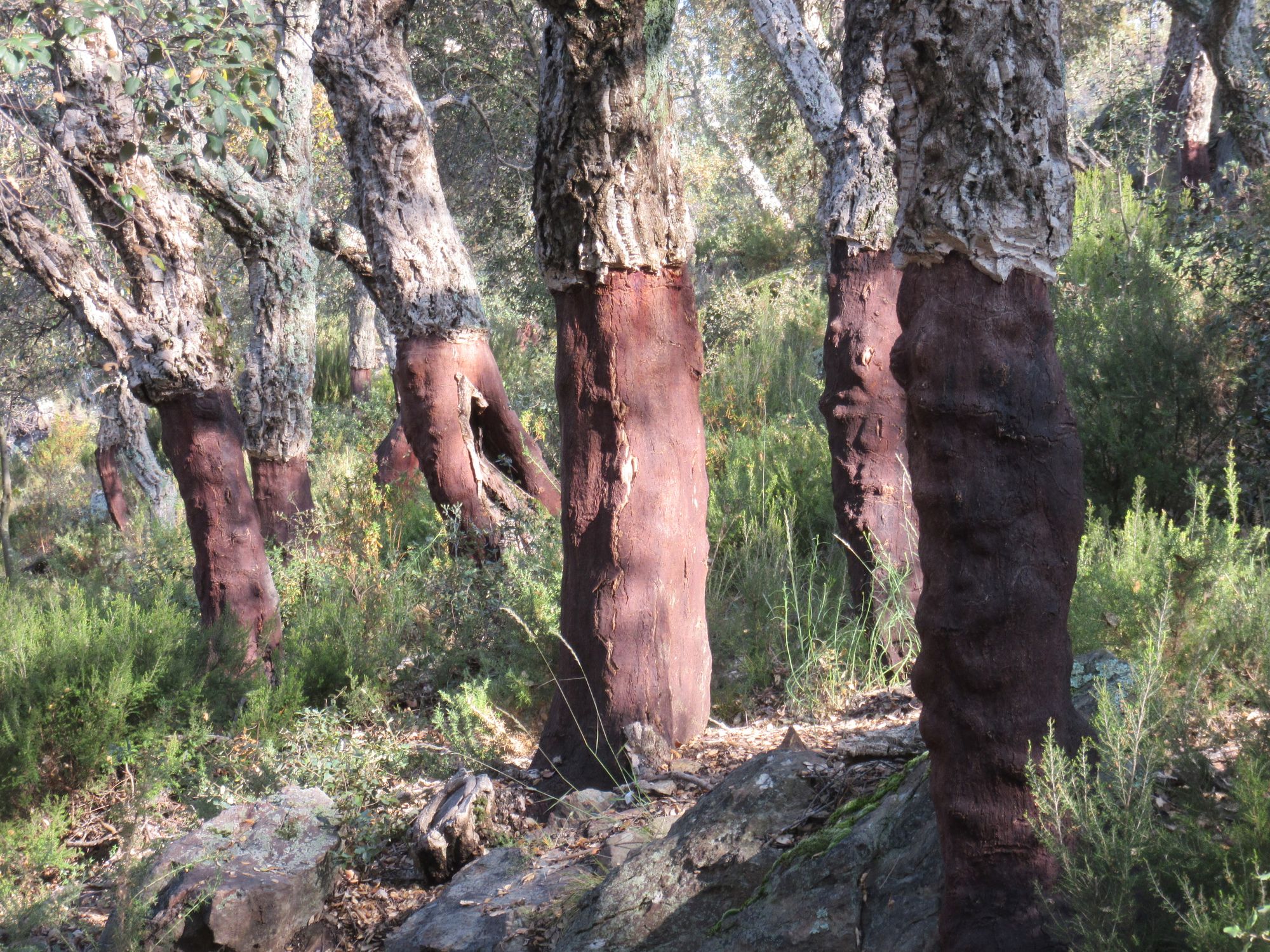 The place didn't have the "OMG WTF!?" impact it did last time I came through here in 2018... I'd not been out in the wilds long enough yet.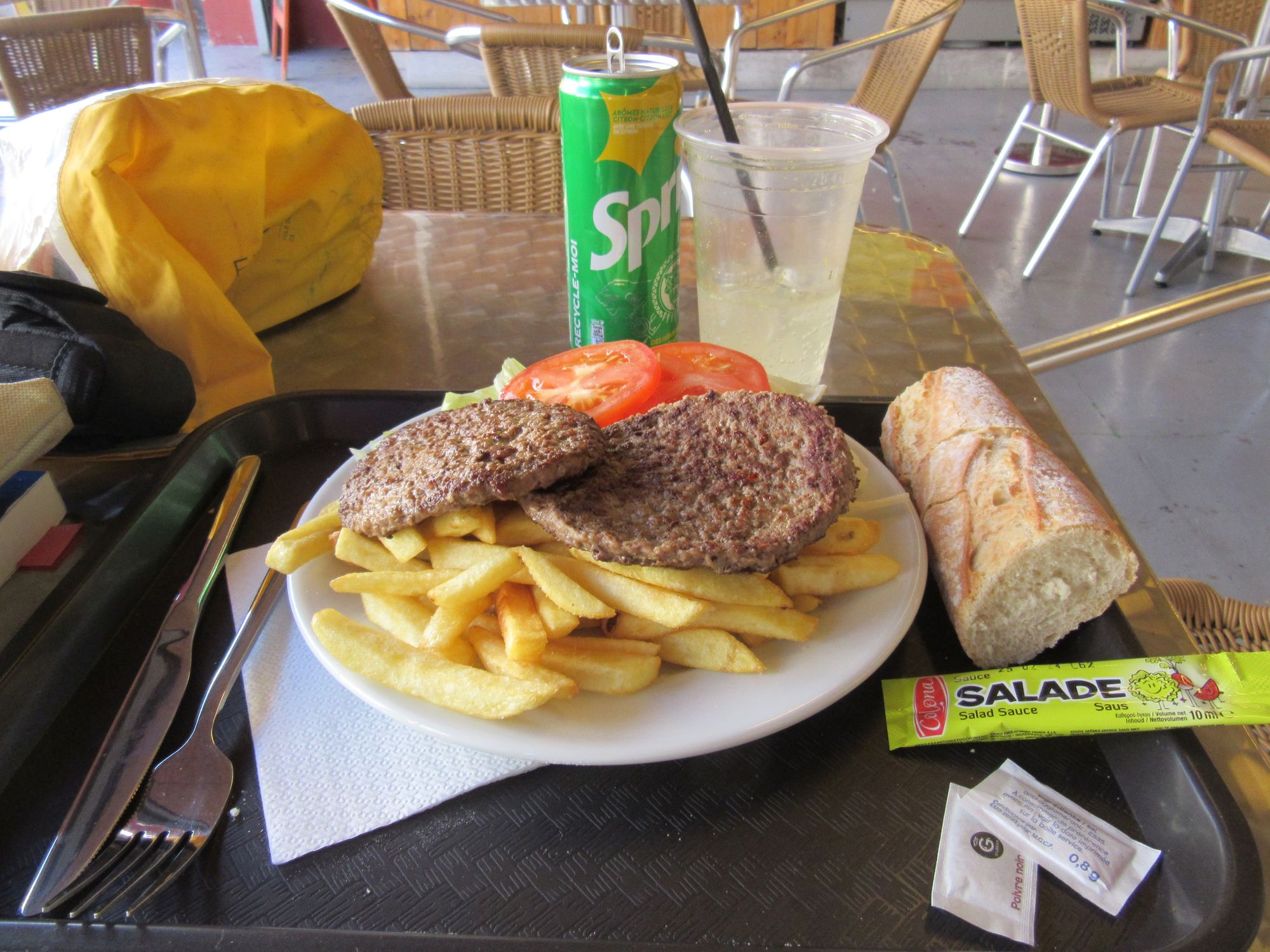 Then onwards for refreshments in Las Illas and up the hill to Ermita de las Salinas. Poked my head into the refuge bit of it, but it was so dark and smelly (smoke and sweat) that I preferred my tent out on the lawns (as did some other arrivals).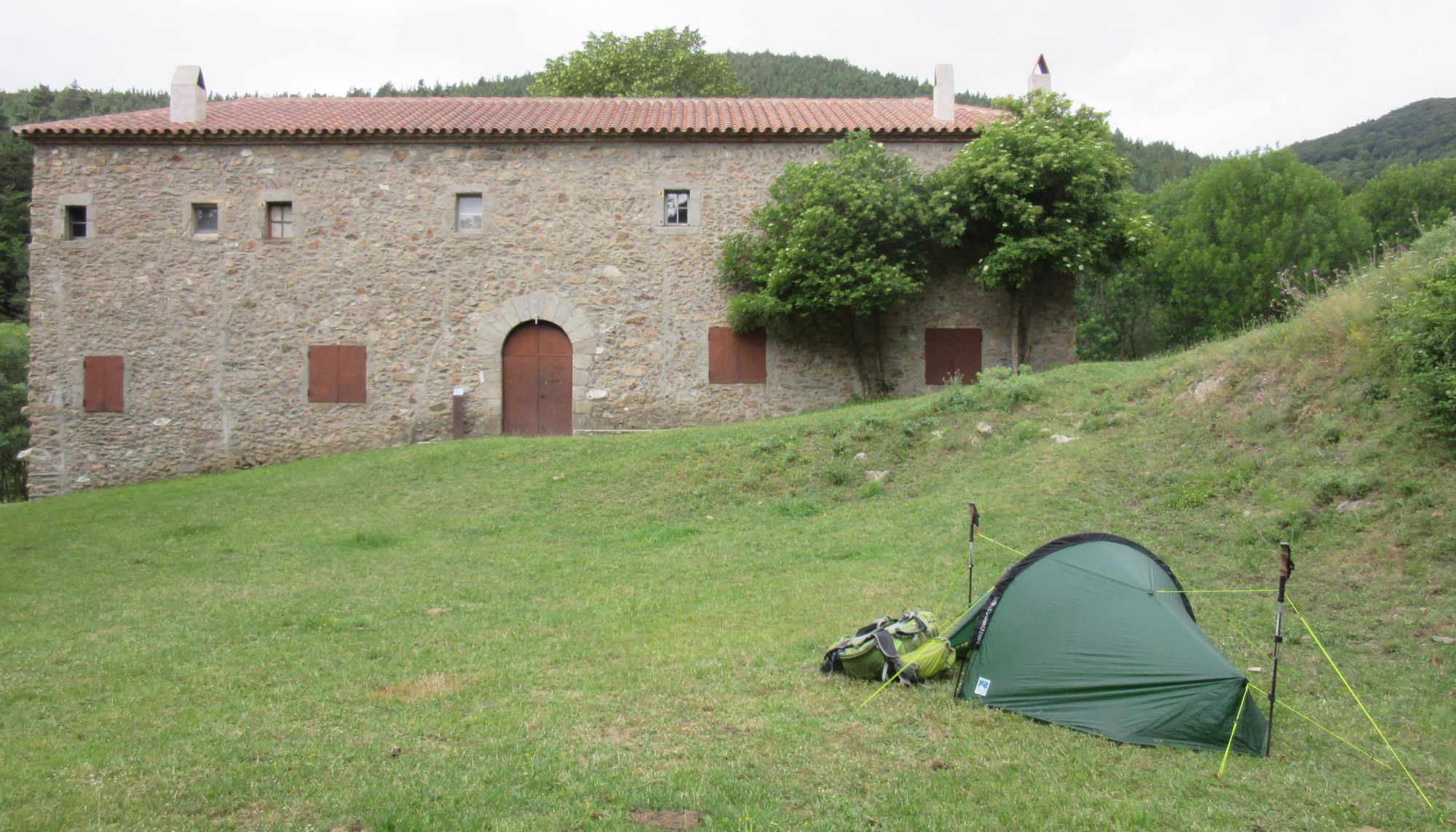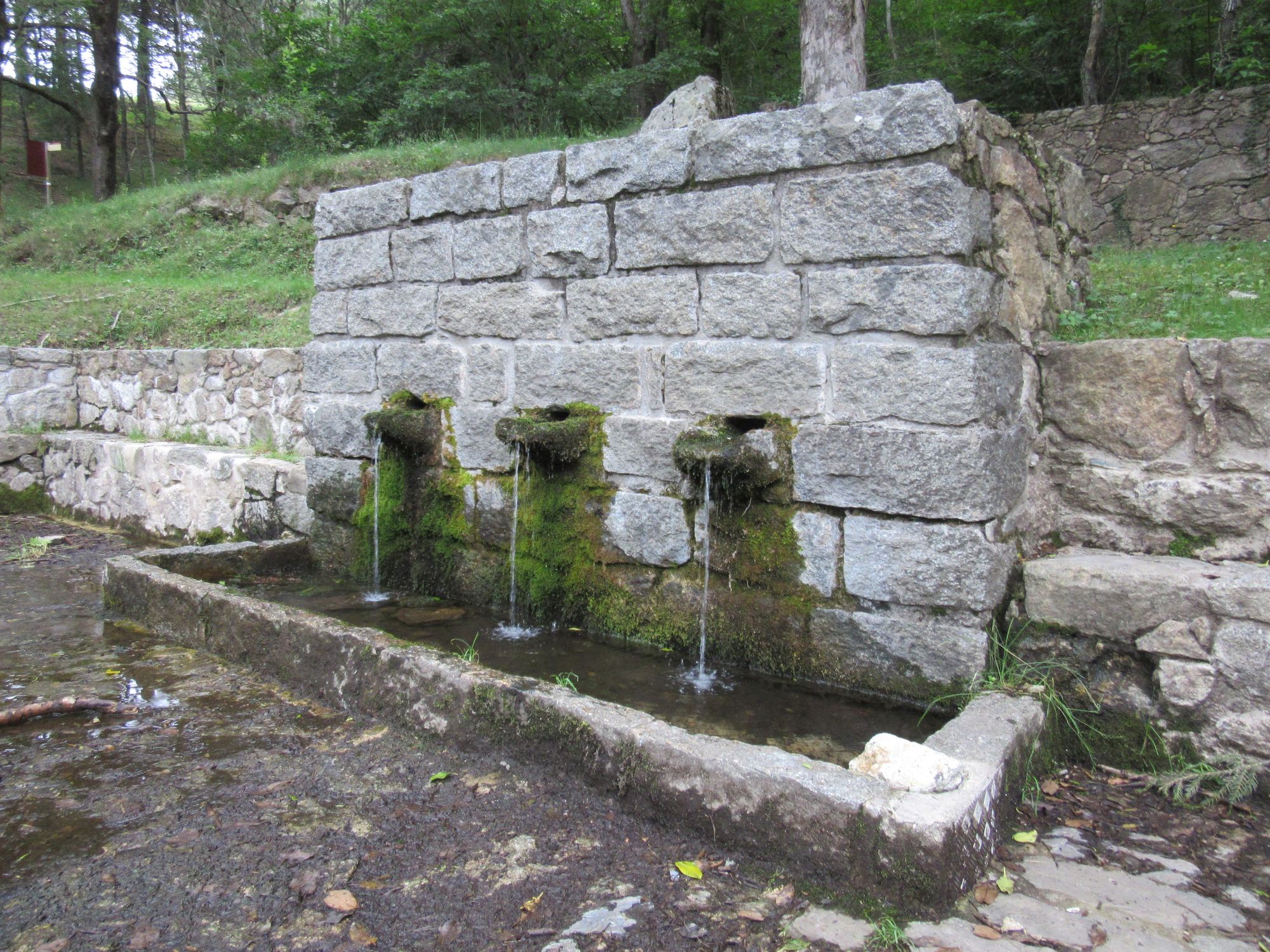 Day 3: Ermita de las Salinas to beyond Arles
Lovely cool walking in the beech forests around Roc de France in the morning. Took a shortcut down from Col Cerda - not recommended! - and it cost me some backtracking as the GR10 now crosses the river further south than it did in 2018 and I missed the turnoff to the new crossing (it used to be nearer the gite; it looks like the "ruined house" mentioned in the guidebook has been done up and is someone's private property; some painted-over GR10 signage could be seen).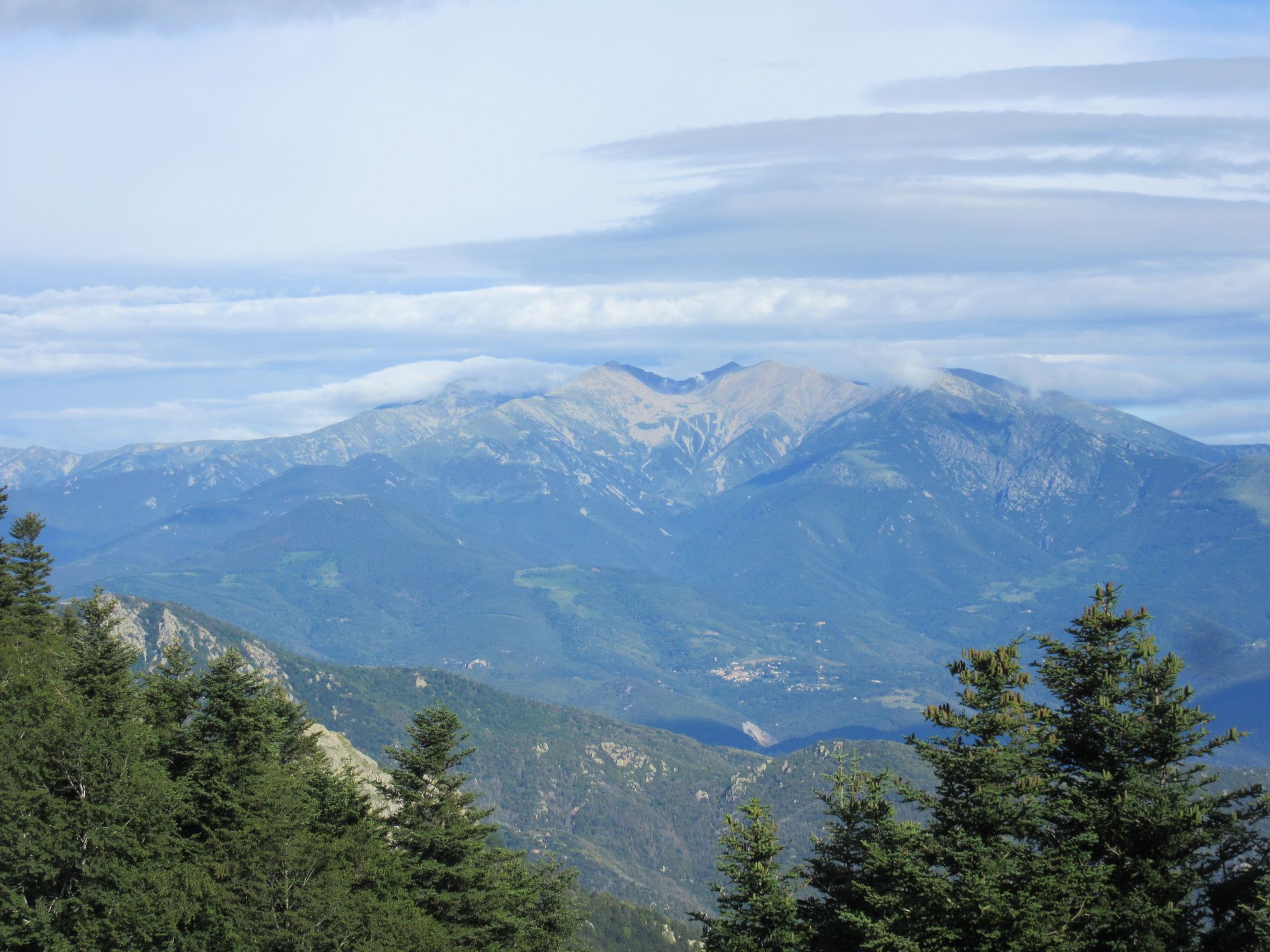 It started to get hot climbing over to Arles... which was an inferno. There was not a breath of wind and I was dripping sweat. Everything in Arles was closed, except the supermarket.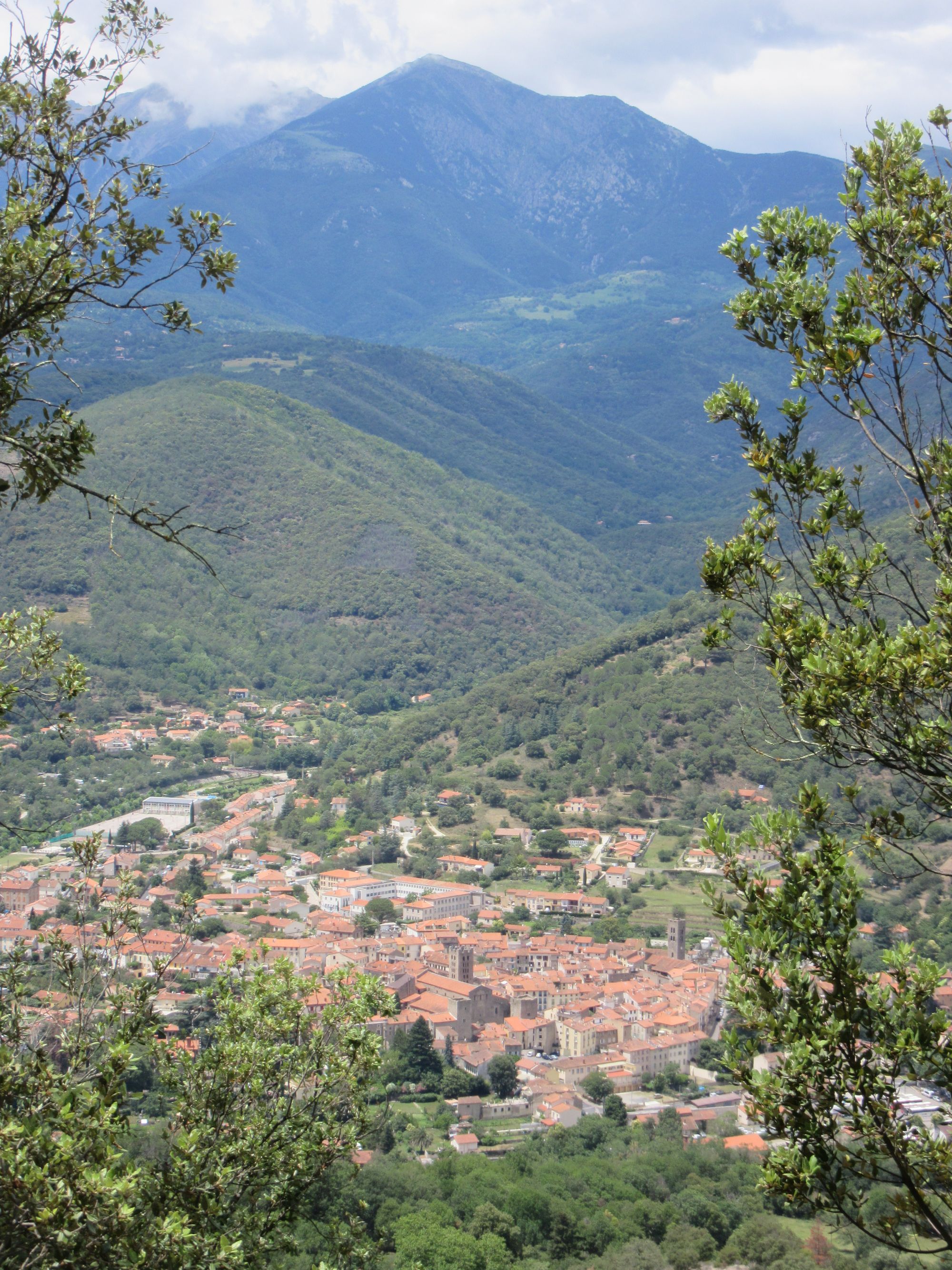 Climbed out of town and camped at the "Ancienne Station des Vigourats" (some old mine buildings). There was useful water in the stream crossed a bit below it.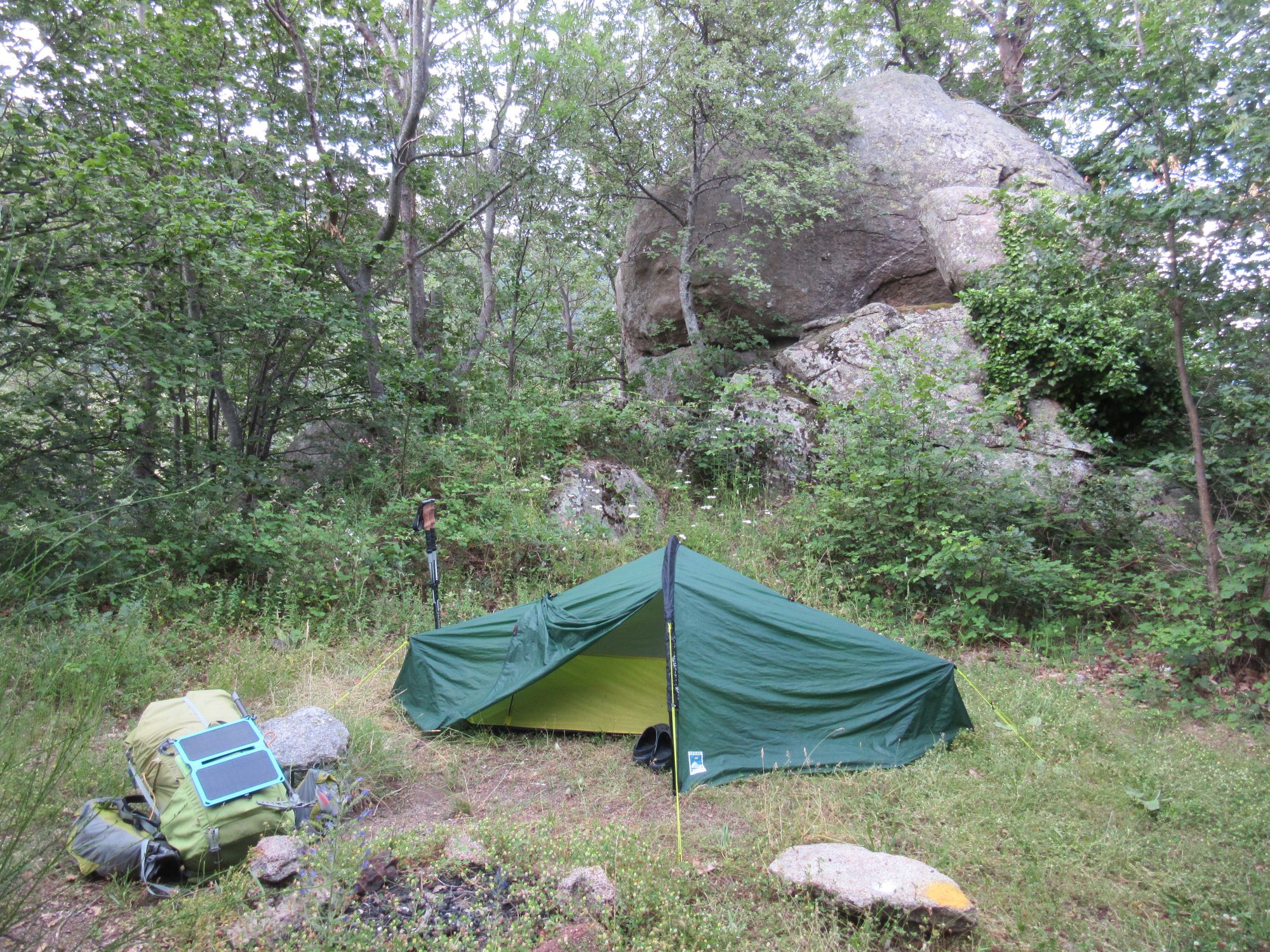 Day 4: Arles to Refuge des Cortalets
Slogged up to Refuge des Cortalets. Plentiful water available coming down the many streams crossed as the path traverses the flanks of Canigou's massive bulk. Above 1600m the temperature actually became pleasantly cool!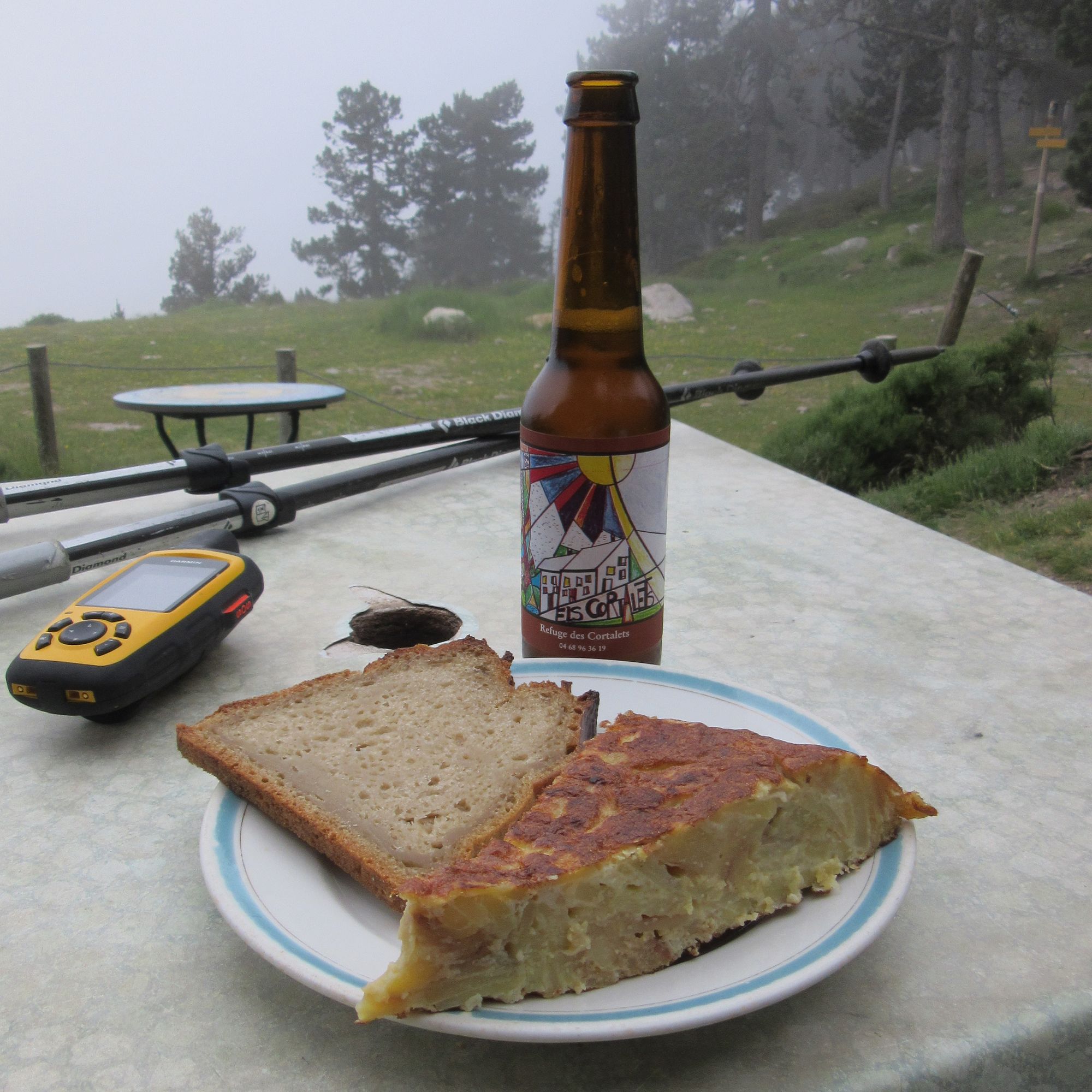 I could have probably made it over Canigou but the cloud was down, so I camped by the nearby Lac des Cortalets (2164m) in the hope an early start would bring better conditions.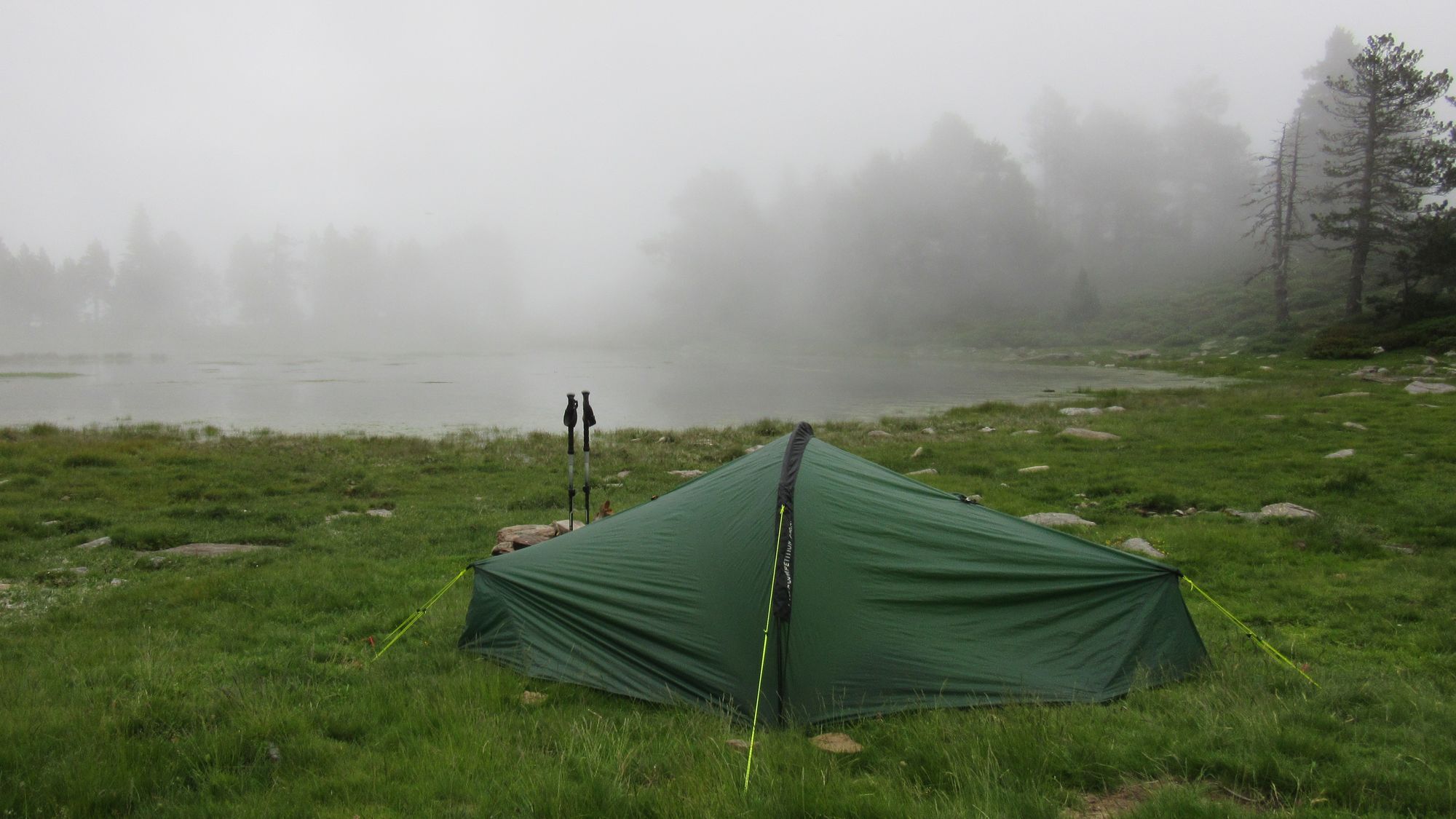 Day 5: Refuge des Cortalets to Pla Guillem
Got over Canigou with clear blue skies above and clouds below.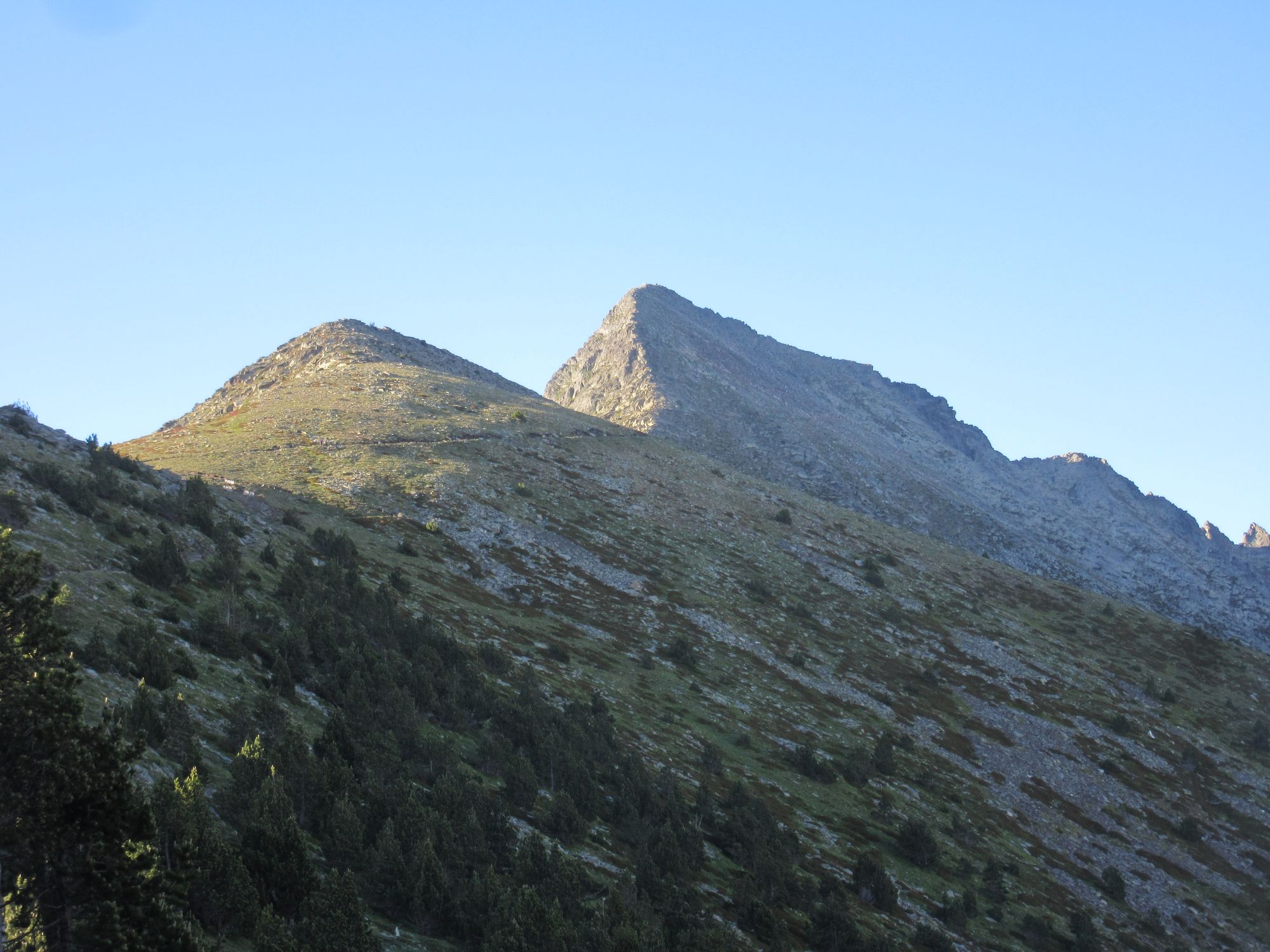 The descent of the "chimney" was negotiated easily enough despite the big pack. Arrived at Refuge Mariailles in time for lunch.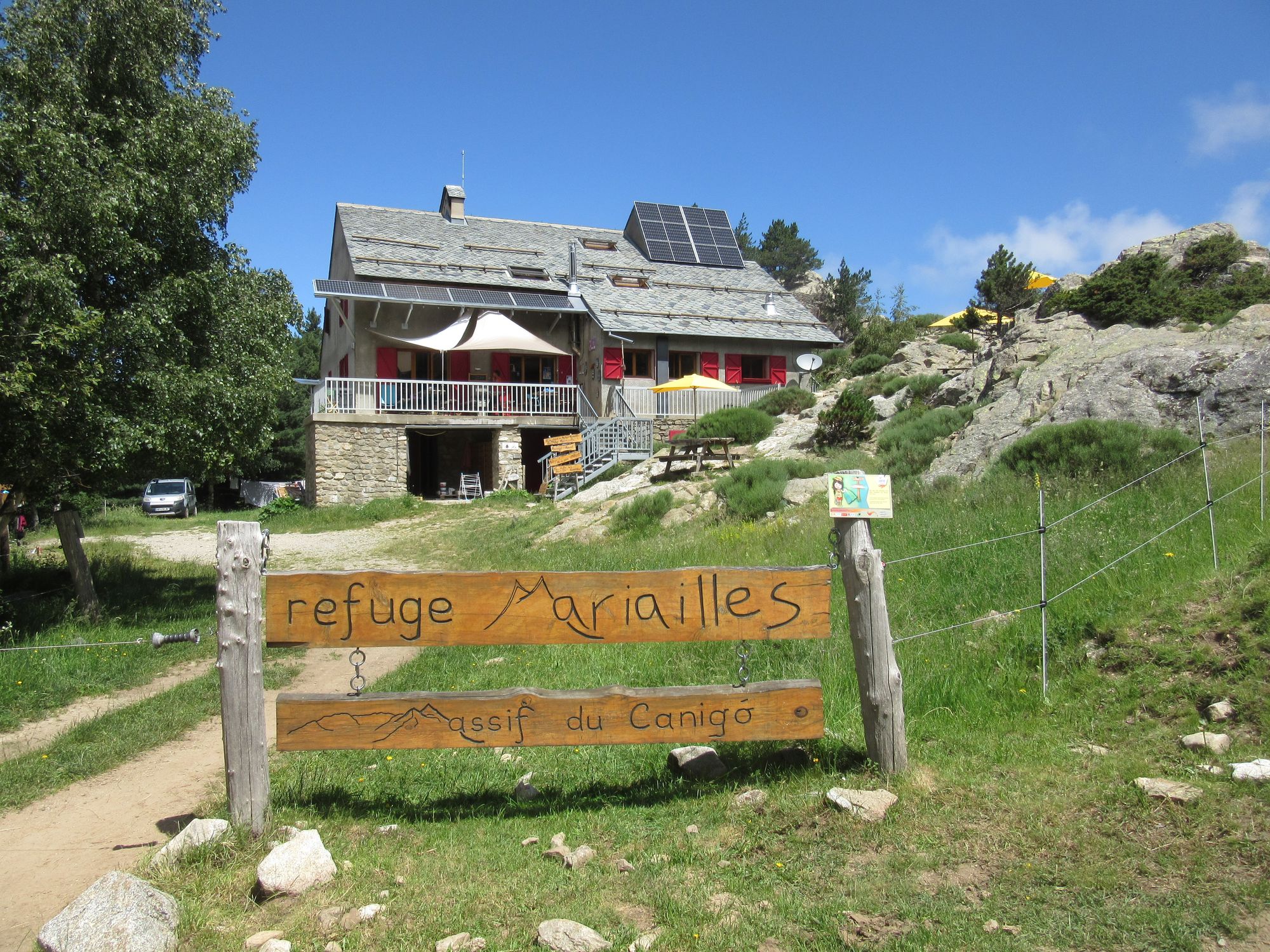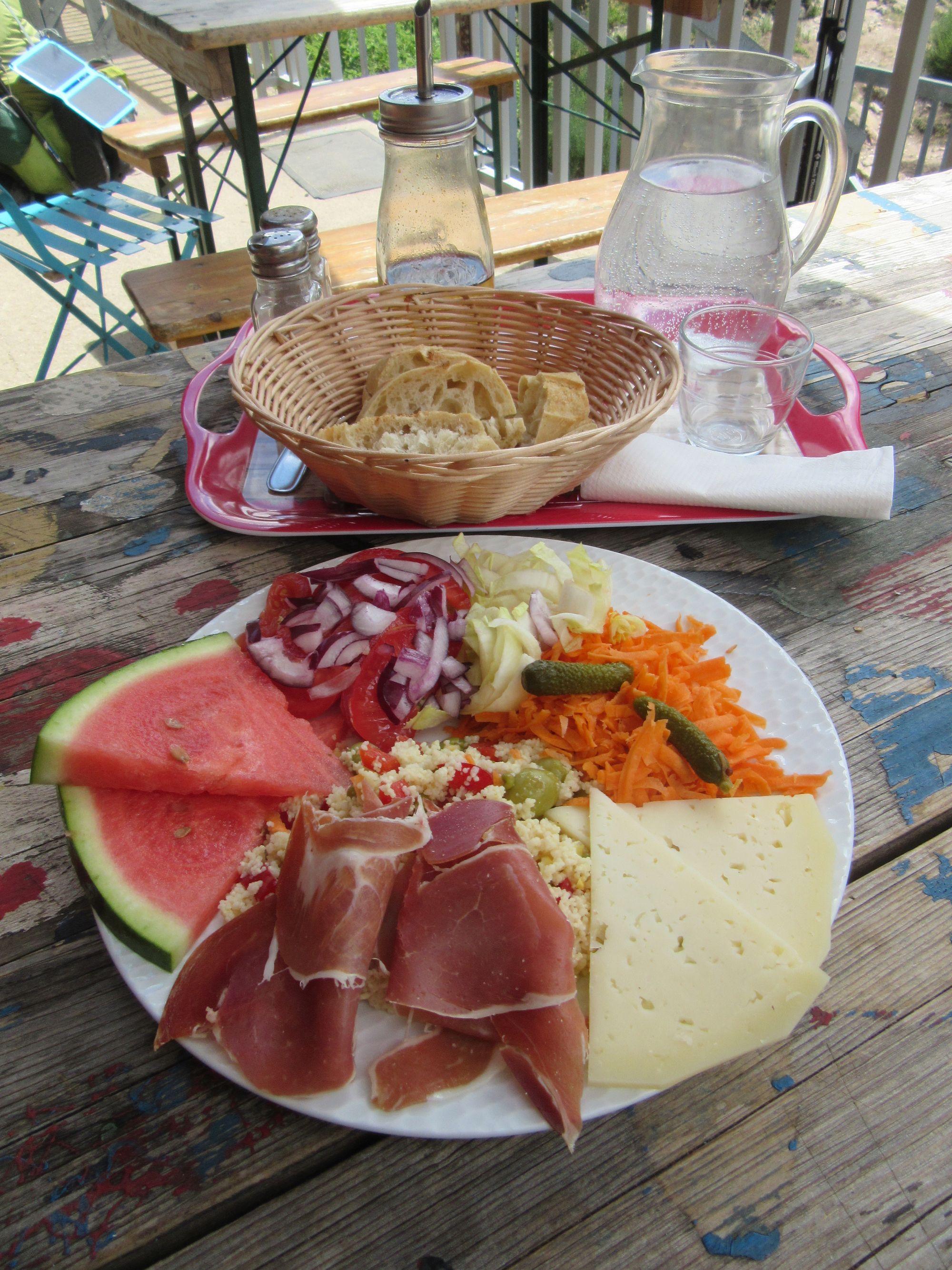 Thunderstorms were forecast for the afternoon and did indeed arrive, for an extended period. I hauled three litres of water up to Pla Guillem and got there just as the rain started and with thunder in the distance.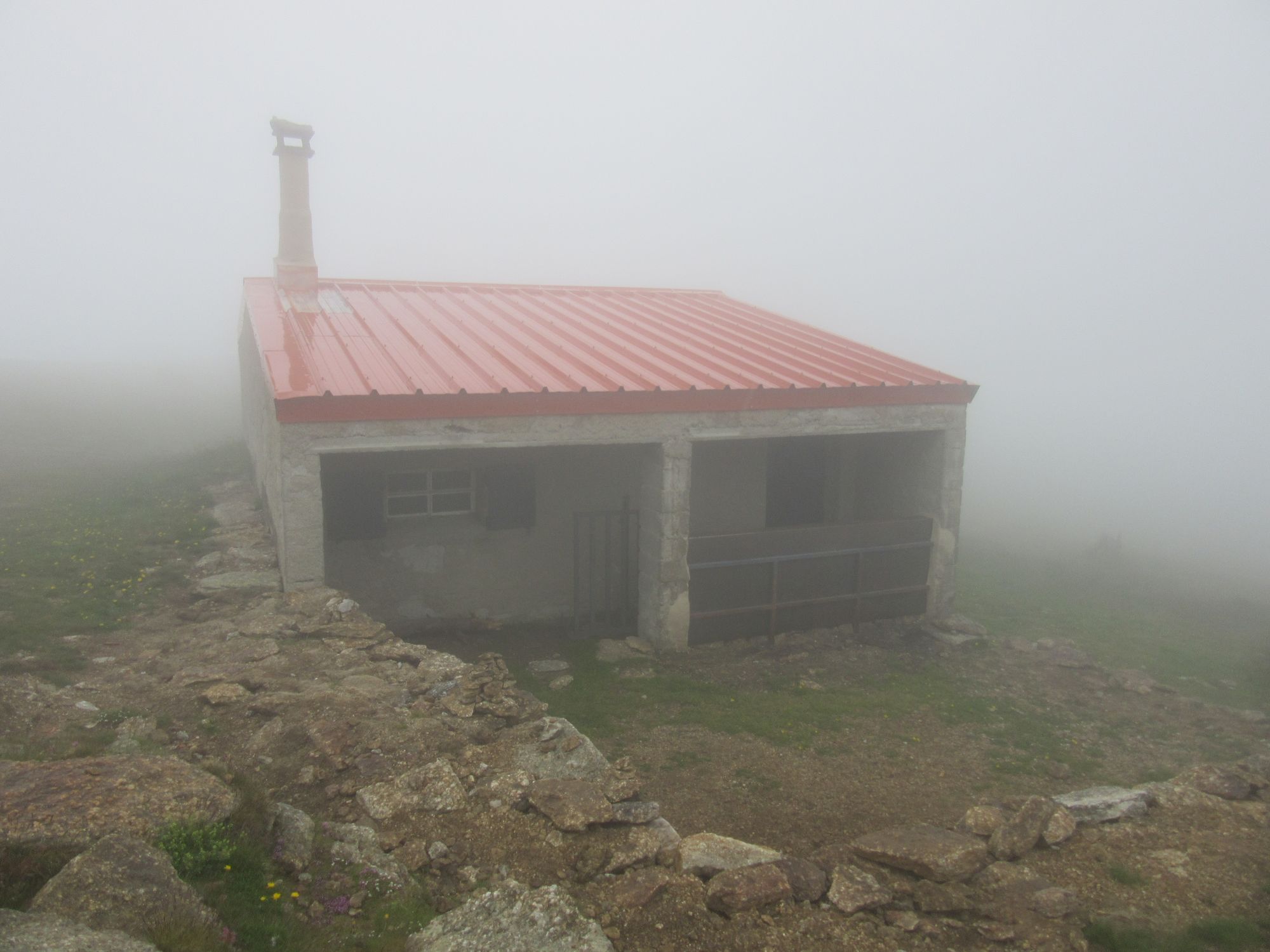 It cleared up nicely later, but it was too late to consider making a run for Porteille de Rotja.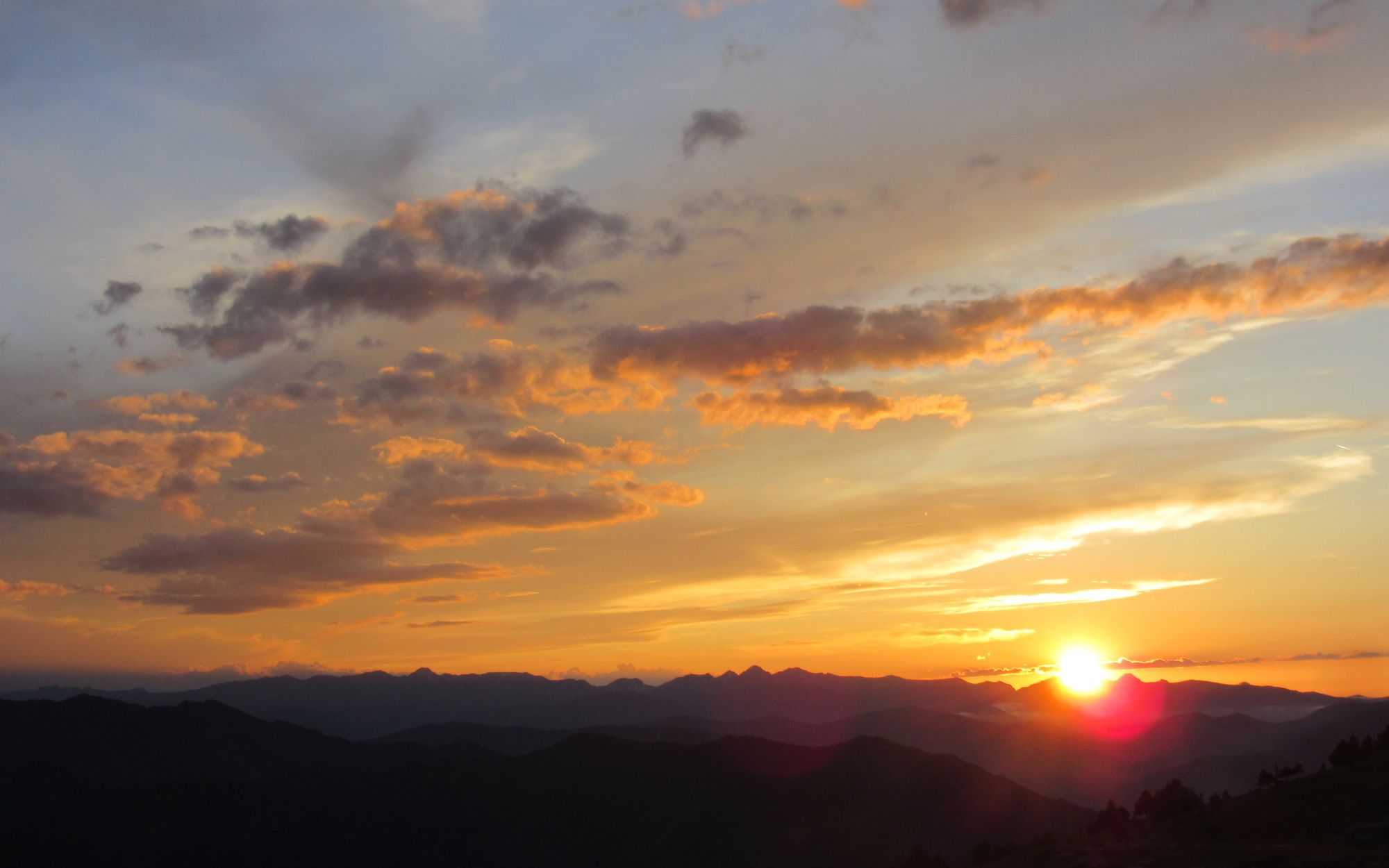 Met 7 other HRPers today (one pair who recognized my Aarn pack from photos I'd posted to Tom Marten's HRP facebook group, and 3 in the Refuge de Pla Guillem).
Day 6: Pla Guillem to just below Col de Tirapitz
A super morning cruising along the ridge (nice and cool with a gentle breeze), past the Refugio de la Porteille de Rotja and then down through the ski area and up to the Refugi Ulldeter.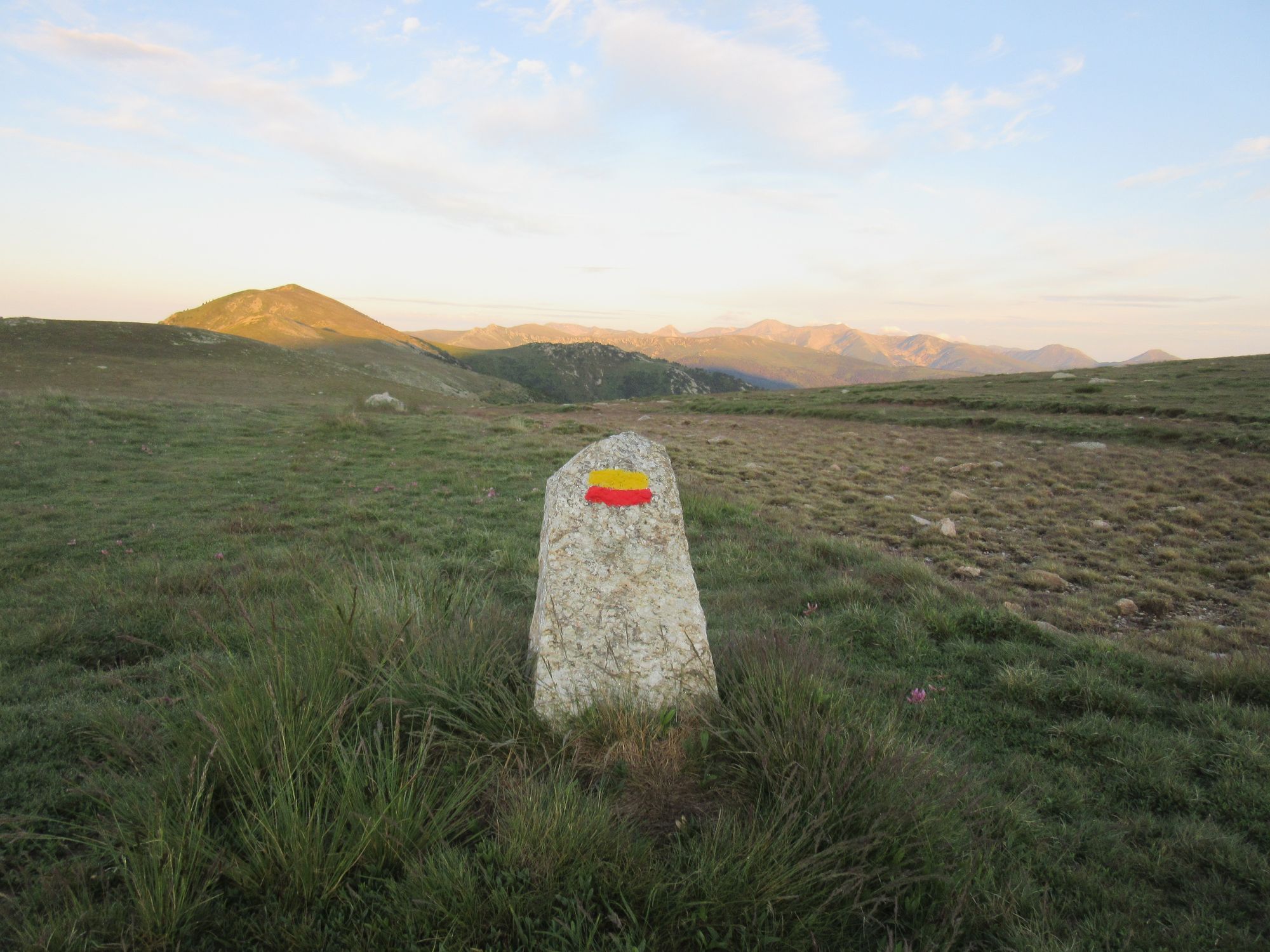 Storms were forecast for the afternoon from noon and arrived bang on schedule so I sheltered in the refuge for a while. But skies were blue a couple of hours later so I took a chance and headed up as high as I could without going on the ridge.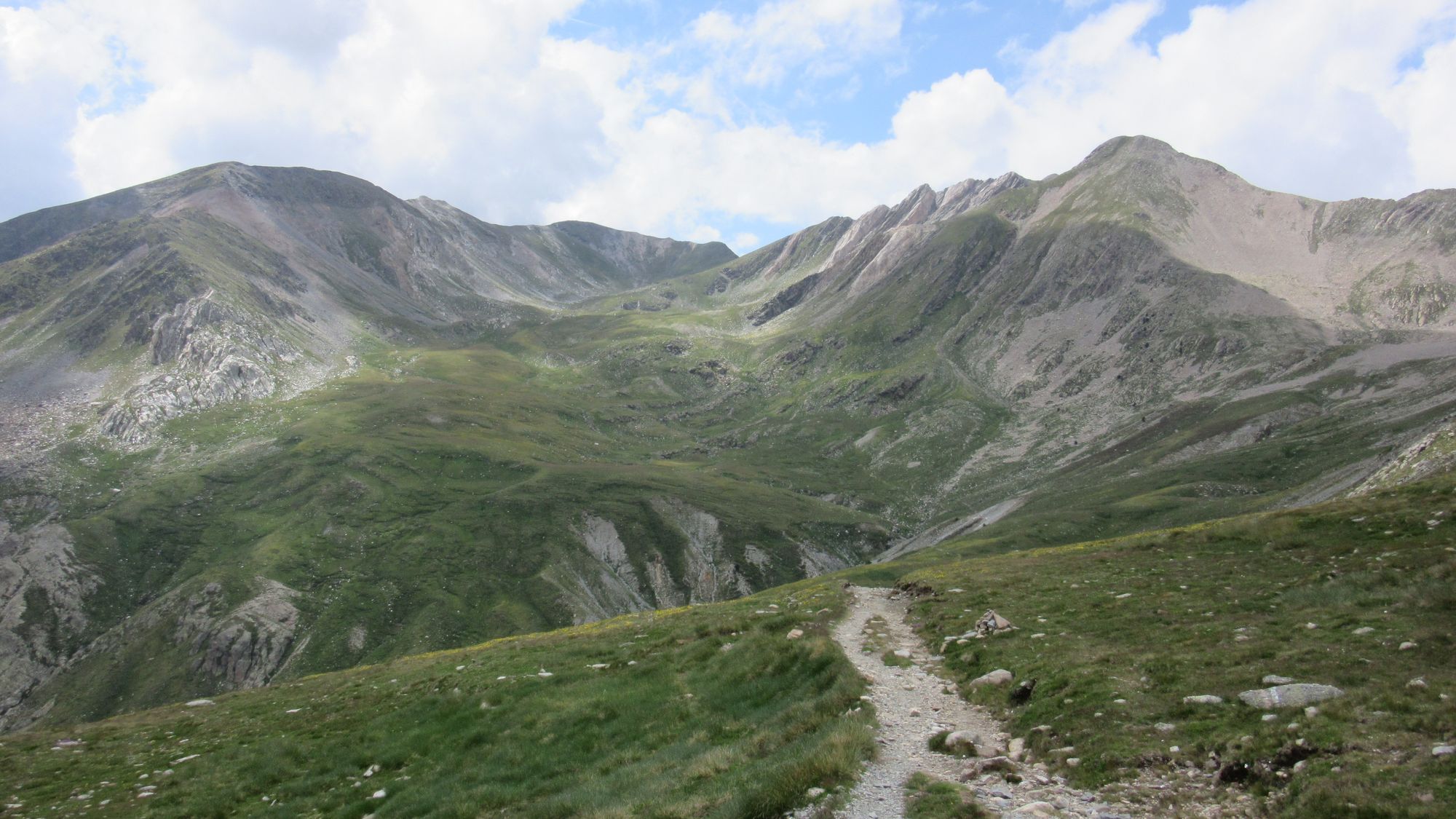 I camped on the last bit of flat enough ground at ~2650m, then took a wander up to look at the Tirapitz shelter a little higher... you'd have to be desperate to stay in that!
Thunderstorms did resume in the evening after I'd got the tent up. Mostly just downpours then sunshine but I must have been right under one: epic marble sized hail and strong tent-testing gusts one of which ripped a guyline out of the ground and flung the peg around ten metres away; it took quite a bit of searching to find it.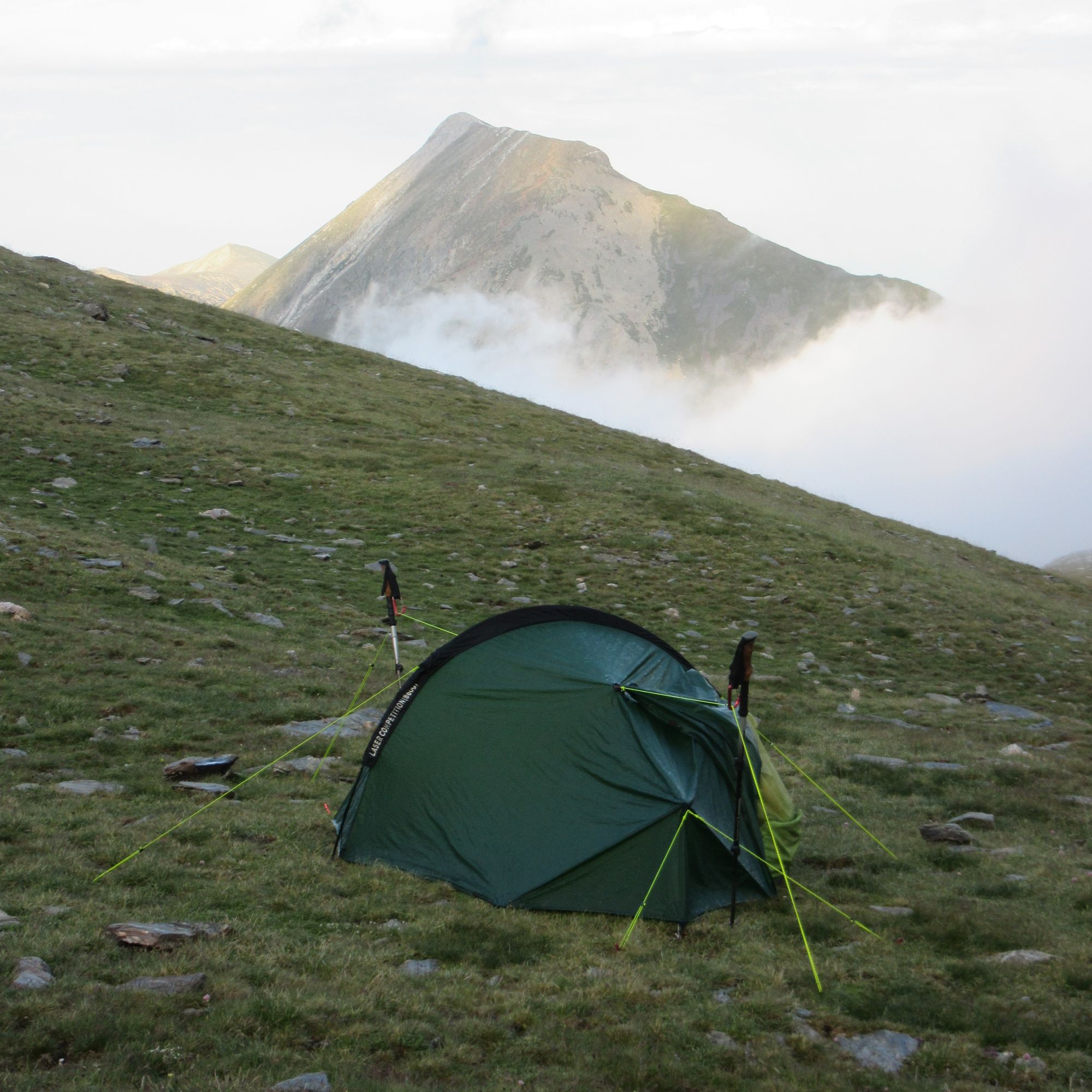 Later on after sunset, a couple of headtorch-wearing westbound HRPers went past heading for the shelter. One of them was wearing flip-flops after suffering a "boot failure" but hoping to get a bus from Eyne to somewhere they could get replacements.
Day 7: Col de Tirapitz to Etang Long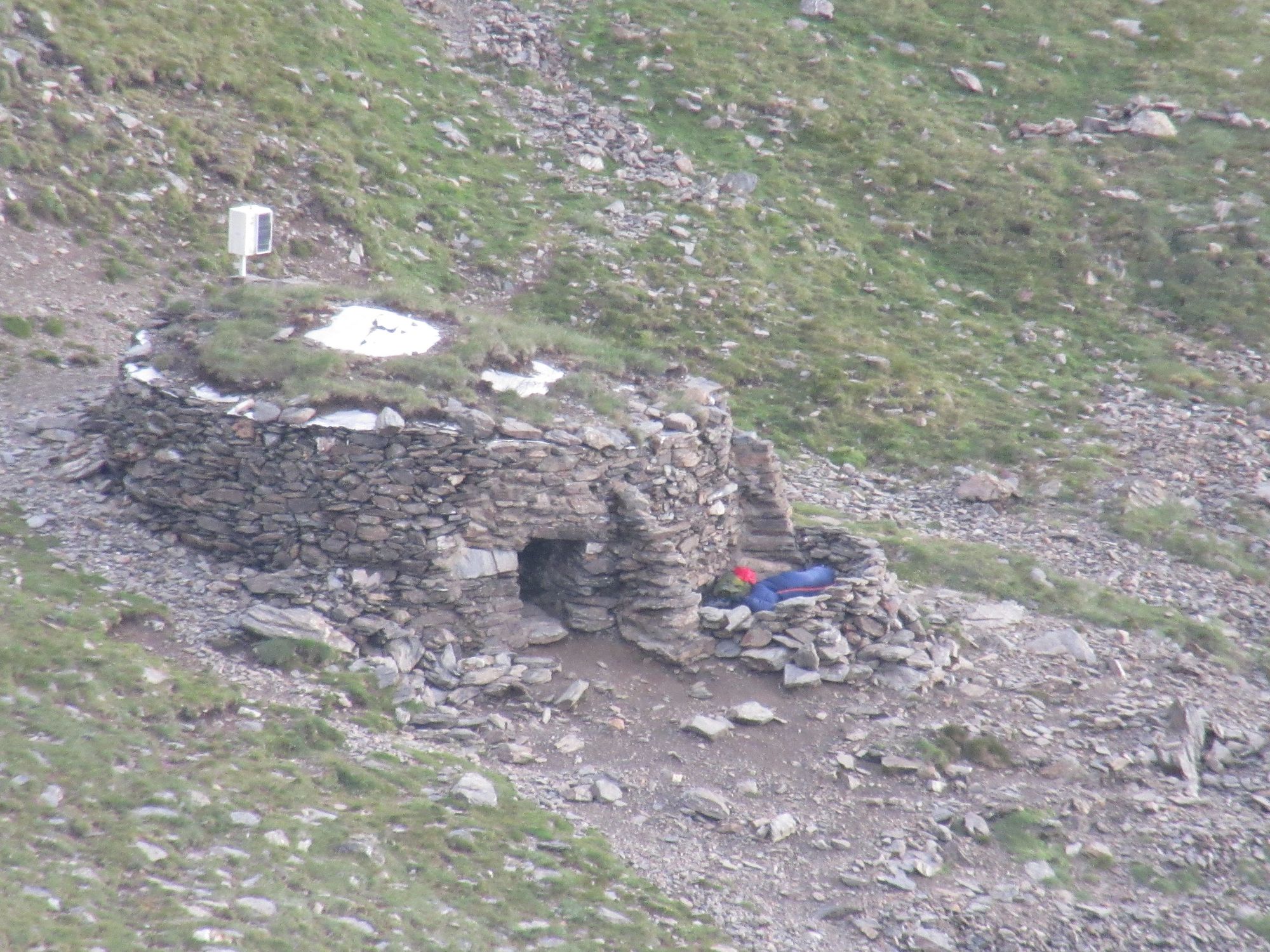 Despite a deteriorating weather forecast, from my high start under Col de Tirapitz I was able to get along the ridge to the Col d'Eyne in mostly clear but murky conditions. It didn't become "typical Scottish" (clag and drizzle) until Pic d'Eina.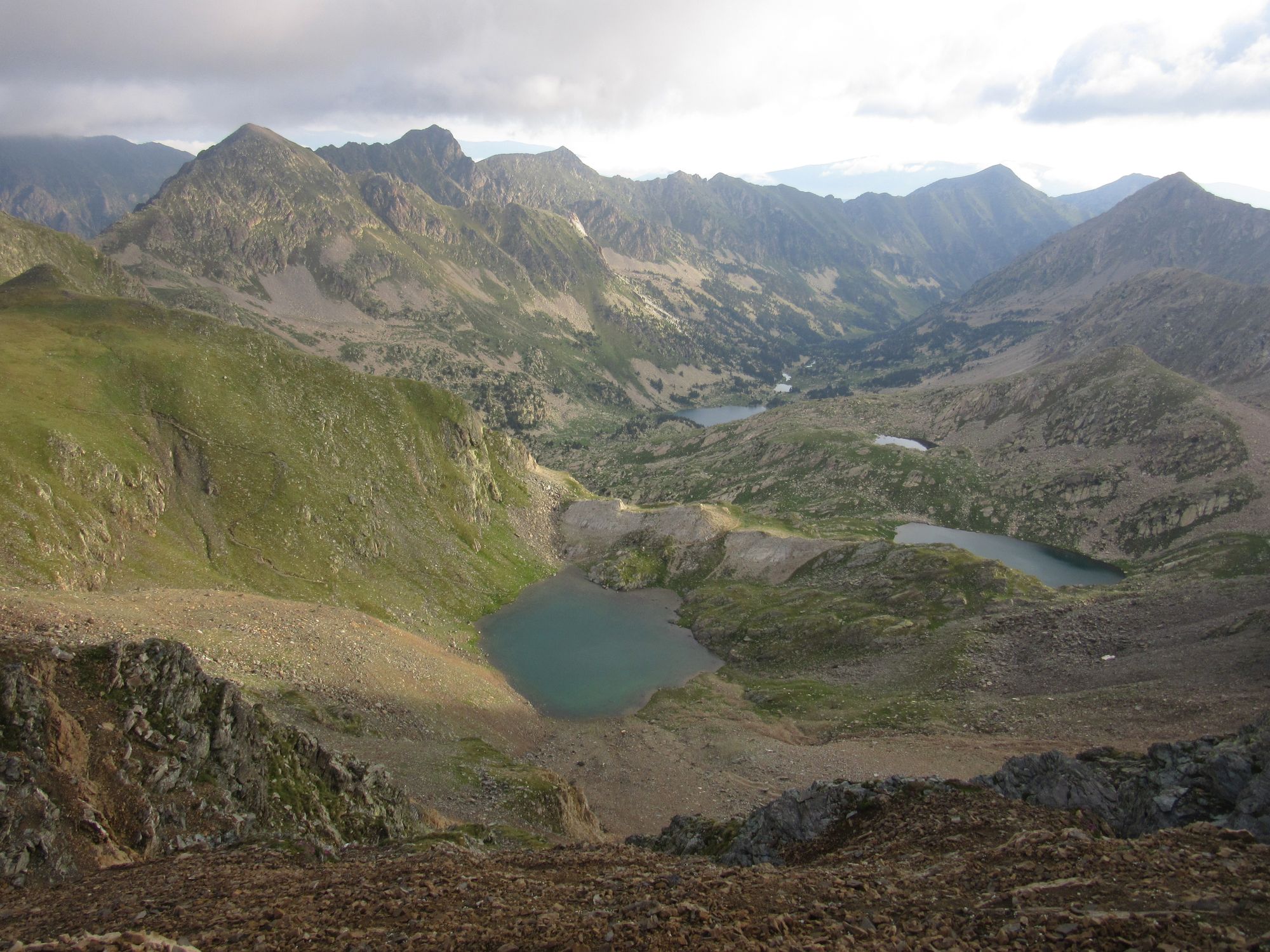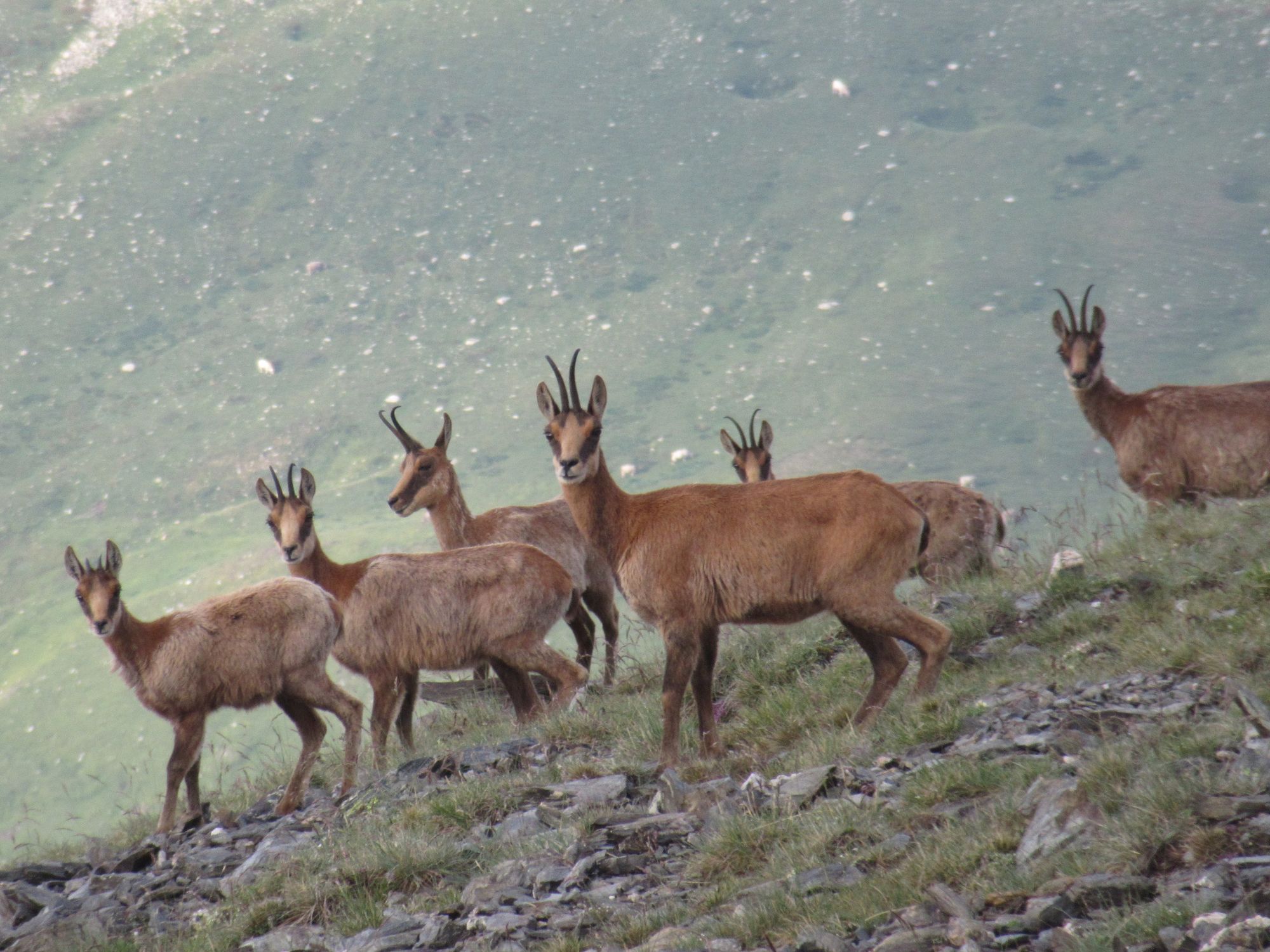 Then a big descent to Eyne and a long plod to Bolquere.
The little "on route" shop was closed in the afternoon until 4pm so I went up to the big supermarket in Superbolquere... which was well worth the slight detour! There was a very nice patisserie next door, and a stall selling all sorts of dried sausage out in front. Then it was back onto the GR10 for a bit until the turn off to the lakes.
Camped next to Etang Long as suggested in the guidebook. The weather forecast for the next day was looking the worst yet so it looked like I might be taking the GR10 "bad weather variant" rather than going over Pic Carlit.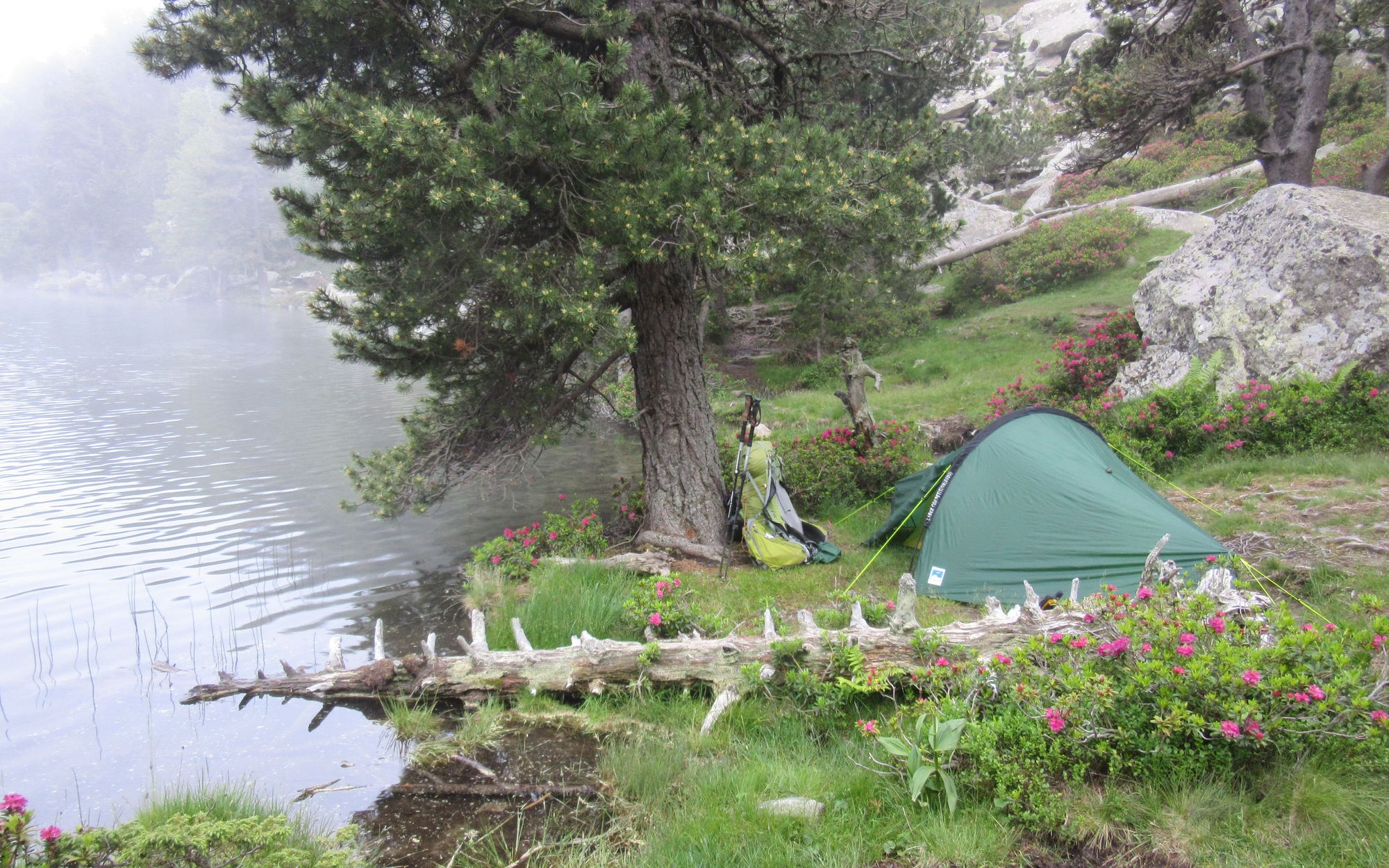 Day 8: Etang Long to above l'Hospitalet
Rain and overcast and looking a bit grim in the morning (as forecast) so I headed along the GR10 Pic Carlit bypass (a variant in the guidebook).
Of course the weather then cleared up nicely (not forecast!) and by eleven the waterproofs were off and the solar panel was out. Carlit would probably have been fine. The variant route is certainly very pretty though.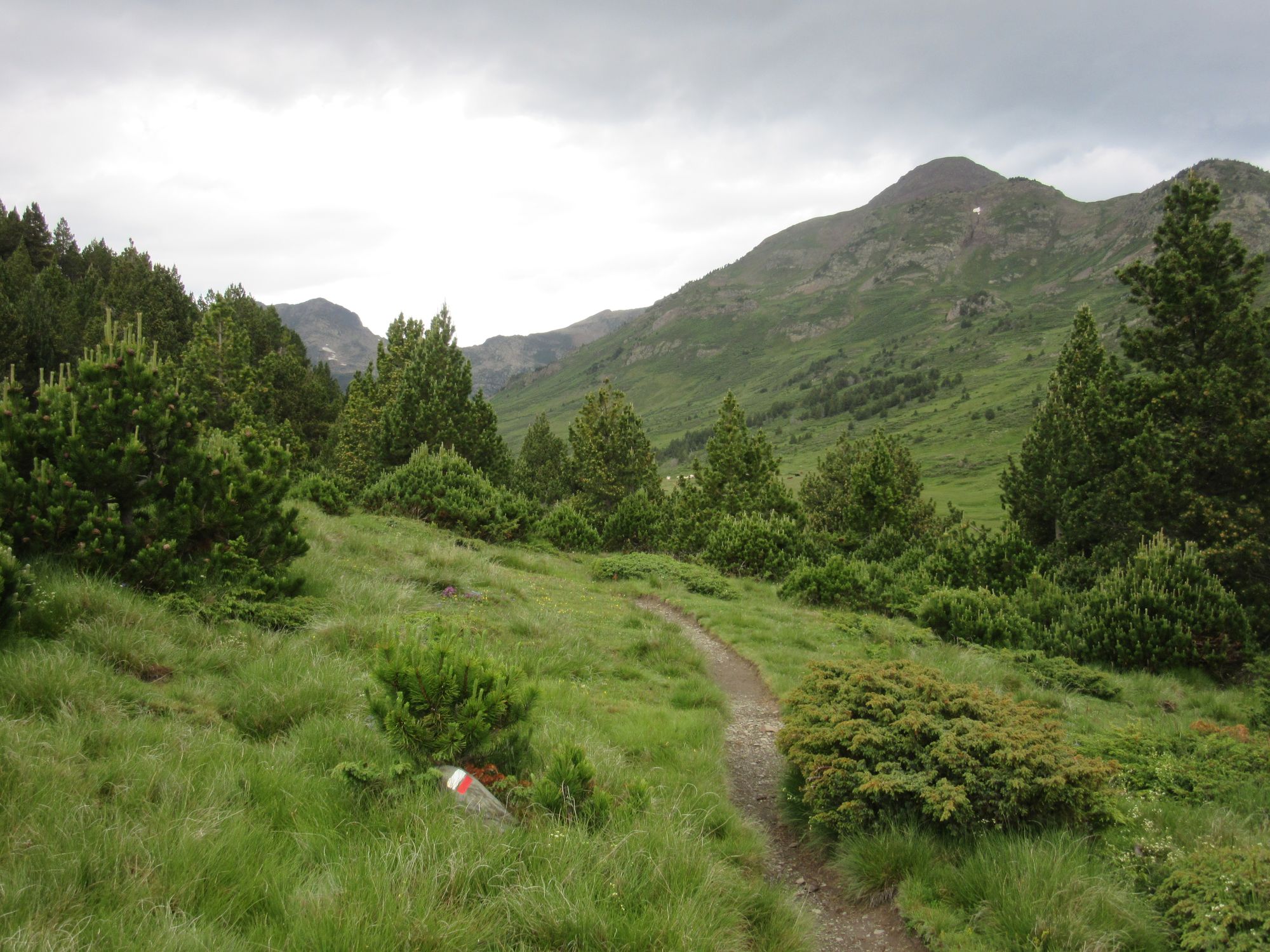 There didn't seem to be much point arriving in l'Hospitalet in the evening so I stopped early at about 2150m, I think on the "small plateau" mentioned in the guidebook. Did some much-needed laundry! (Exped drybag used as a washing bowl. No soap in the river!)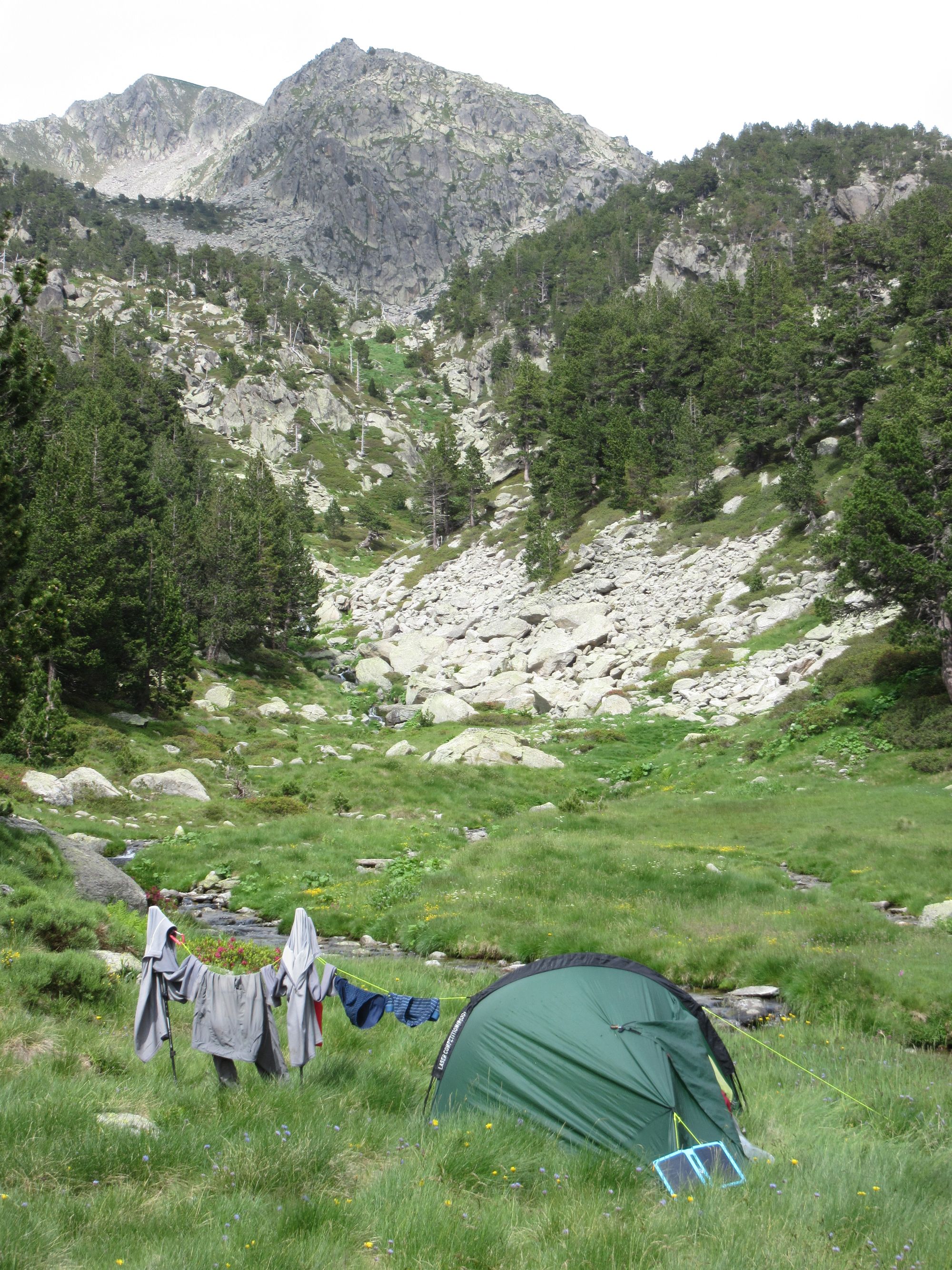 Day 9a: Into L'Hospitalet
A sign on the path leading into l'Hospitalet seemed to imply I'd just been in bear country!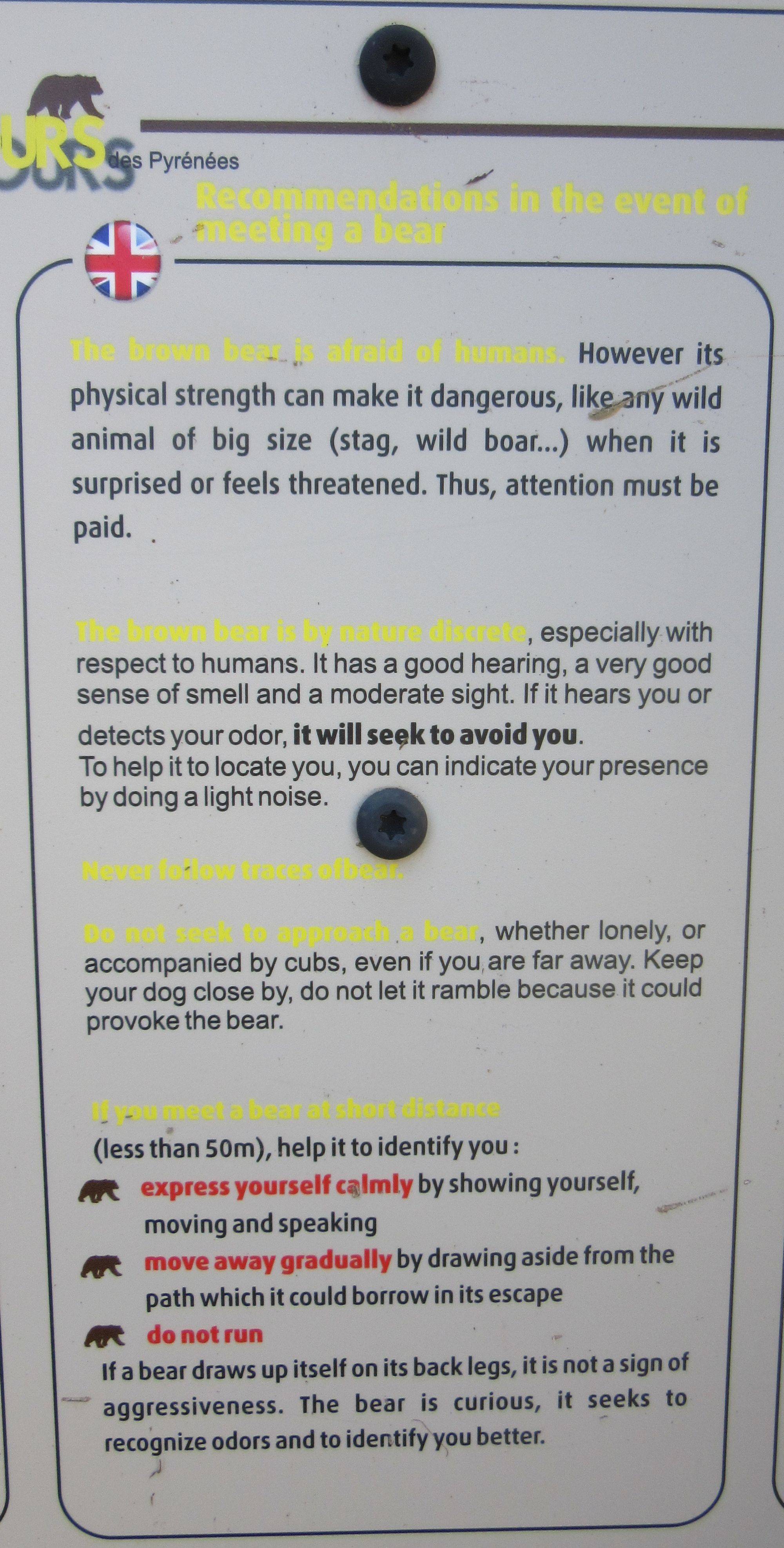 The selection available in l'Hospitalet's small shop was as bizarrely random as it was in 2018. If you're headed east... well Superbolquere's huge supermarket isn't too far off. But if you're headed west heaven help you if you were counting on this place to load up for the wilderness to come. Fortunately I'd bought a lot back at the supermarket.
The shop is also a restaurant. I waited around until noon when the "Plat du Jour" - today, a massive plate of steak, chips and salad - was available.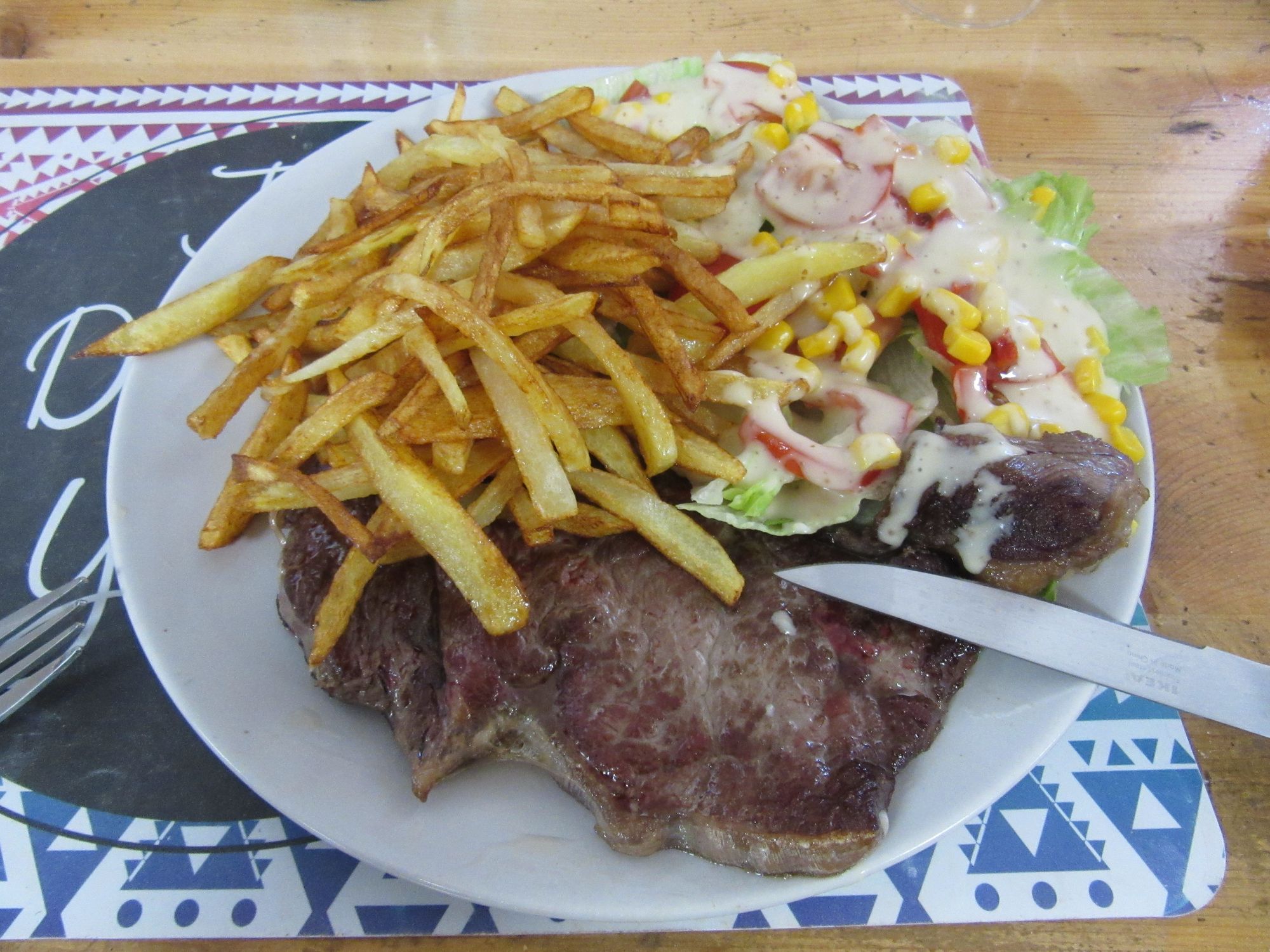 The rest of day 9 and the second stage to Salardu is described here.