Pyrenean Haute Route (HRP) - overview
First in 2018 west-to-east and then again in 2023 east-to-west.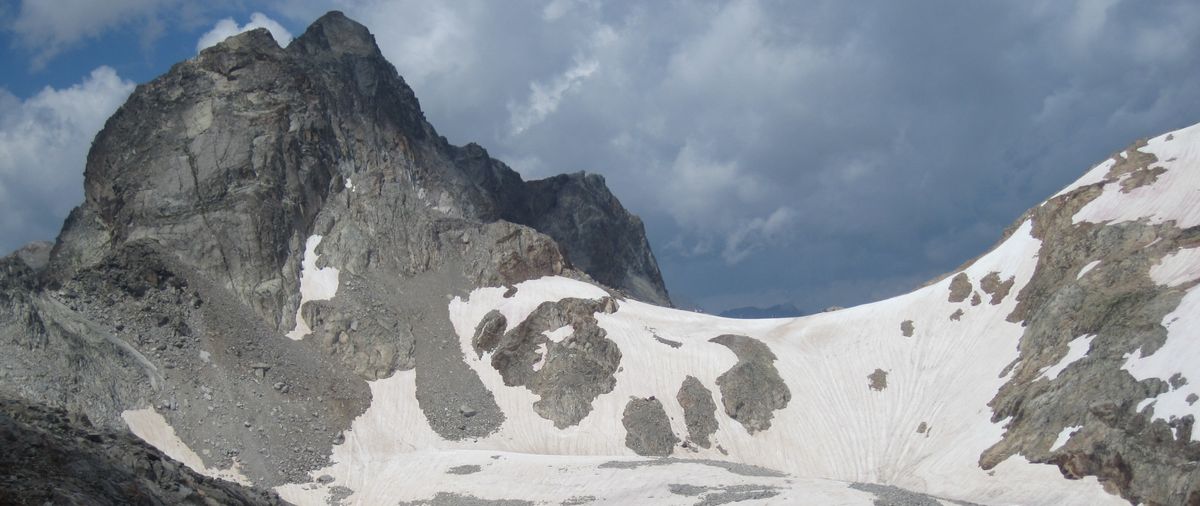 So I've done this twice now. First in 2018 west-to-east and then again in 2023 east-to-west. Both times I went end-June/early-July to early-August.
HRP 2018 west-to-east
This took 38 nights and 39 days on the trail. 19 nights were in the tent, 9 in an unmanned refuge/cabane (I used these more than I'd expected), 4 nights in staffed refuges, 3 in gites and 3 in hotels/pensions.
The idea of returning to do the HRP in the other direction in 2023 originated with a chat with an east-to-west HRPer in 2018 in the Hospital de Benasque restaurant. They'd done the trip west-to-east in 2013 and were now back again to do it in the other direction. And over the next five years that seed of an idea grew...
HRP 2023 east-to-west
This took 39 nights and 40 days on the trail. 28 nights were in the tent, 8 in an unmanned refuge, 2 in a gite/pension and 1 in a cave. It's been written up in 5 stages, the same as the guidebook divides it into:
Why slower than 2018 when the updated guidebook's route actually takes around a day less than the previous edition? I had worse weather (in the west) than in 2018 and also did some shorter days where there were wild-camp spots on my must-do hit-list which I'd not stopped at in 2018 and didn't want to miss this time (specifically, Lacs de Barroude and Source de Marmitou).
West-to-East vs. East-to-West
Snow conditions were very different between the two trips. 2018 was a "big snow" year and ice-axe and spiky footwear were absolutely essential on the big cols even in late July. But in 2023 there was virtually none left by then; my ice axe and crampons went unused throughout the trip. Weather was better overall in 2018 and I only really lost half a day when I had to delay continuing over the Col de Cambales. In 2023 several days of very wet and windy weather in the last stage slowed me down.
As to which direction is "better", there seem to be proponents of both. Things which I did notice myself:
The steepest "crux" sections of the "Big Three" cols are steeper on the east side than on the west side, and I reckon are easier when approached and climbed from the east. Although for Gourgs Blancs that perhaps only applies when it's under snow; with no snow it's not so steep that either side is an issue.
Conversely, the chimney on Canigou and Port du Lavedan seemed worse going westwards. Although thankfully the tricky downclimbed sections are very short.
The stretch from the A-138 to Refugio de Viados seemed quite tedious going eastbound in 2018. But going westbound the climb to the col is not without interest and then you can fly down the long boring miles on the dirt track (and there's now a great bar/restaurant when you reach the road).
Going west-to-east, the first stage through Basque country feels like a good warm-up introduction. But as the last stage of an east-to-west crossing it all just seems a bit of an anticlimax.
It's hot in the east, and starting there is quite a shock. Ending there, you do at least get to acclimatize a bit on the approach. And Banyuls has a more laid-back feel than frenetic Hendaye, at least in peak holiday season.
Going westbound, having the sun behind you in the morning is actually nicer than having it glaring in your face first thing. Then by the afternoon you're more used to it and it's often clouded over a bit.
Unsurprisingly, the guidebook describing the route west-to-east was fairly unhelpful for resolving fine-detail navigation issues and I'd generally turn to the electronic mapping instead. However, I found I was quite pleased by just how much of the route I did remember and I needed to consult mapping or guidebook a lot less than I'd expected. I'm certainly glad I didn't do my first trip in the opposite direction to the guidebook though.
Was it worth doing twice? Definitely!
Resources
Books
I used the Cicerone guidebook both times, but different editions (Joosten in 2018, Martens in 2023).
French readers may find "Le trek des Pyrénées: De la Méditerranée à l'Atlantique" by Céline & Sébastien Dupont of interest. It describes a route east-to-west, with some differences from the Cicerone route especially around Salardu and in the west. I also met an HRPer using a copy of "Transpyr - Hautre route pyrénéenne" by Jérôme Bonneaux which seemed - from my brief glance at it - to be of interest for describing many possible variant routes... but like Georges Véron's original guide copies do not seem to be available for less than silly money these days.
Online
Tom Martens - the current Cicerone guide author - runs a helpful PyreneanHauteRoute Facebook group. Probably best not to ask "will I need crampons?" as your first post there though; use the page's search facility to find previous posts on that much debated topic! I "live-blogged" my way through my 2023 trip there, posting every few days when connectivity permitted, and the text on this site is largely drawn from those posts. The photos here have been re-selected from the original haul and in some cases cropped/rotated (no "cooking" though).
I found Peter Forest's notes, email list and GPS data (see http://www.hrpguide.org/ ) particularly useful in 2018 as a complement to the Cicerone guide (Joosten edition, then) and getting up-to-date trail information.
Google will easily find you a wealth of information and numerous other bloggers' accounts. Worth a particular mention:
"Only my footprints"' writes up a fast-and-light 2023 west-to-east HRP in 5 posts (I met them coming the other way near Refuge d'Arlet): stage 1, stage 2, stage 3, stage 4, stage 5.
UKH's HRP page.
A few of blogs I had bookmarked prior to my 2018 trip: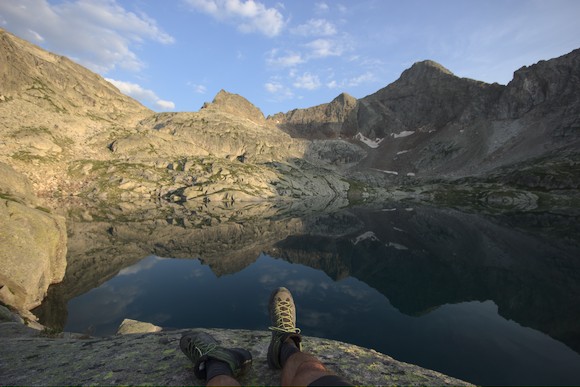 Notes from Alex Roddie (an outdoor-writing pro e.g regularly has articles in TGO):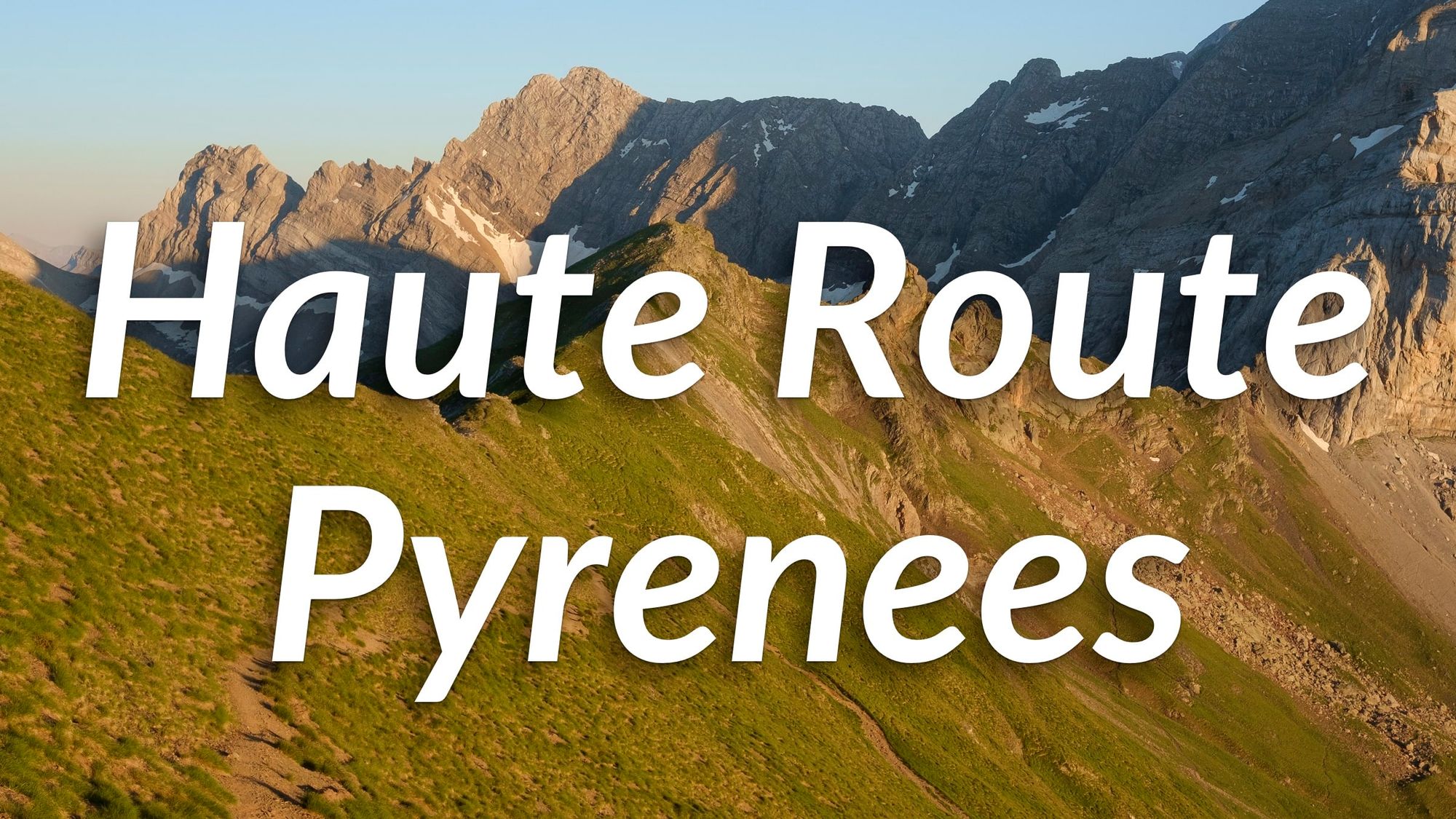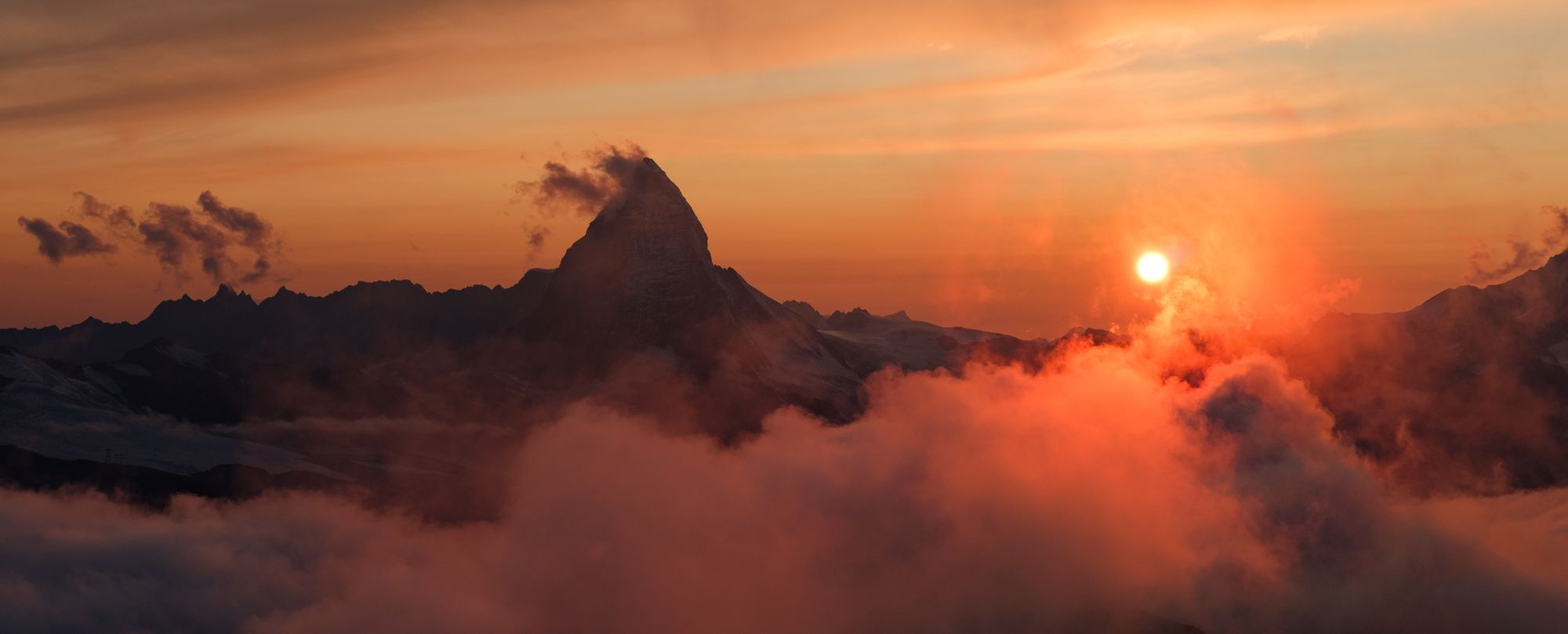 A leisurely-paced crossing:
A detailed account of two weeks (on the "middle section") in 2022:
Refuge Information
It's almost inevitable that at some point HRP walkers will find themselves using the websites cataloguing the many refuges.
The Pyrenees-specific site:

A broader site, but often useful for a second opinion:
My gear
I took almost exactly the same equipment on both trips. I thought what I took the first time worked pretty well for me and wasn't going to mess around too much with a successful formula for the second trip.
"Base weight" (excluding water, gas and food) in 2018 was 10.5kg but I had no snow protection except some awful Grivel "spider" microspikes and my walking poles until Gavarnie, where I heeded warnings from folks coming the other way that this was a "big snow" year and bought myself an ice-axe and the chunkiest microspikes I could find (none of the shops in town had "proper" crampons in stock). In 2023 I took better crampons (Petzl Leopards, actually lighter than the microspikes I'd got in Gavarnie in 2018) and an ultralight axe from the start. Besides that, a bigger power bank and a solar panel was the other main change for 2023.
Pack
Shelter

TerraNova Laser Competition tent. One of the original 2004 models, when it was launched as the "world's first sub-1kg tent". Used "as is" in 2018, but for 2023 I improved the rigging, upgrading from one to two guylines at each end to "lock down" the otherwise wobbly inner strut and adding "gear-grips" to the flysheet to allow walking pole supported guylines to stabilize the otherwise prone to flapping roof.

Sleeping

PHDesigns Triobag (15,5,-5C) in drybag. An experimental product by PHD in 2018 and not offered again since, so far as I know. Zipless - which saves weight - and depending on which bit of it you sleep in it has 3 modes: 15C, 5C & -5C. I thought it worked very well on the HRP where you have to deal with a wide range of temperatures
2018
2023

Exped Ultra 3R M Mummy mat with pump bag and repair kit.

Hydration

MSR Trailshot filter in ziploc bag.
4 x 1l Platypus bottles with closure caps.

Cooking

Stove (MSR pocket-rocket)
Cookset (Ti pot, cup & cutlery. Pot cosy. Plastic bowl etc).
Penknife.
CampinGaz Easy-Clic to EN-417 converter. 2023 only; in 2018 it had seemed to me that EN-417 cans were hard to find and CampinGaz was easier to obtain. But in the end this wasn't needed.
Pan-scrub in ziploc bag.

Moving

Scarpa SL Activ boots. In 2018 the pair I took were rather old by the final stage they had virtually no tread left, and the forward section of sole finally started flapping loose on the last day. In 2023 I took a much newer pair which survived just fine.
BlackDiamond Alpine Carbon Cork trekking poles.

Snow protection

2018

I'd started off thinking my walking poles and some Grivel "spider" microspikes (awful!) would be good enough. But by the time I'd reached Gavarnie (which has a couple of gear shops) I'd been persuaded - by folks coming the other way - that the cols were snowy enough that better equipment was needed. So I acquired a rather heavy Camp ice-axe and chunky microspikes in Gavarnie's "Les rochers blancs" shop... and was subsequently very glad I had, going over the Big Three cols.

2023 Neither crampons nor axe were actually required; cols were snow-free by the time I reached them. But fortunately the gear I did take is very lightweight and I'd didn't mind carrying it for peace of mind.

Petzl Leopard Crampons (with anti-balling plates) in the bag provided with them.

Clothing

Rab softshell - original Phantom jacket, Polartec Windpro material.
Waterproofs in stuff sack - Rab Spark Jacket and waterproof trousers (2023: Montane Dynamo / 2018: something from Berghaus).
Rab insulating vest (synthetic fill) in drybag (2023: Xenair / 2018: Generator Vest).
3 long-sleeved tops - 2 x Patagonia, 1 x Rab.
Trousers - Mountain Hardwear Canyon Pant.
Socks: 3 pairs Teko Hike 3.0 L, 2 pairs Teko Expedition 5.0 L .
3 pairs underwear.
Gloves - 2023: Rab VapourRise, 2018: something from Trekmates.
Sun hat.
Sunglasses in soft case.
Drybag/pillow.

Navigation

Maps+guidebook. Maps were cut down to the relevant part, but the full set is still pretty weighty.
Compass.
Transparent ziploc bag "map-case".

Electronics (just 2023's load described)

Garmin InReach.
Head torch (Petzl Actik + Petzl Core battery + spare).
Camera (Canon SX600) + case + 3 spare batteries & USB battery charger.
Samsung Galaxy Tab S2 8" (with UK SIM) in Exped Crush Drybag.
Misc. bits (Euro-plug USB charger/adapter, 2 USB cables, headphones) in ziplock drybag.
20000mAh powerbank - Alpkit.
Solar panel - Alpkit.

Living

Loo-roll, hand sanitizer, "Deuce #2" shovel, toiletries, suncream, travel soap, mini travel towel etc

Misc

2 x carabiners for securing sandals to pack and for walking-pole tent rigging
Repair kit (gaffer tape, tent-pole tube, spare cord, 2023: spare walking pole tip)
First aid kit (including tick remover)

Luxuries

Multimat foam sit-mat
"Croc"-alike sandals
"Gorilla pod" mini camera tripod
On both trips, I posted home finished-with maps from Gavarnie post office, and in 2018 my microspikes (replaced by better ones in Gavarnie) and in 2023 my crampons (but not axe). I would have also used l'Hospitalet post-office to send more maps home, but it wasn't open either time I passed through and I wasn't going to wait around.
I did hear of one HRPer having a Post Office (not sure which one) refuse to accept their ice axe for shipping on "offensive weapon" grounds. The crampons they were fine with.
Gear failures
One of my walking pole tips (the metal bit at then end) broke off on both trips (replacements are readily available from Black Diamond). In 2018 (eastbound) somewhere in Andorra (I think after being a bit rough forcing it into the ground for a washing-line support). I didn't have a spare with me then but managed the last week or so with the remaining plastic stub skittering around on rocks. In 2023 I took a replacement spare with me, but while I did have a pole tip fail again it was only a couple of days from the end I didn't bother fitting the spare until I got home. (Fitting a new tip involves dipping the old one in boiling water to loosen the thermo-sensitive glue; in theory it could be done on a camping stove but it's a lot easier on a kitchen hob.)
The tent took more of hammering in 2023 than I remember it taking in 2018; it survived, but the arch pole definitely isn't as straight as it used to be, whereas it was fine after 2018. Probably because I set out to camp higher and got hit by some much stronger gusts under storms. The extra rigging added to the tent certainly helped quite a bit. Some "spiky grass" campsites have also left some fine pinholes in the groundsheet, but I'd always make an effort to flatten such grass before putting the tent up and my sleeping mat remained un-punctured both trips.
With hindsight...
During the 2023 trip, I made some notes on things I wish I'd done:
Taken a gravity-fed water filter instead of the MSR Trailshot. The Trailshot needs a lot of tedious pumping to get a litre, and I got quite envious of folks who could just hang a bladder on their walking poles and get on with other things. I was told you need the "full size" filters for this to really work, the "mini" versions of the filters don't have a high enough flow rate.
Updated some of my paper maps. Some of the IGN editions I'd got hold of in 2018 (from a well-known UK supplier of foreign maps) already seemed quite old then - especially the coastal sections - and were missing a lot of newer GR info (e.g the GR12) and were pretty hopelessly inaccurate for some of the bits over the border in Spain. I should have investigated whether some of them were worth updating to newer versions.
Loaded more GPS routes on my gadget than just the HRP. It might have been useful to have the GR10, GR11, GR12 and various other GRT/GRP things in the area. Going west-to-east in 2018 I was pretty much focussed on the guidebook's route description, but that's a lot less useful when you're going west-to-east against the guidebook and you find yourself wanting to be a lot more aware of what the useful waymarked routes are and where and when you're on them.
Taken a small pot of Scarpa HS12 or G-Wax to re-wax my leather boots partway through the trip. I'd given them a good slathering before I headed off, but going east-to-west they could have really used a top-up before I hit the wetter conditions in the west.
Taken a few more big zip-loc freezer bags for organizing food bought along the way in boxes, jars and flimsy plastic packaging.
Coda
Thanks for reading this far! If you aspire to do the HRP, I hope this has provided some encouragement to go and do it! And if you've already done it one way... maybe this'll plant the seed of an idea of going back and doing it the other way too.