HRP 2023 east-to-west: stage 3 - Salardu to Gavarnie
Snow protection hardware (ice-axe and crampons) remained stowed throughout.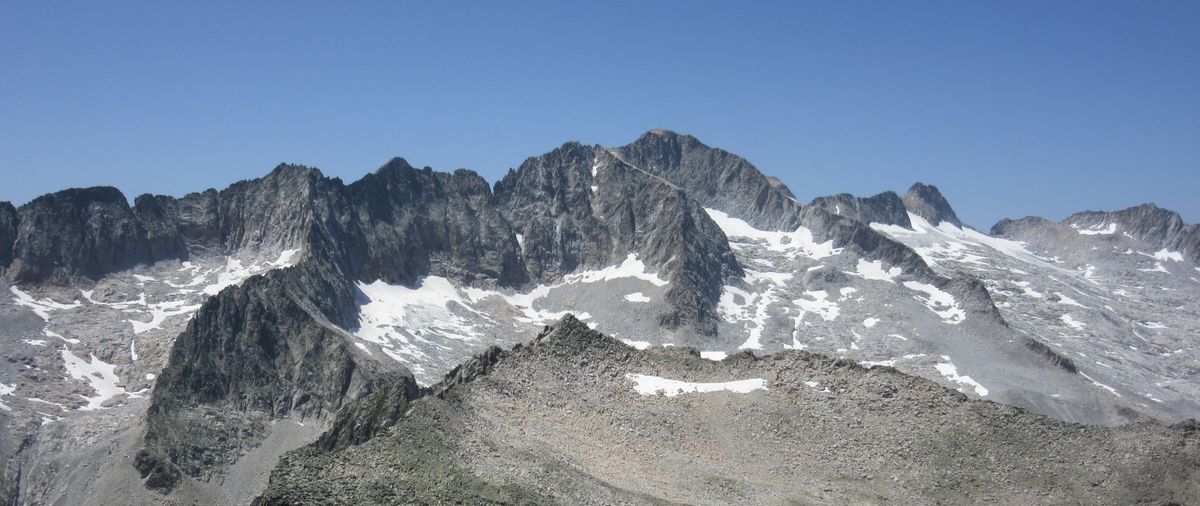 Day 17: Salardu to Lac deth Cap deth Port
The guidebook seems to suggest simply marching along the road between Salardu and Banhs de Tredos. DON'T DO IT! Not all of it anyway. There's a much nicer "ancient way" vibes path/track connecting Banhs de Tredos to the top end of the reservoir, which saves a good chunk of tarmac bashing on what can be a busy road. Eastbound bound folks will find the turn-off opposite where the hotel driveway joins the road.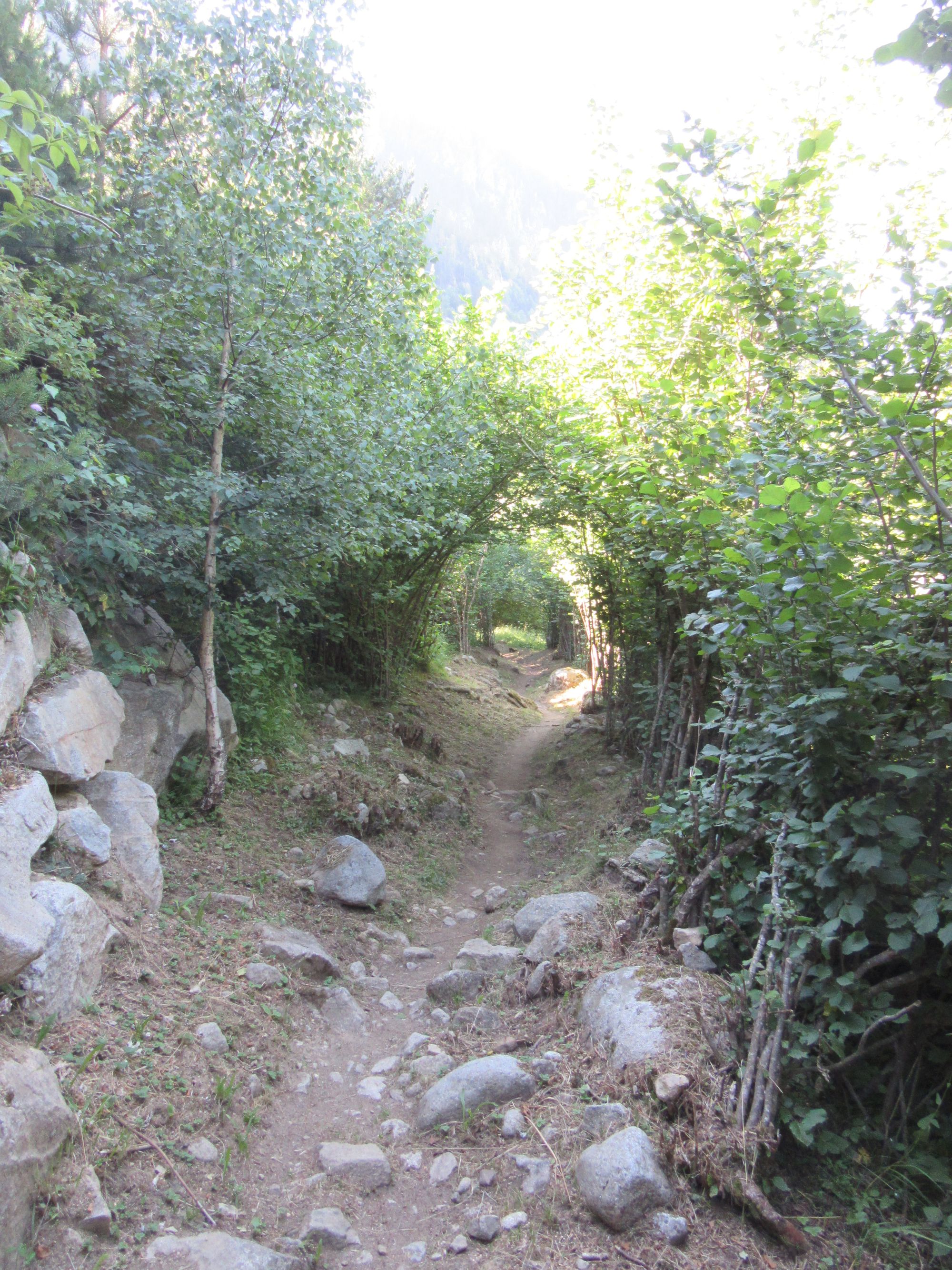 Anyway, from there it was up over some windy cols and through the stunning Aiguestortes landscape. It was grey and drizzly here on my 2018 W2E crossing and I didn't really appreciate the area then. Very busy, but then it was a Saturday (another reason to avoid the road: lots of day-trippers driving up).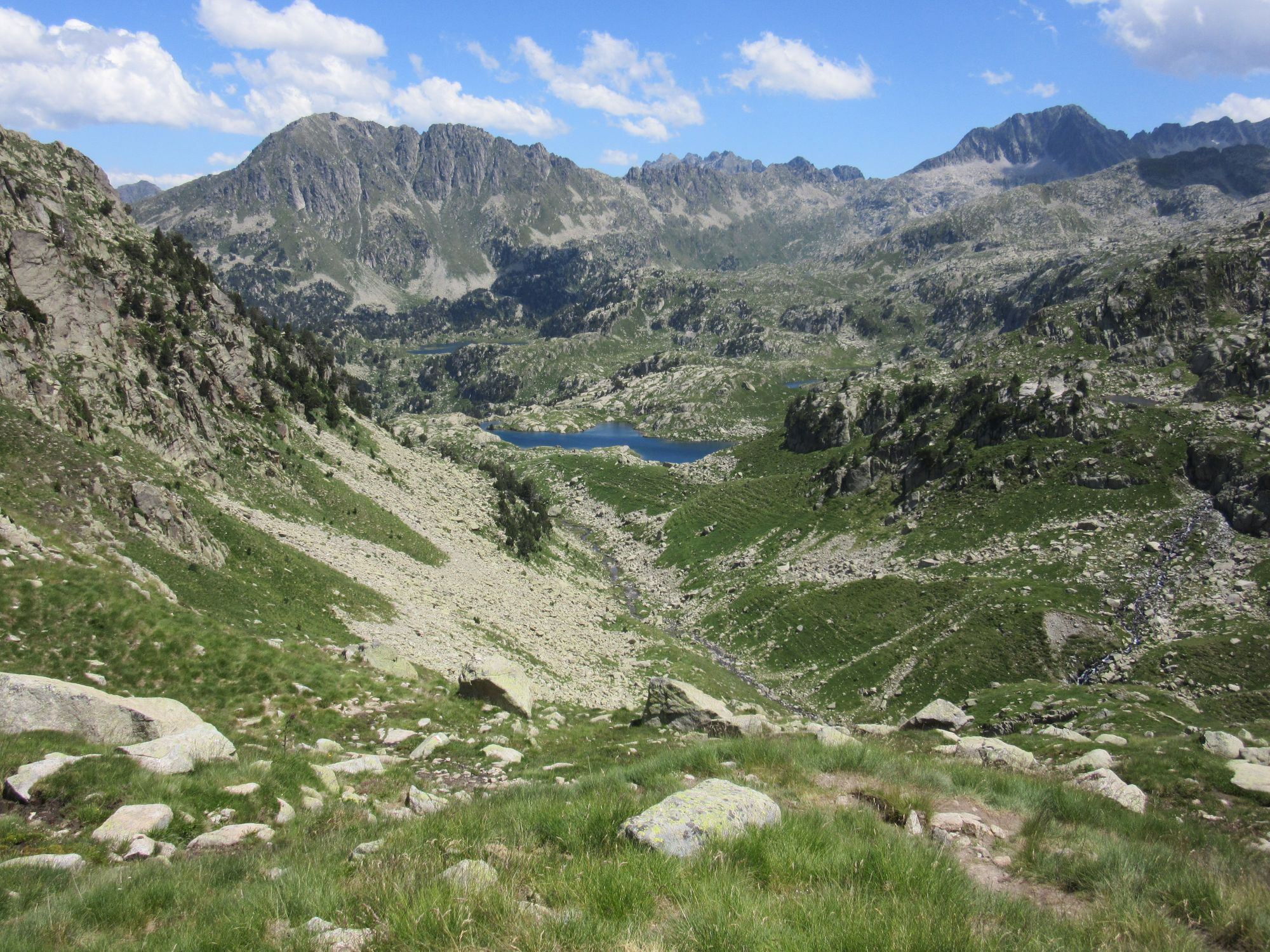 Then down to camp at the indeed lovely Lac deth Cap deth Port, as suggested in the guidebook. Quite blustery, even down here below the cols; a bit of a tent tester... several hours of thunderstorms and associated deluges in the night too.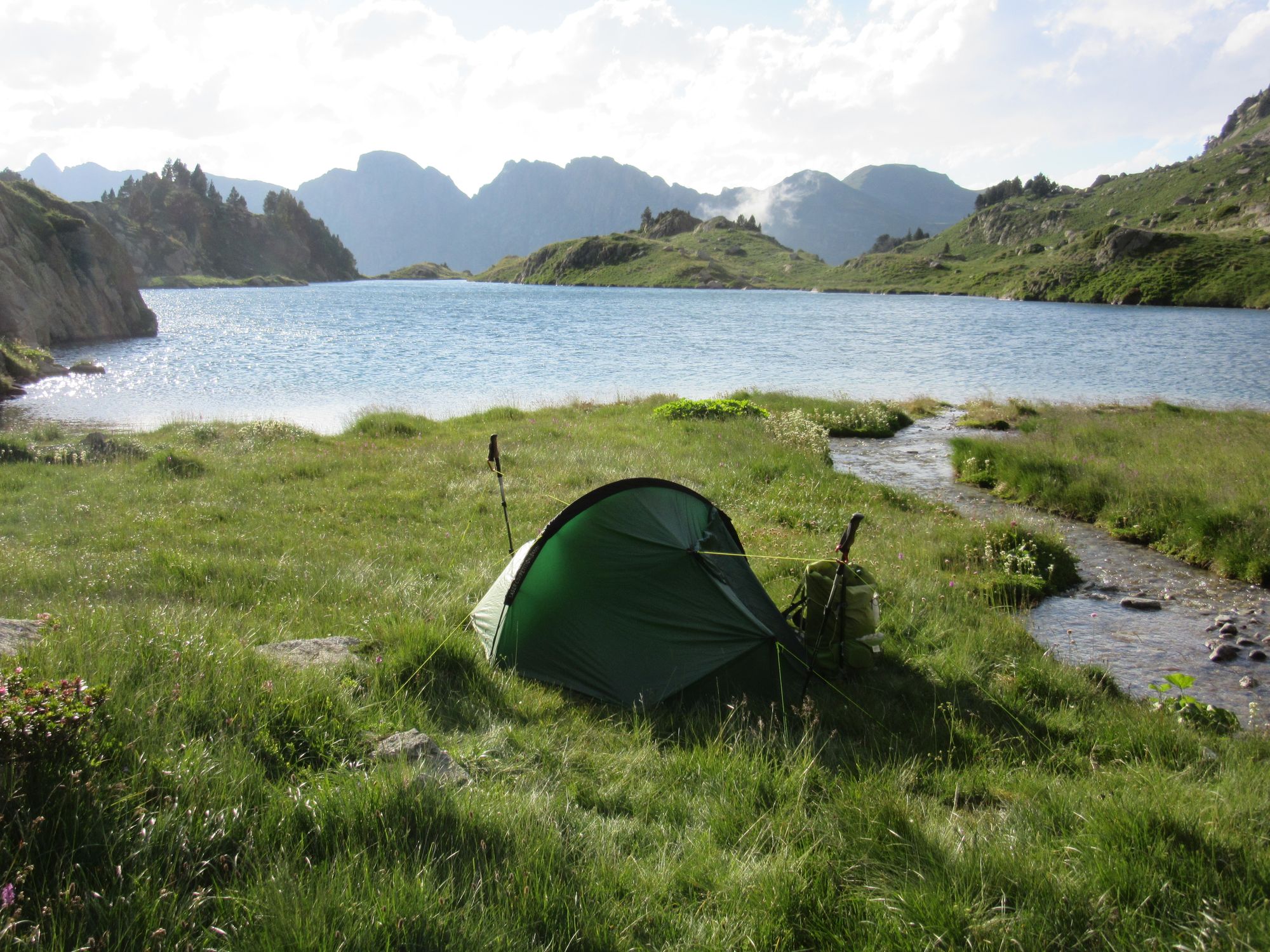 Day 18: Lac deth Cap deth Port to Barranc de Molières
Headed own to Refugi de la Restanca for a second breakfast (chorizo bocadillo; the only hot food on offer was pasta+tomato sauce).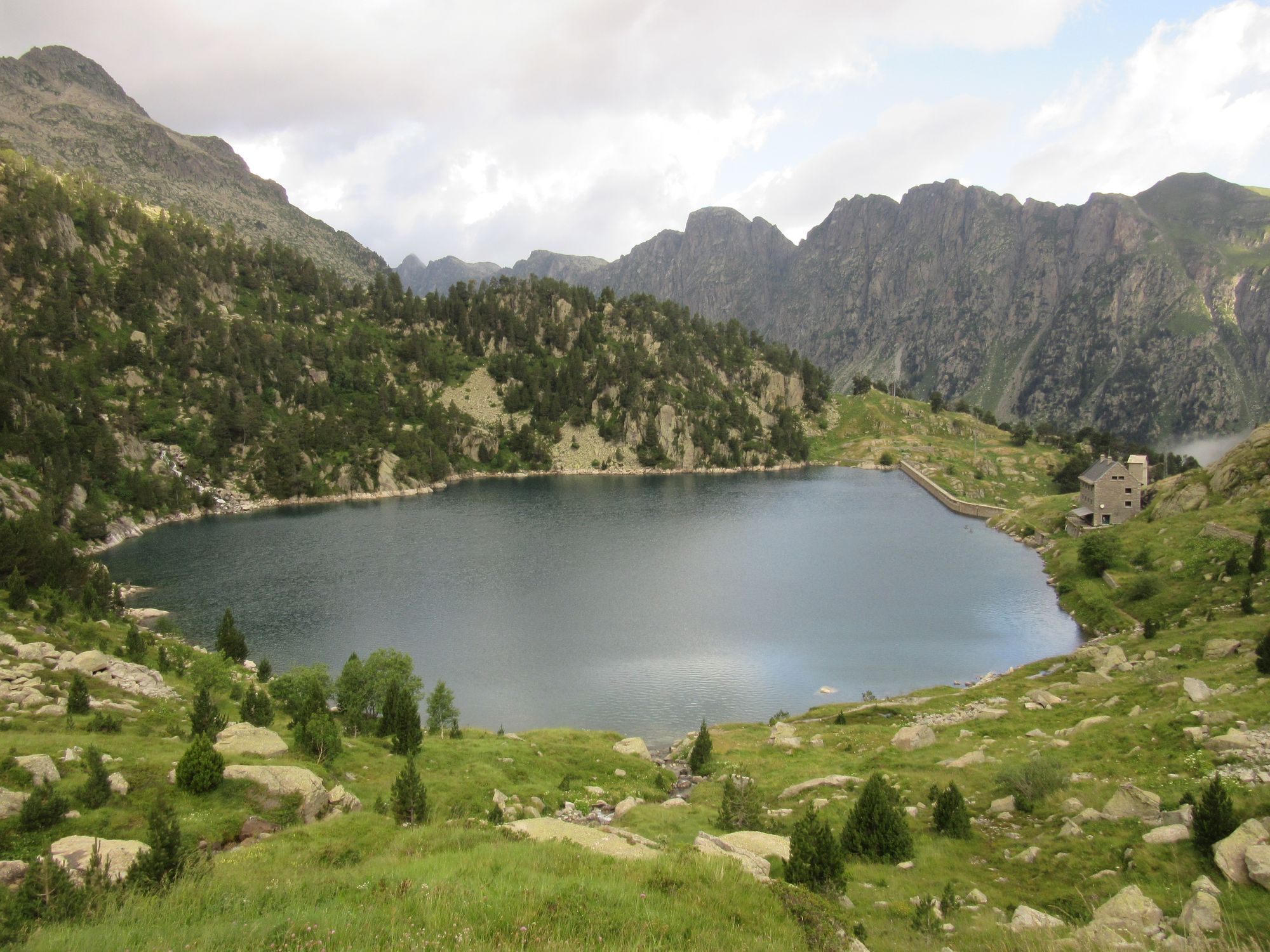 Then on up past the lakes. A windy cloudy day, but the first two lakes were well sheltered from the SW wind. Not so Lac de Ruis which was like a wind tunnel!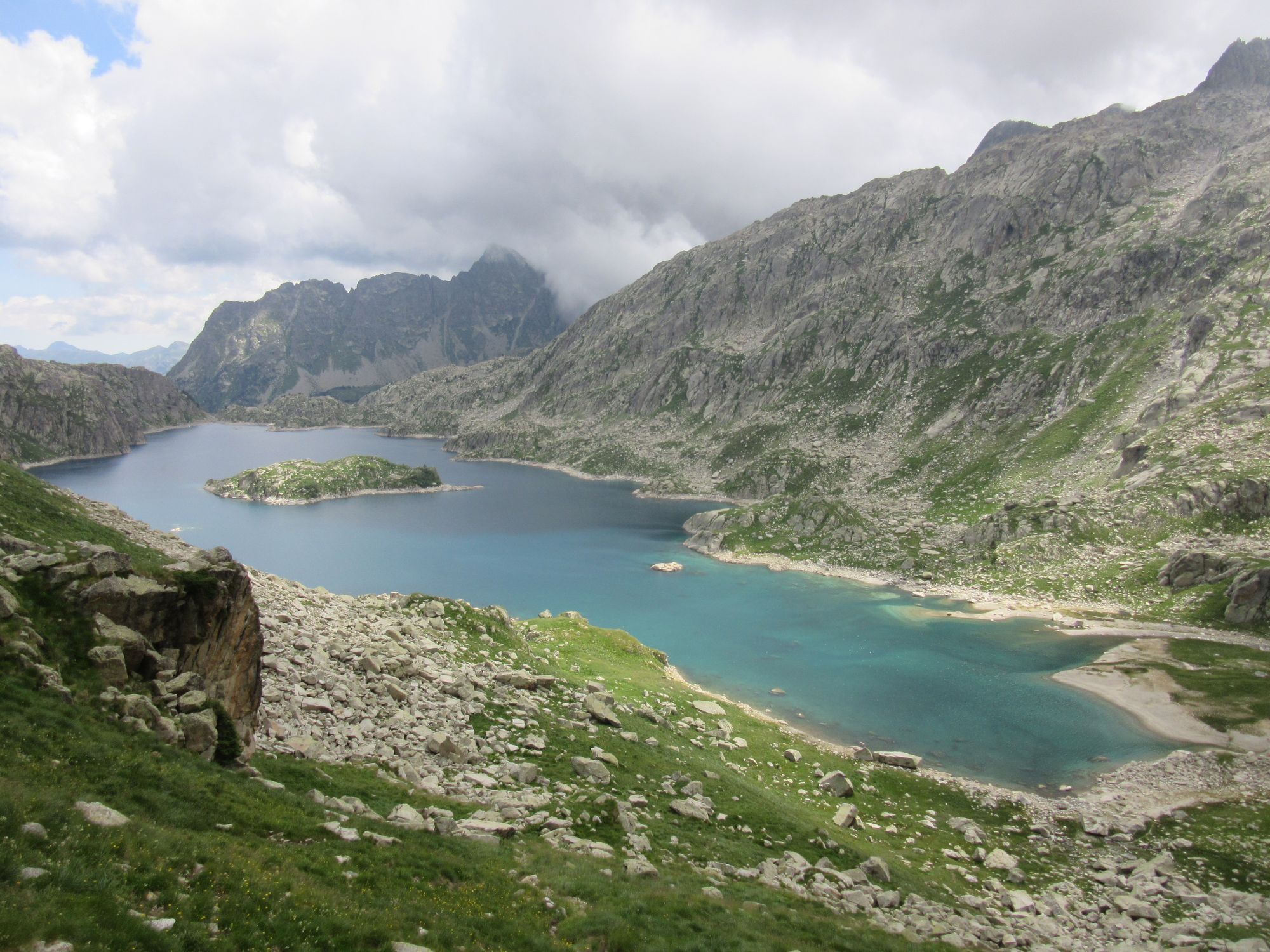 I could have camped somewhere down by Hospital de Vielha - there were some very nice grassy spots along the the Barranc de Molières river to the west - but it was still early and I wanted to knock a few hundred metres more off the next day's big climb.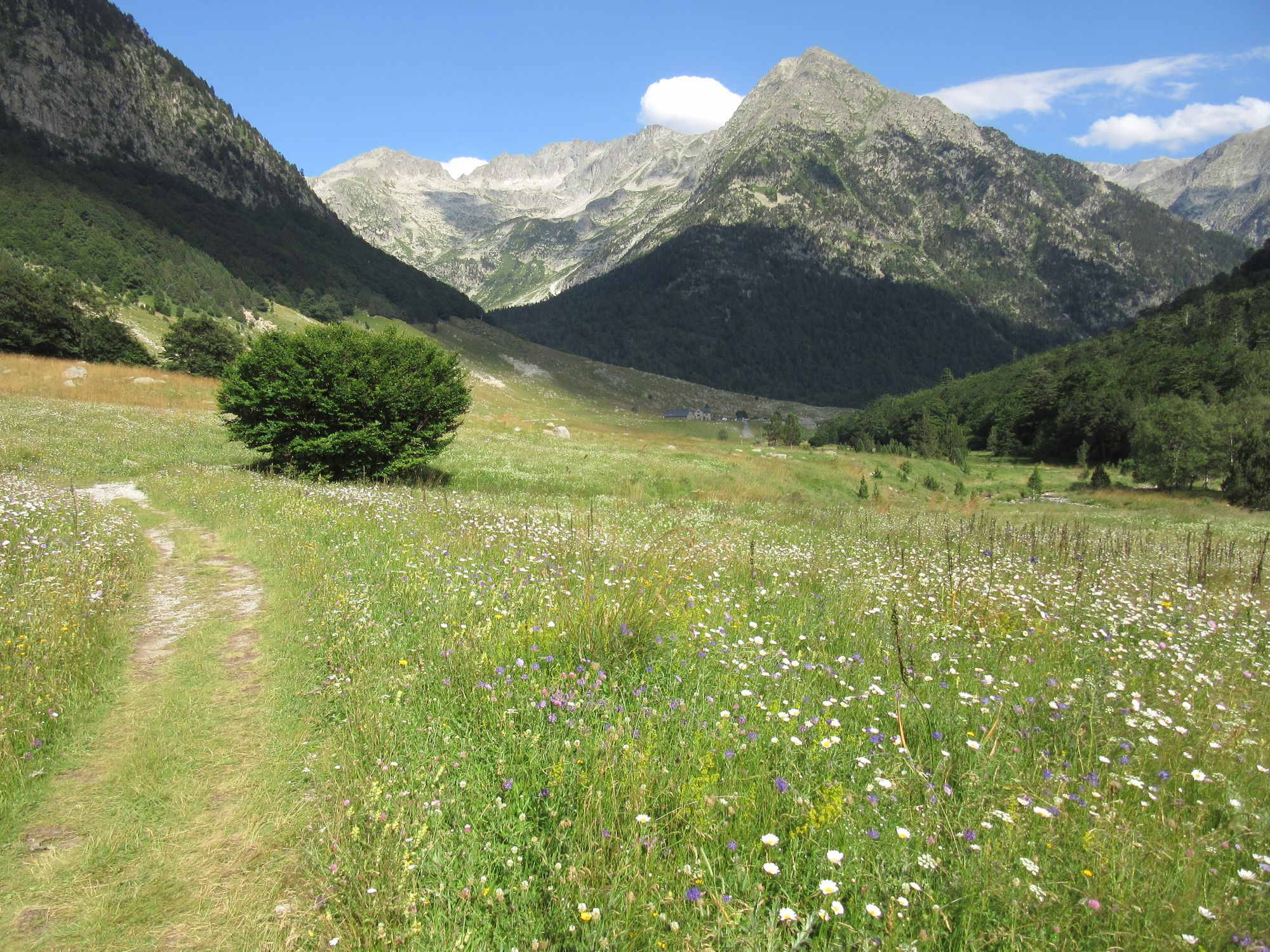 A bit of a mistake though: I ended up in the guidebook's "very rough valley". There were rocks and thistles everywhere and not an inch of flat ground. I didn't fancy going up further as it was getting windier and it seemed not impossible the hut would be full given that several further east had apparently been mobbed. I did eventually find a tiny ledge of flat grass up near the headwall which at was just big enough for my mat if not so much the rest of the tent.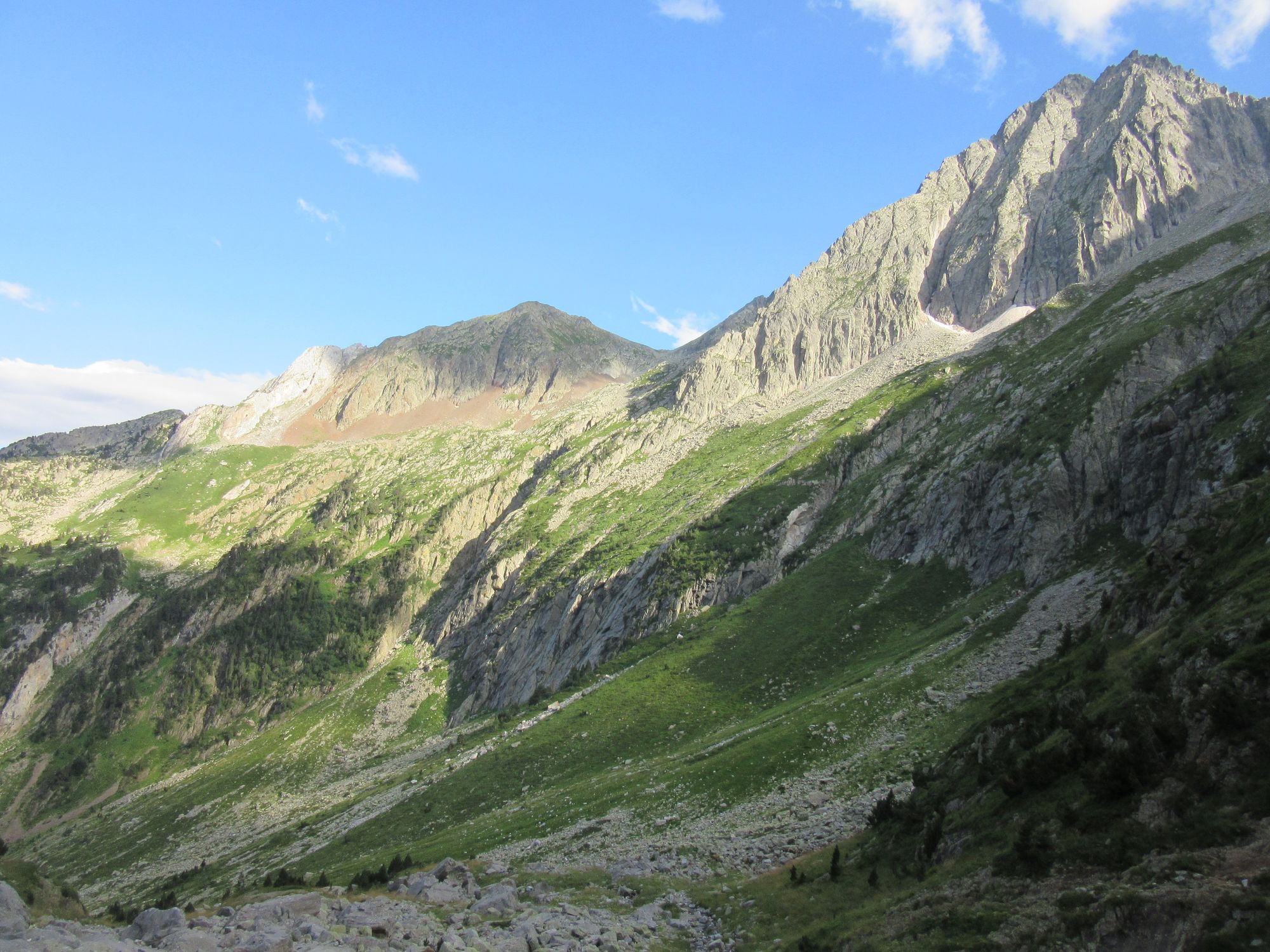 Day 19: Barranc de Molières to Ivons de l'Escaleta
Started with low cloud and still quite windy. Met an eastbound HRPer coming down who'd been over the Col de Mulleres in the clag (and skipped the summit), but it cleared up nicely as I climbed. There was no need to go anywhere near any snow!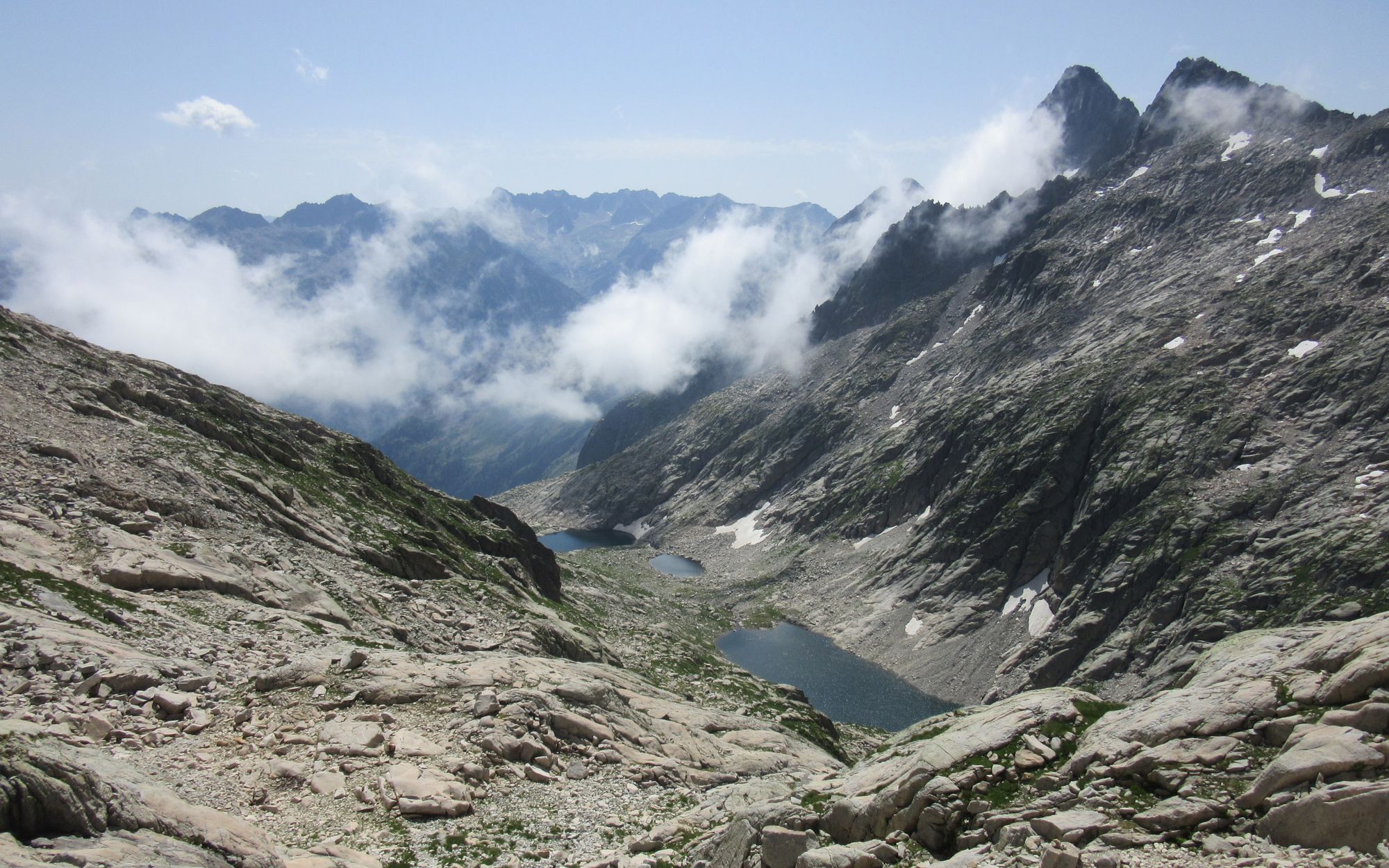 The final climb to the Col was a bit of a scramble, but nowhere near as serious as it had been with full snow cover in 2018. From there the summit - ~3010m, and the only time the normal HRP route touches 3000m+ - was easily reached.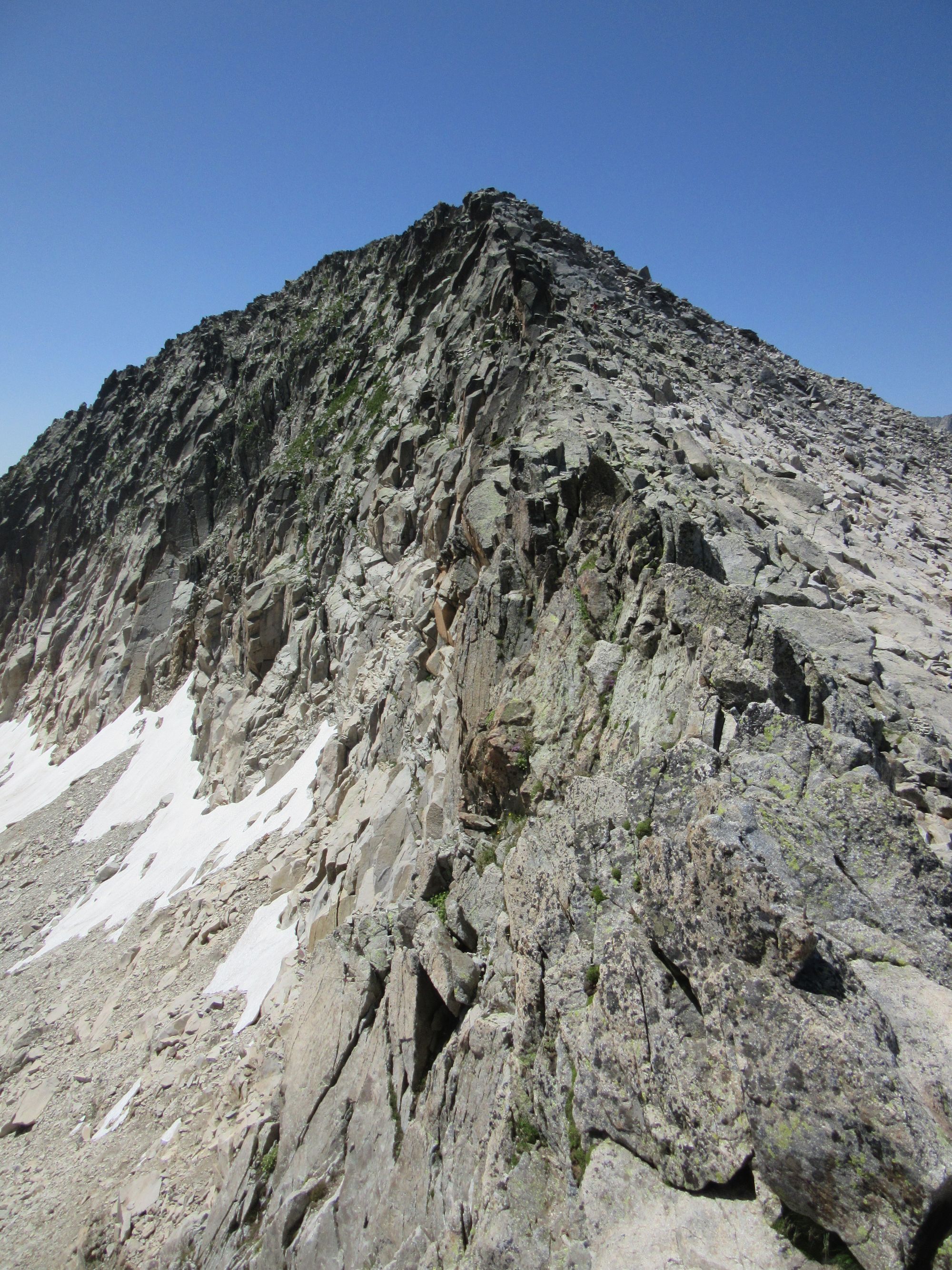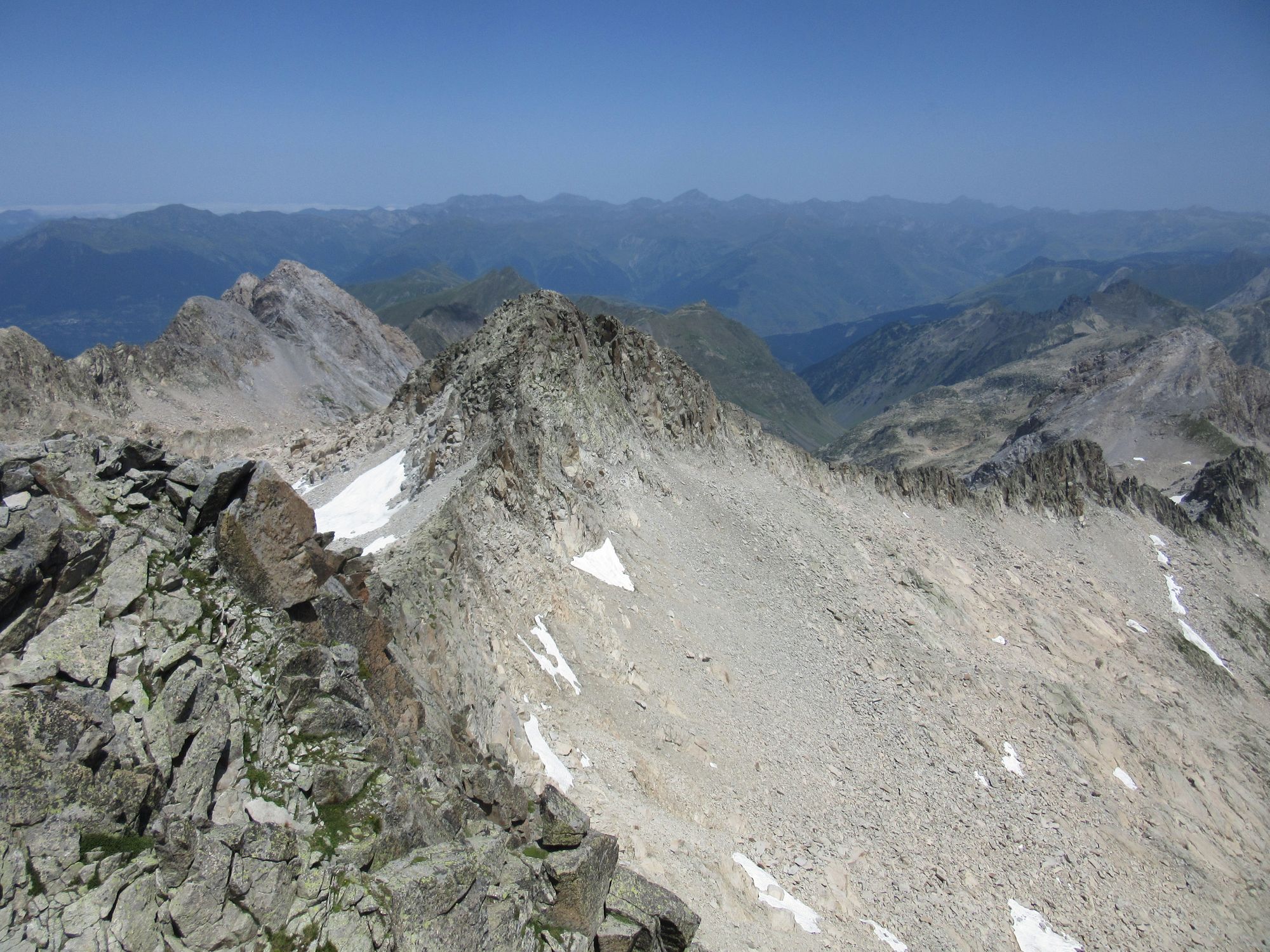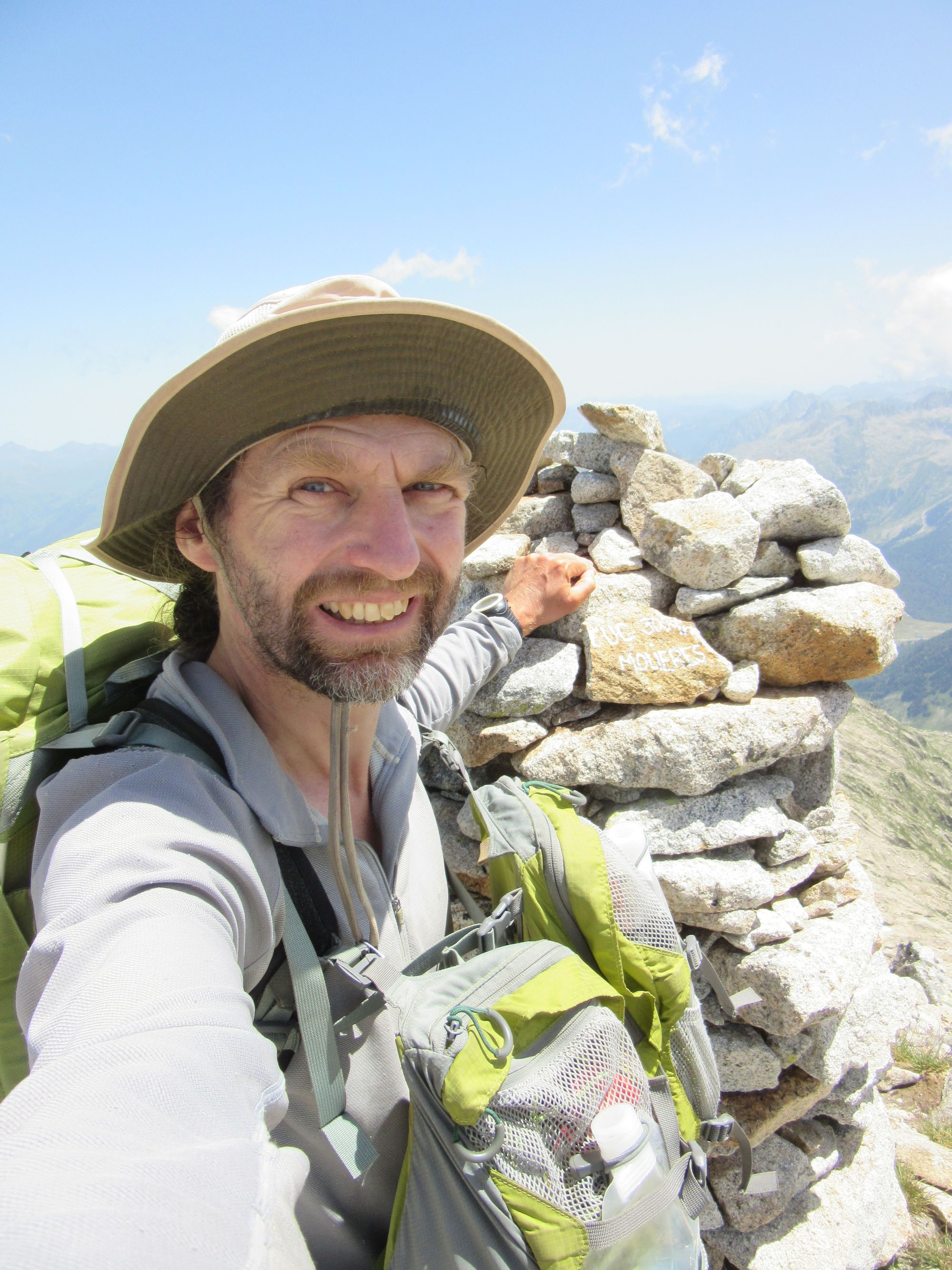 Spent almost a couple of hours on the Tuc de Molieres summit (in sheltered spots) with views across to Aneto.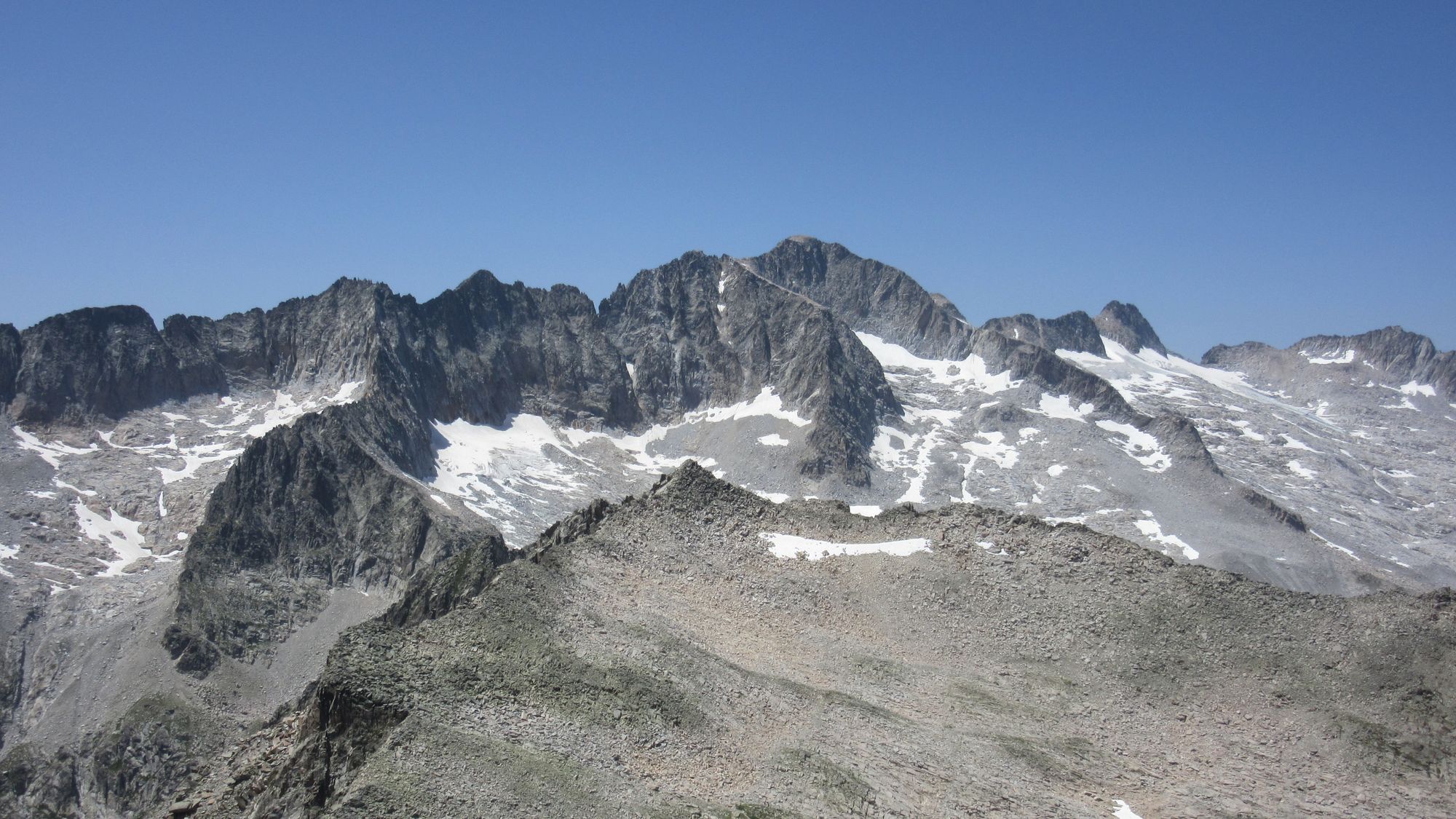 I'd heard a Vielha-Molieres race had been through a few days before, and there was still a bit of evidence around in the form of the odd trail-marking flag that had been missed for removal and some big "helicopter bags" full of detritus waiting to be taken off (collection probably prevented by the strong winds). Those included some boxes of fruit which it seemed would probably go off if not consumed soon, so I did what I could to help avoid it going to waste.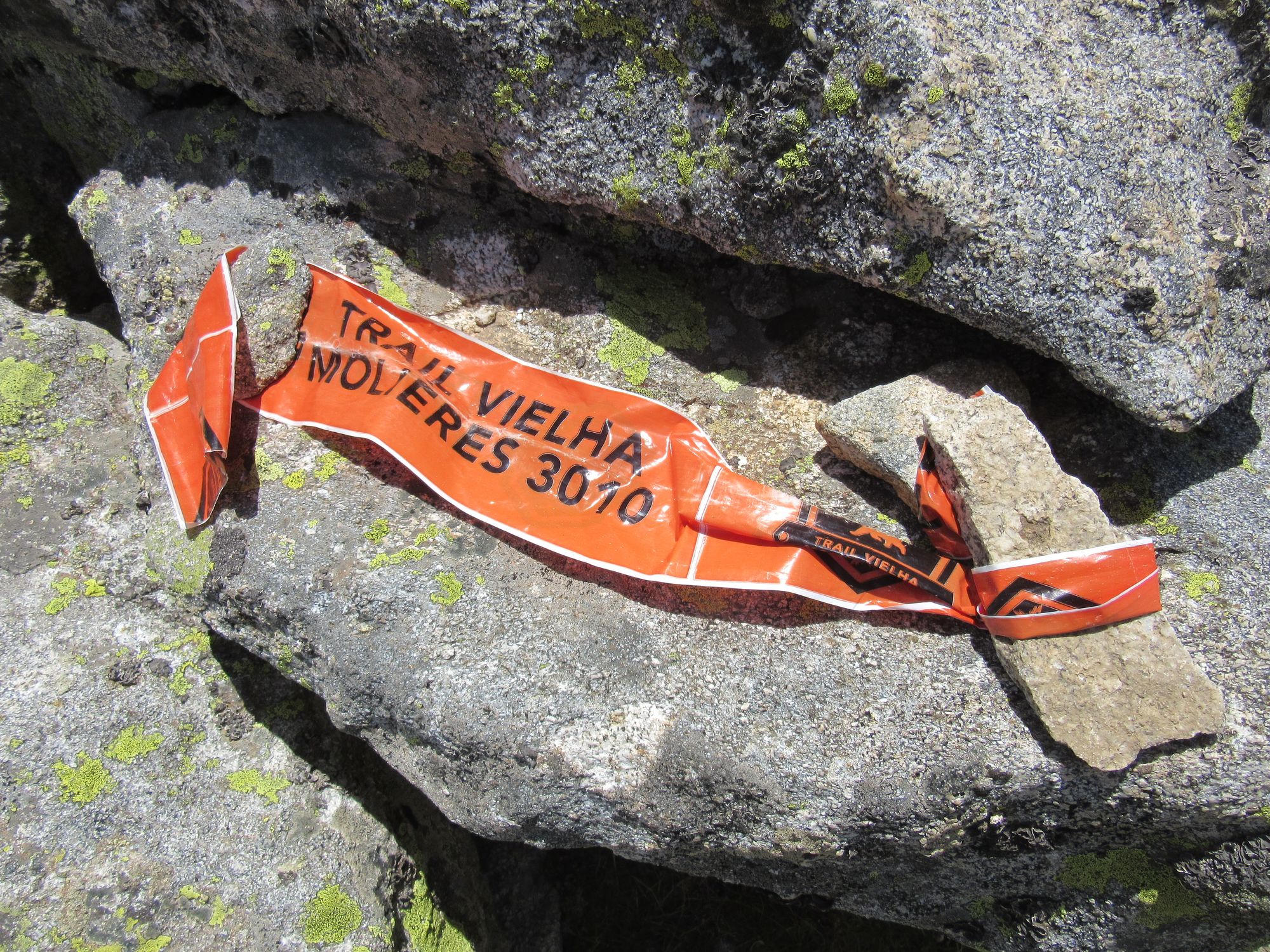 But eventually it was finally time to leave and descend through all the amazing slabby terrain for a camp at the Ivons de l'Escaleta.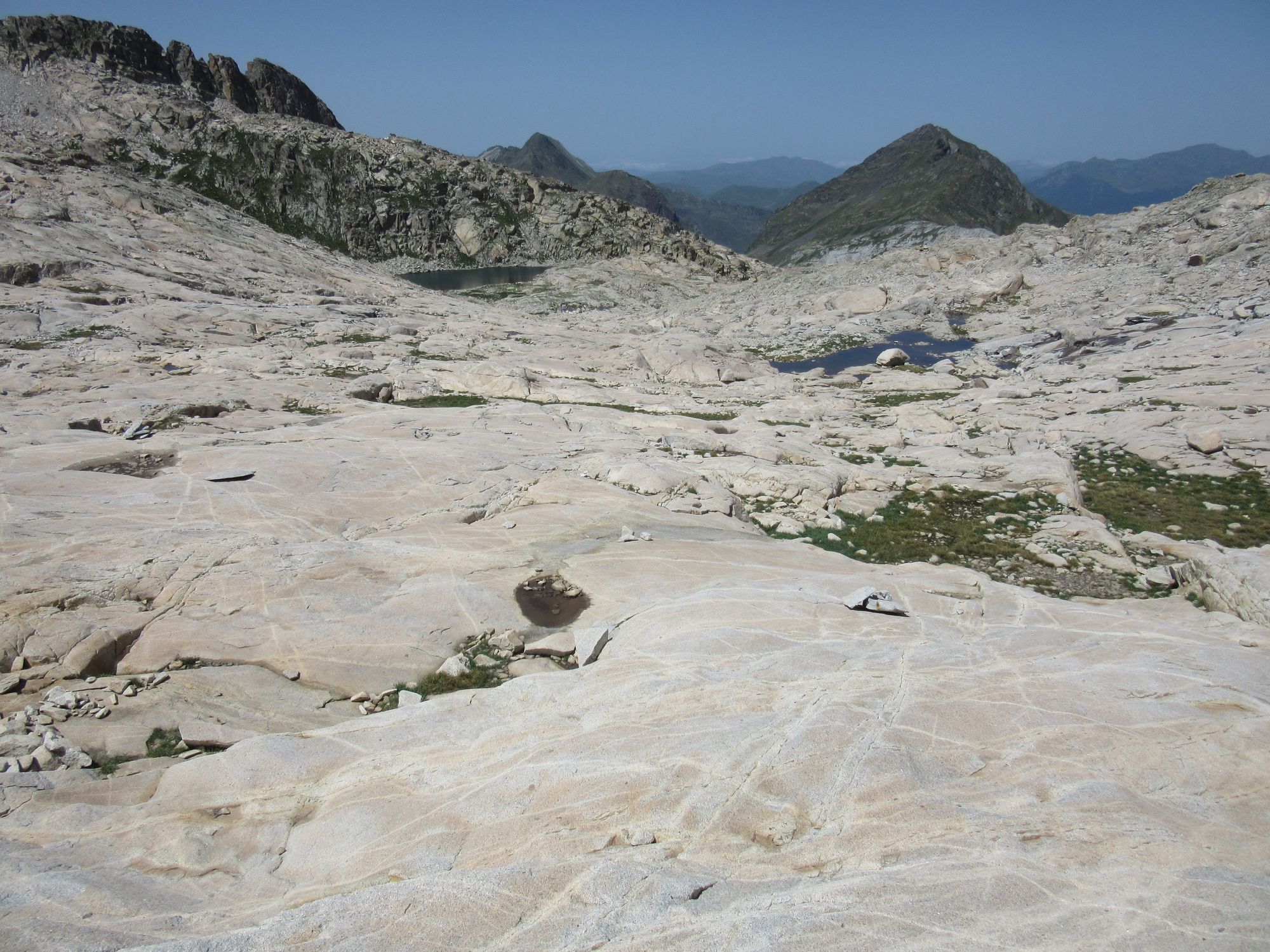 This was a much nicer site than the previous night! In 2018 I'd camped a bit further west just above the Plan d'Aigualluts and that had been overrun by cows and flies, but this was just perfect.
Day 20: Ivons de l'Escaleta to Barranco de Remune
Down to the La Besurta snack stop for refreshments (but alas no ice-creams to be had, just cold drinks) and then - once a huge herd of cows on the move and causing mayhem on the path had been outmanoeuvred - on to Hospital de Benasque for a nice lunch.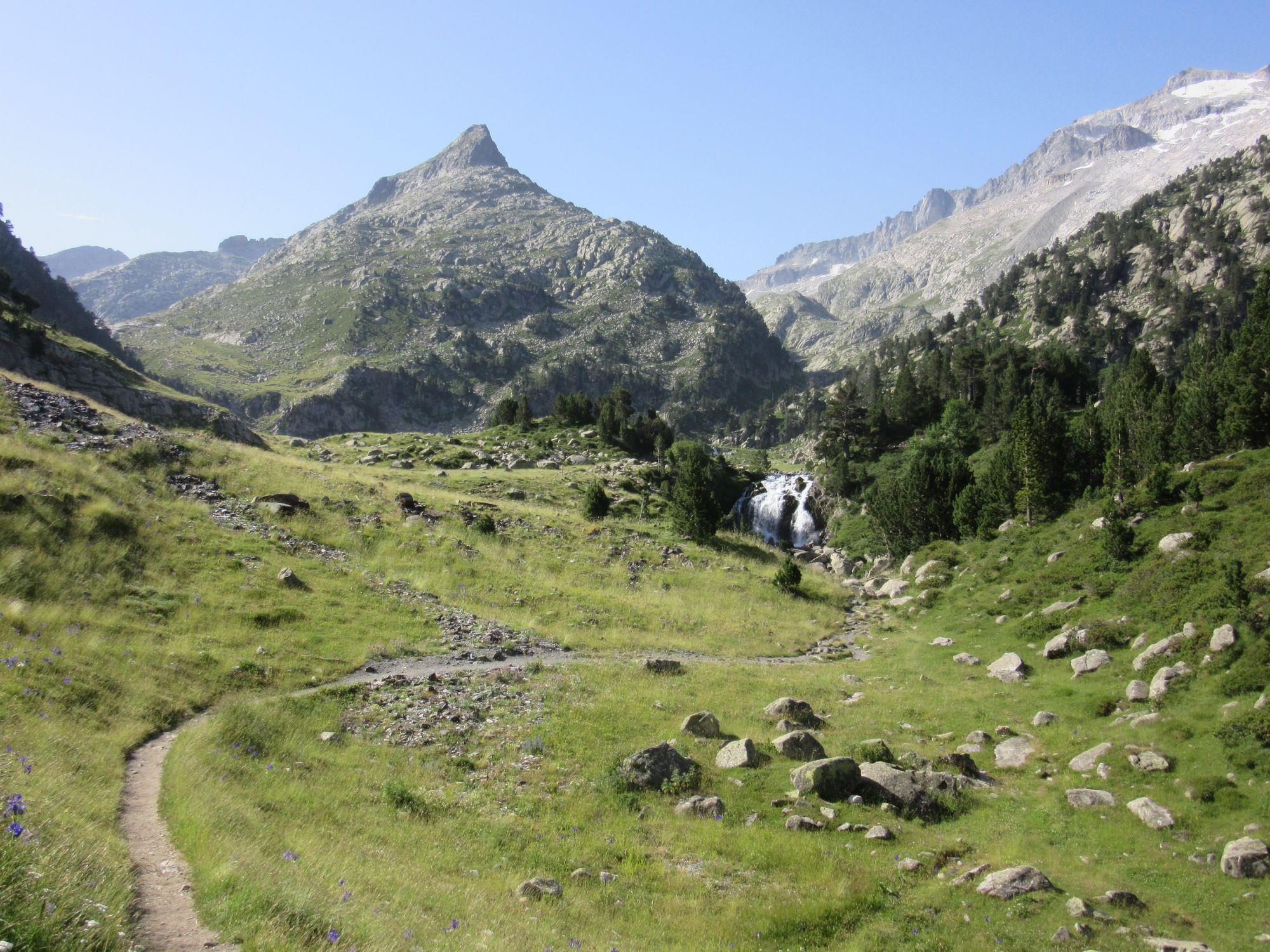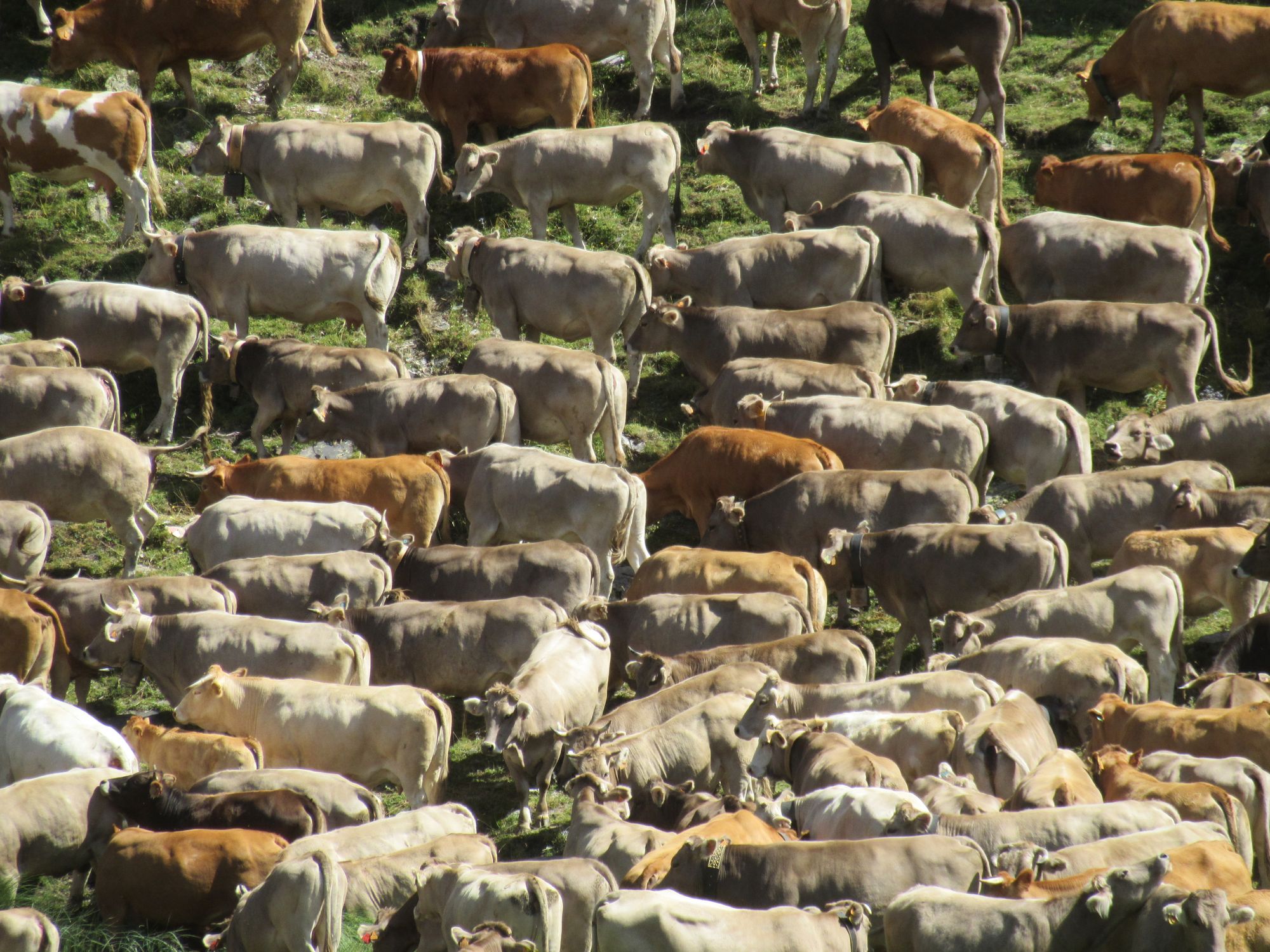 Lots of tourists about (and a fair few eastbound HRPers). Time for lunch! It was here in 2018 that someone put the idea in my head of coming back in 5 years to do the route in the other direction.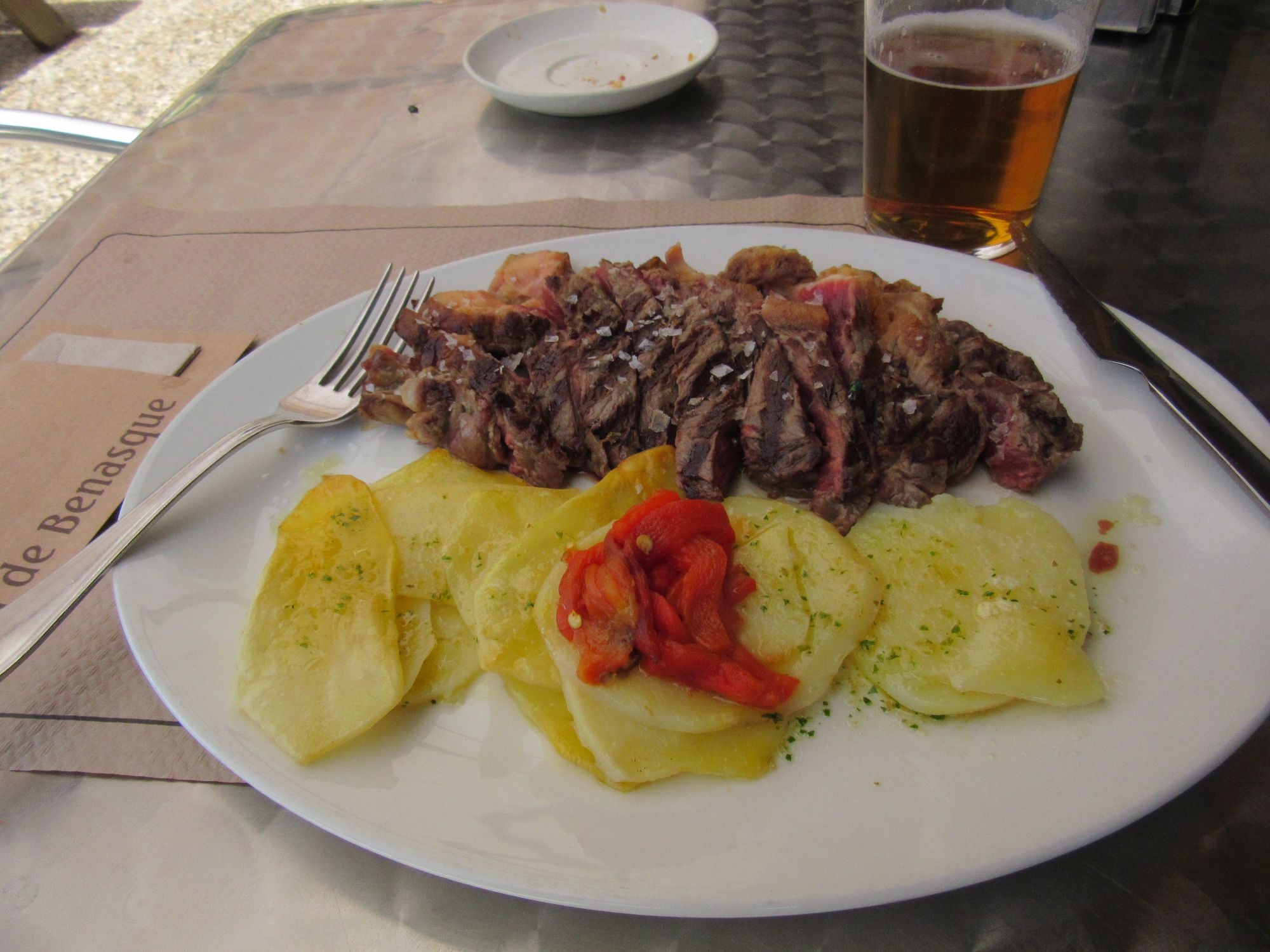 Then a brisk steak-powered haul up to the Circo de Remune.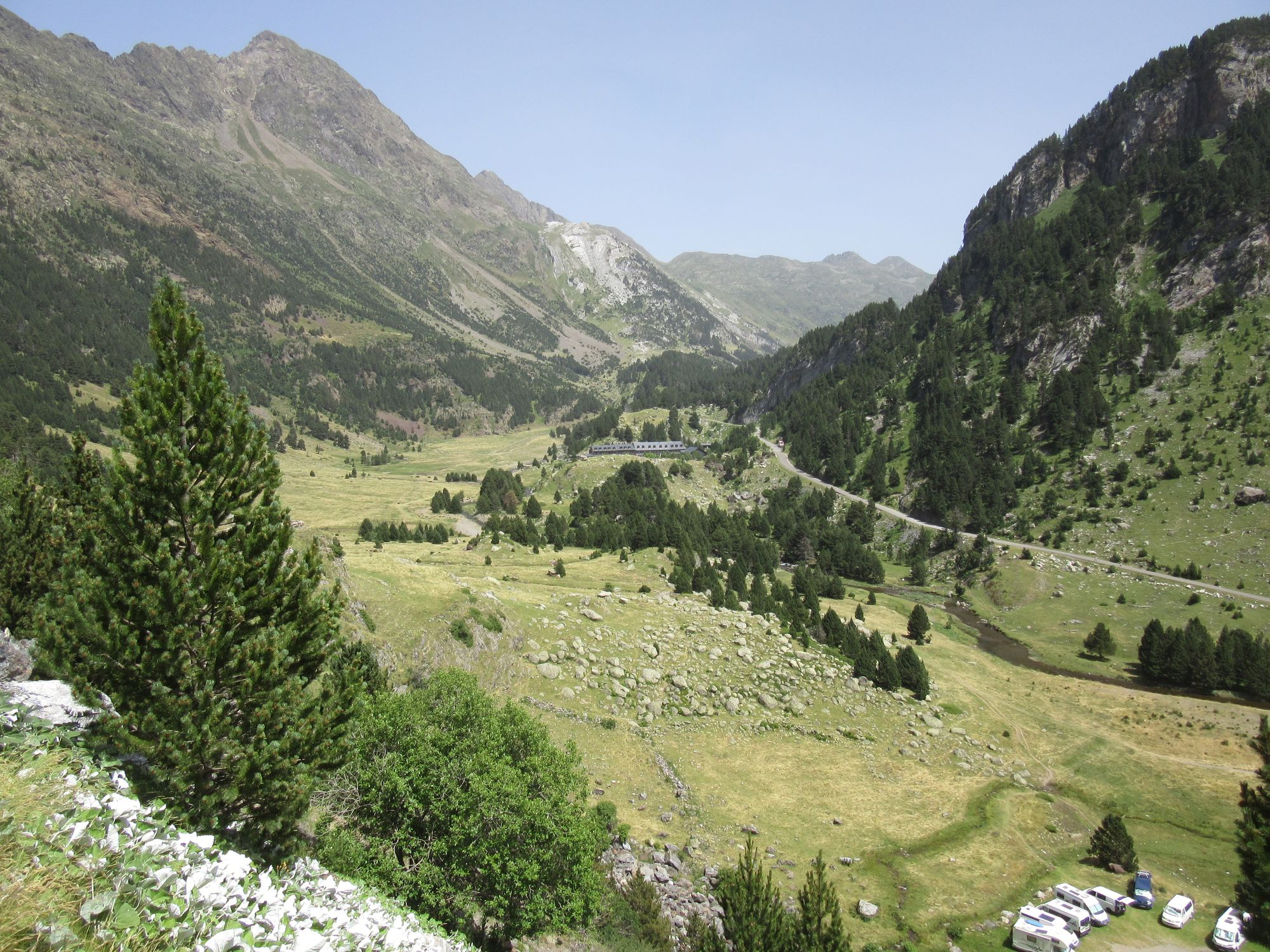 There, I made a nice camp by the river at ~2400m on grass a bit upstream of where the path leaves the river to start up to Portal de Remune. This time, I wasn't going to make the same mistake as a couple of days ago and get greedy for more altitude at the cost of a nice pitch. But it was another "tent tester" of a night: thunderstorms with strong gusts, and then more wind and rain early in the morning.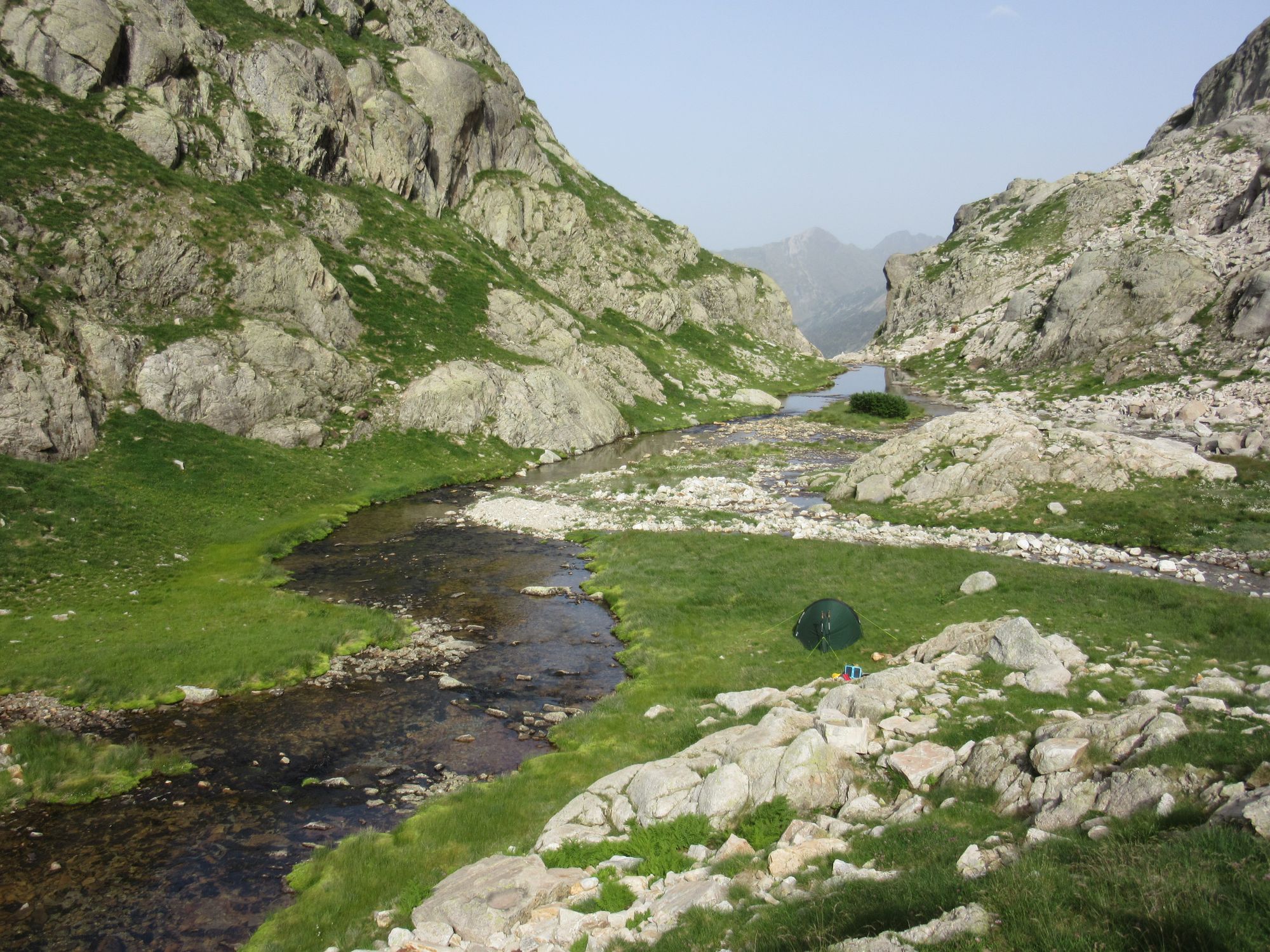 Day 21: Barranco de Remune to Lac du Millieu
First goal of the day was climbing and traversing some rocky terrain to get to and then over the Col Inferieur de Literole. There was wind and light rain; this was only the second time on the trip I had put the waterproof jacket on, and the first time I'd felt the need to wear gloves.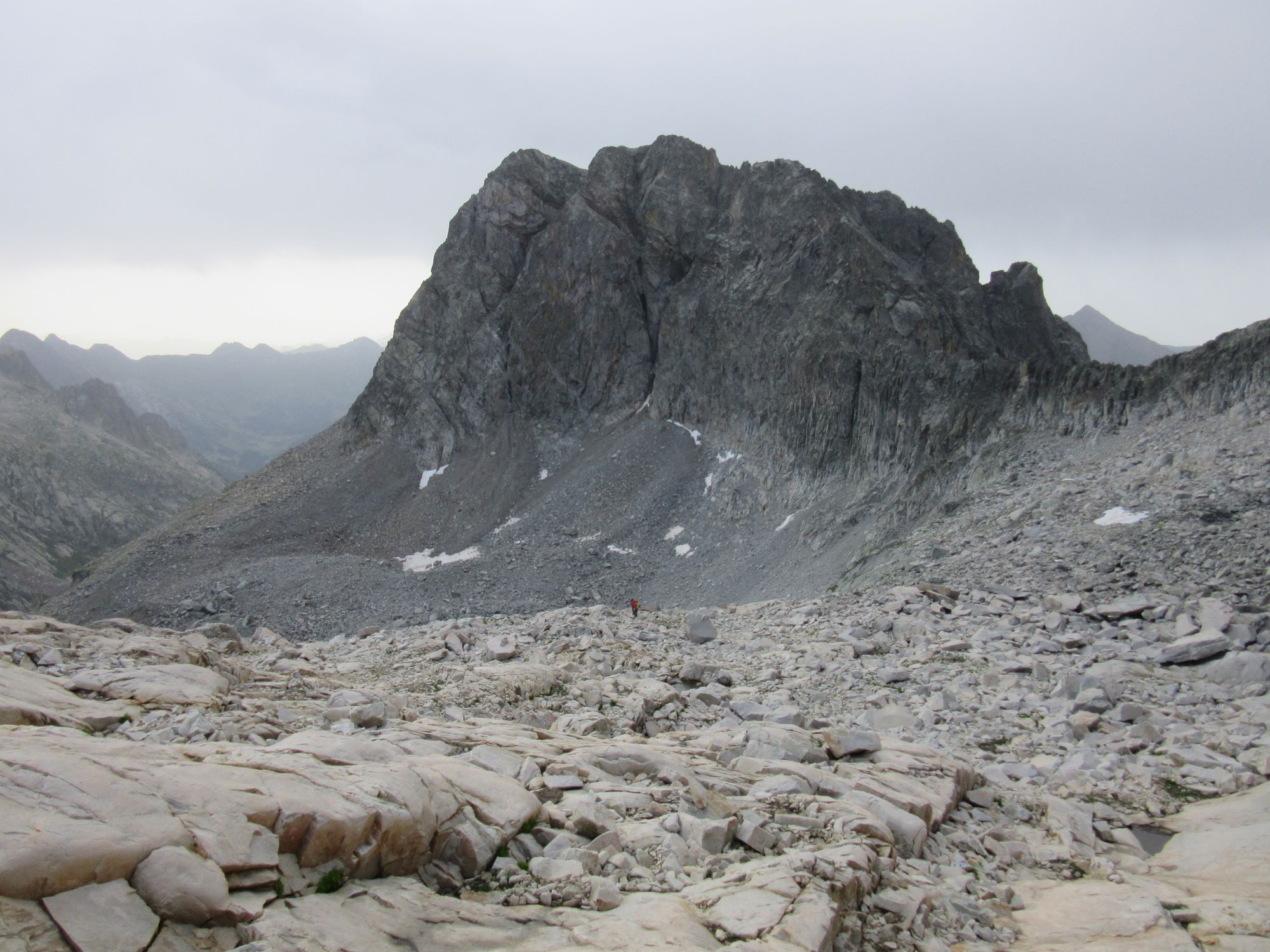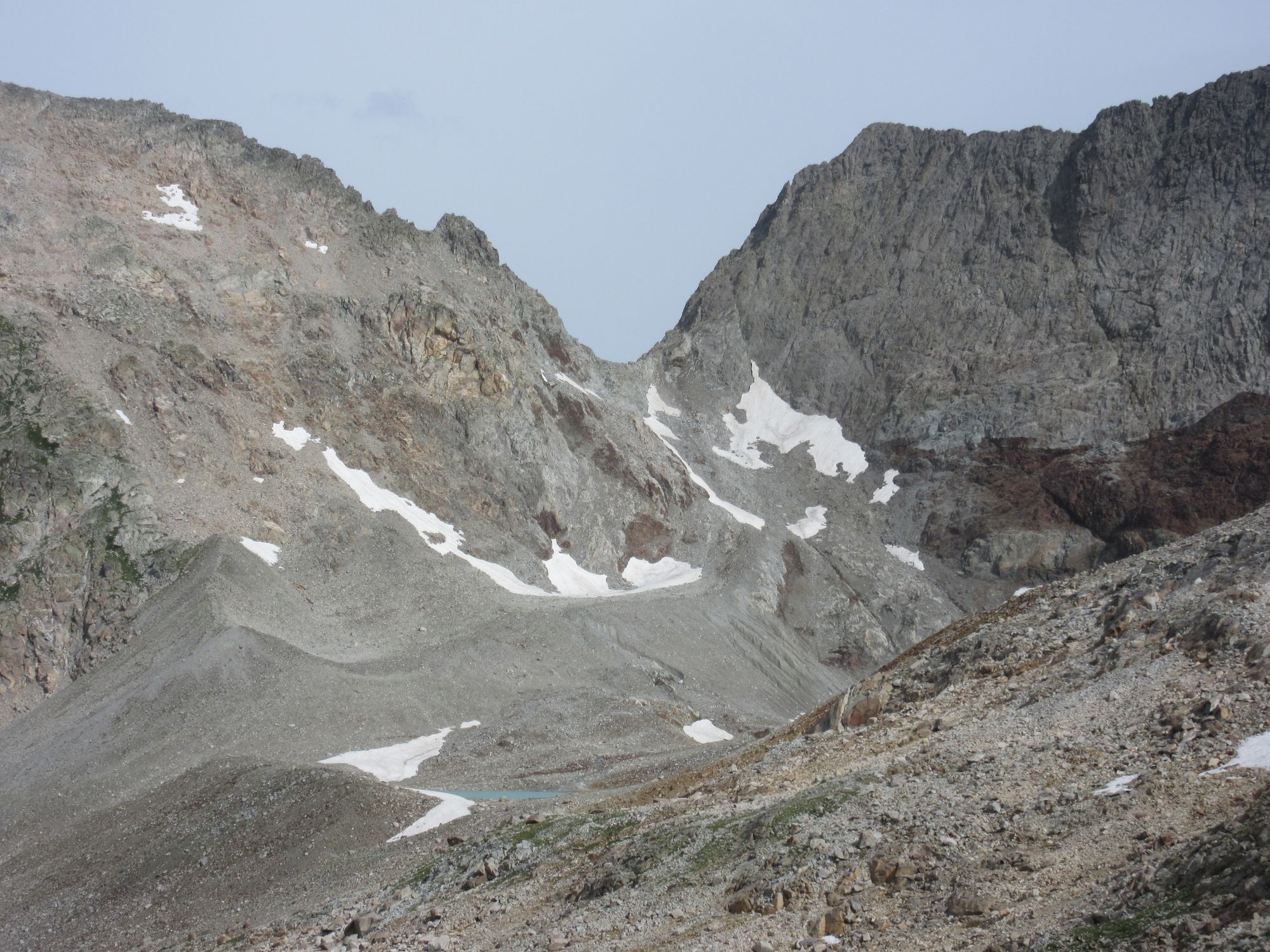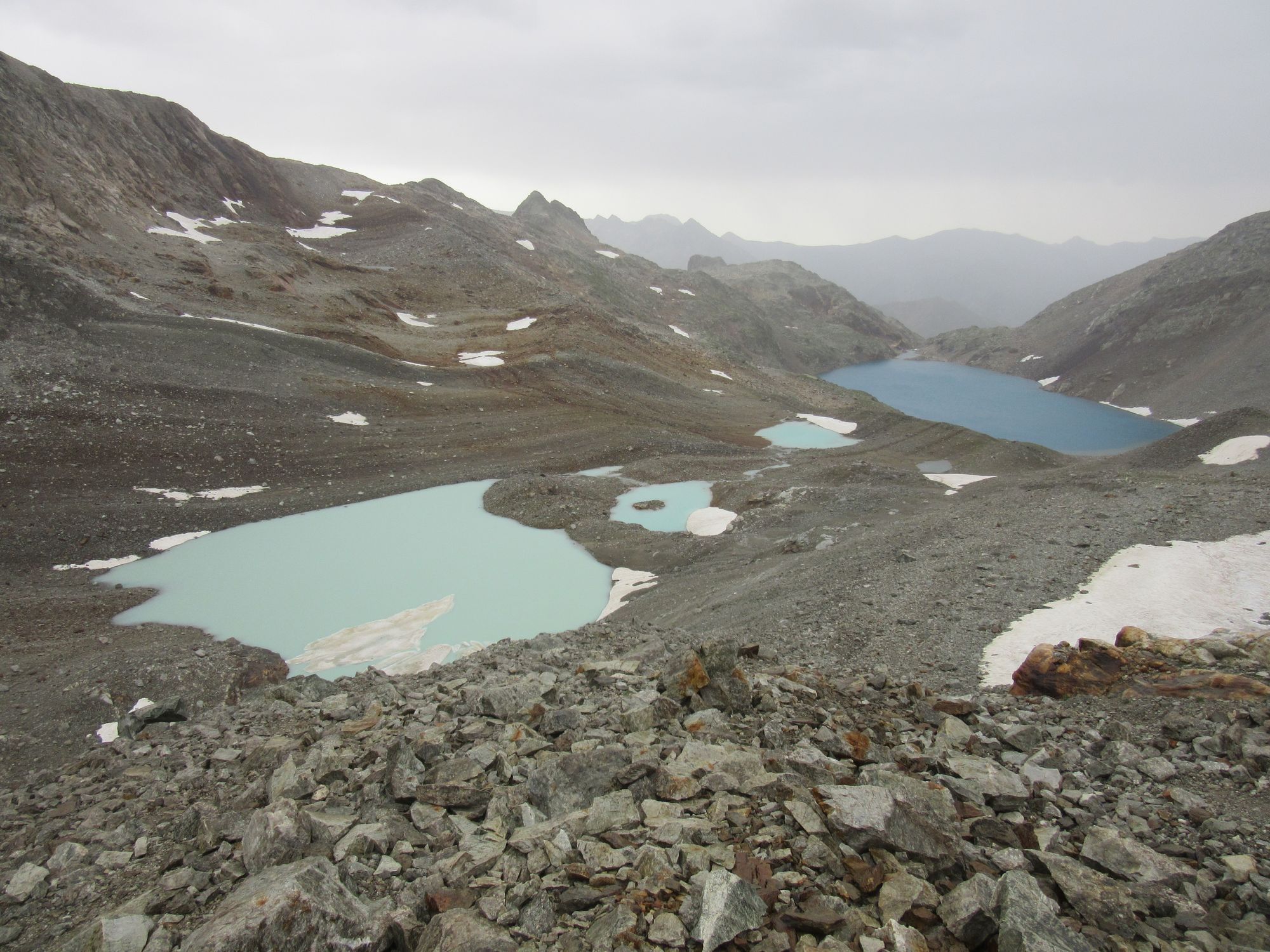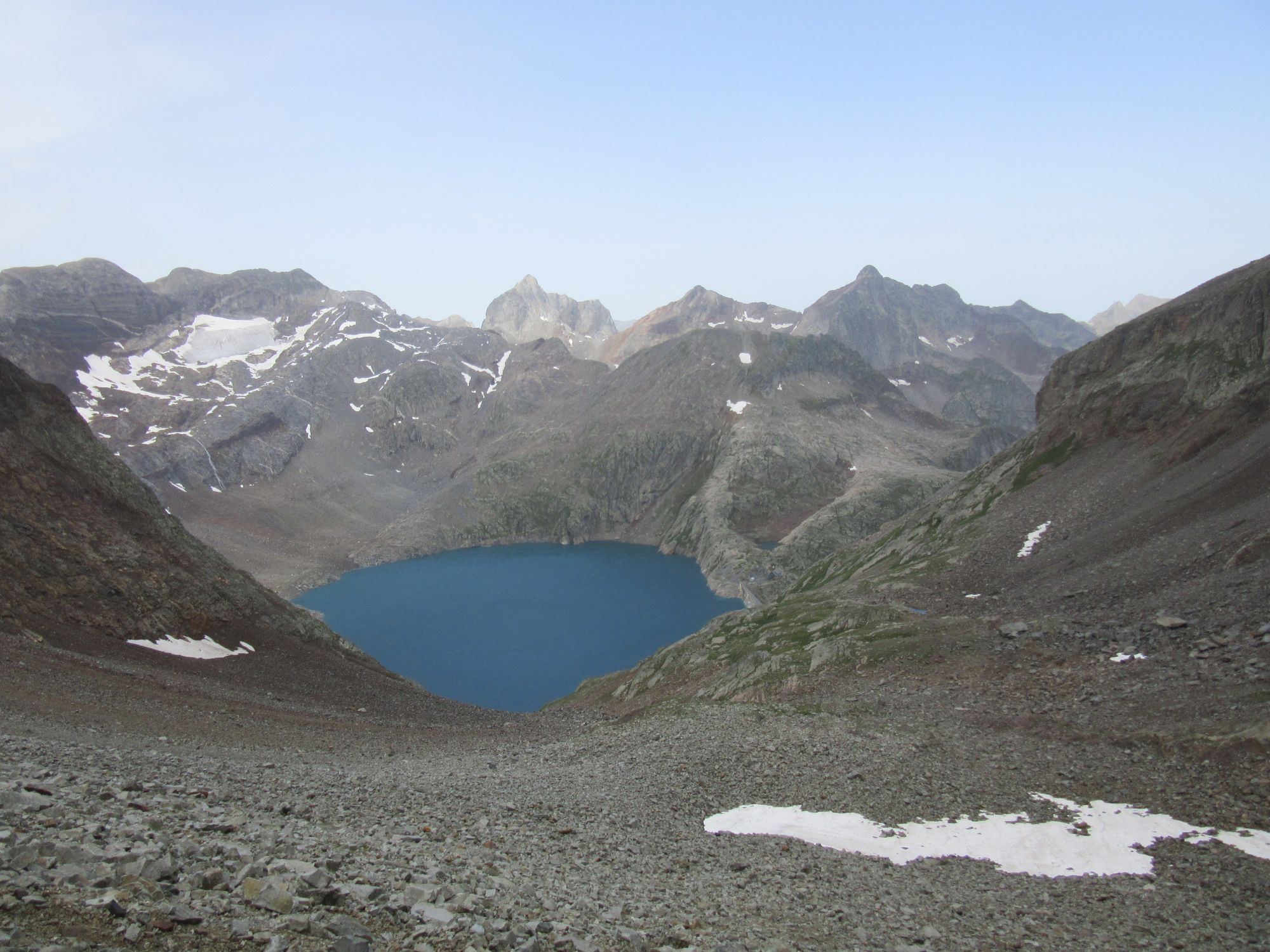 Descended from the col - with the weather improving - to arrive at the Refuge du Portillon for a nice plump cheese-and-ham omelette for lunch.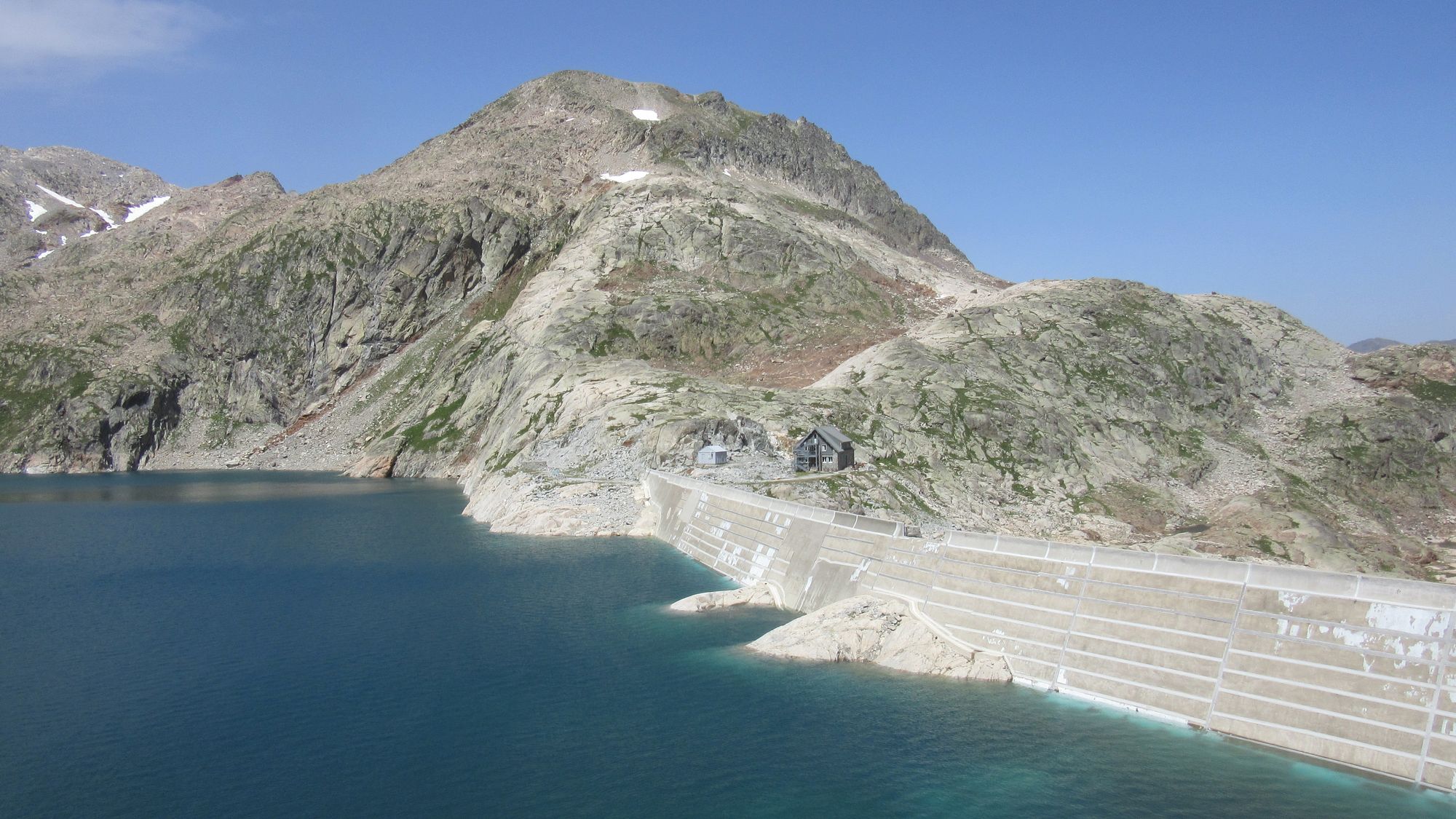 It was far too early to stop, so then it was on and up the Tusse de Montarqué behind the refuge and along to the Col des Gourgs-Blancs in wind and sun in the afternoon.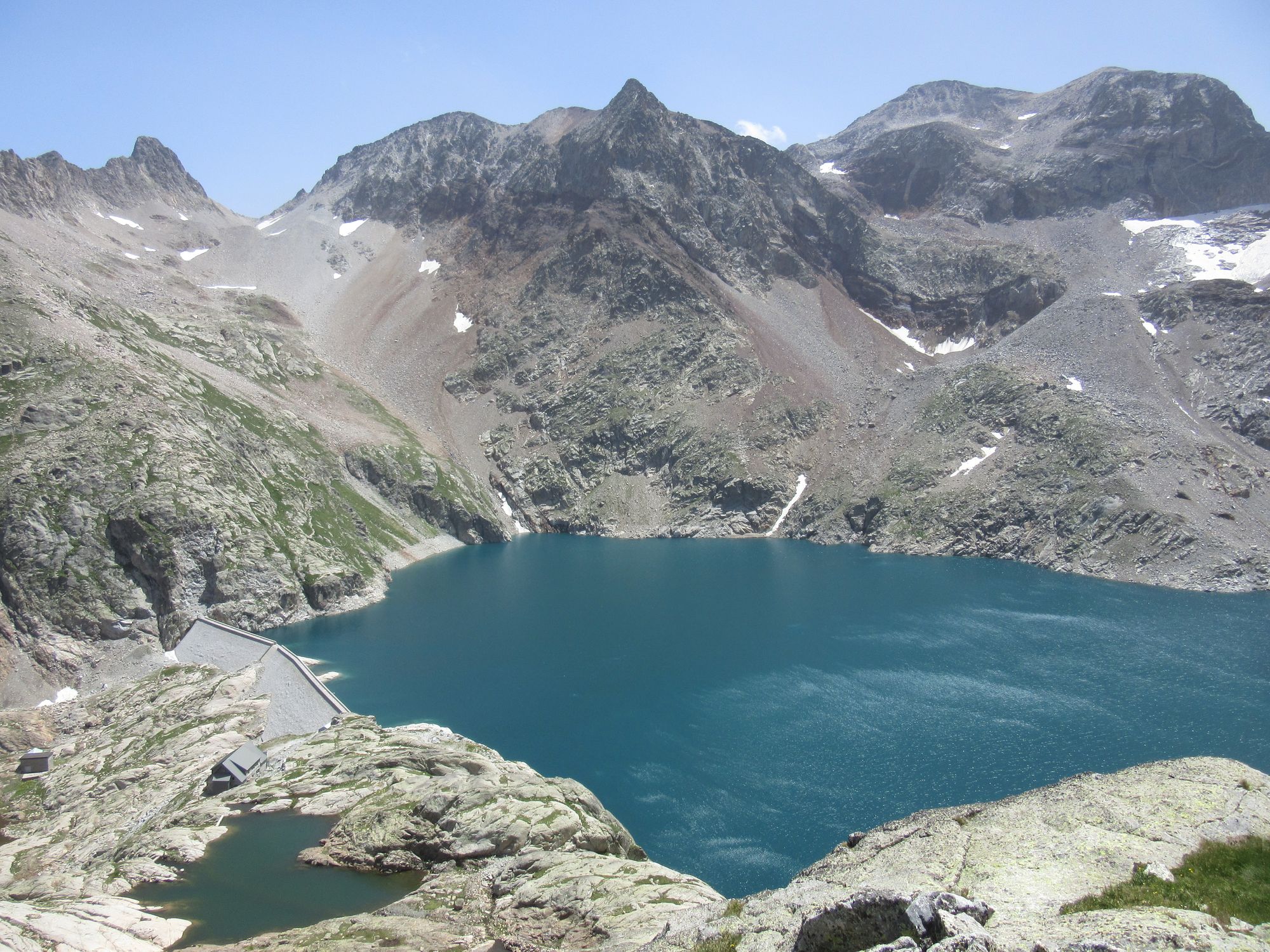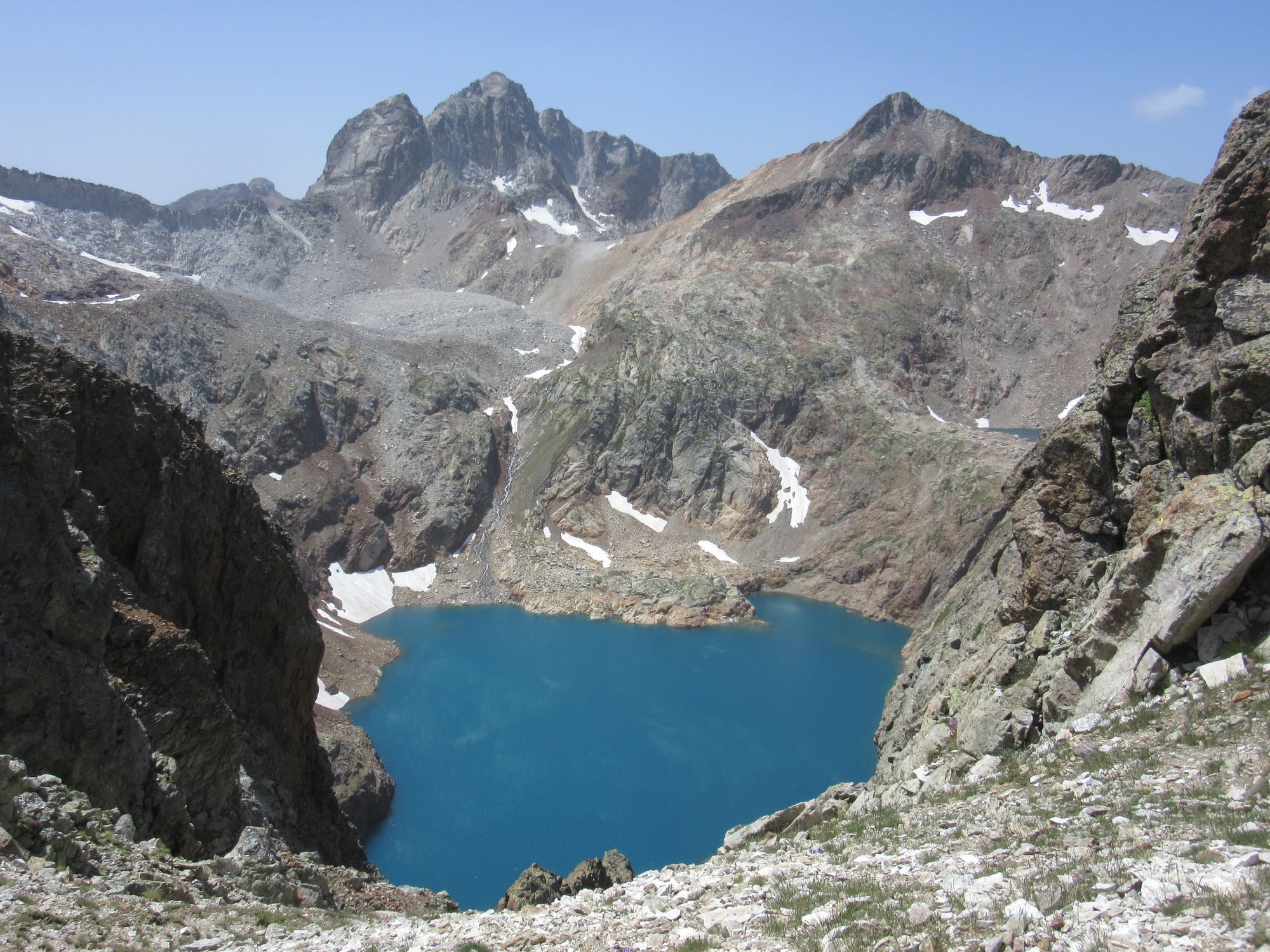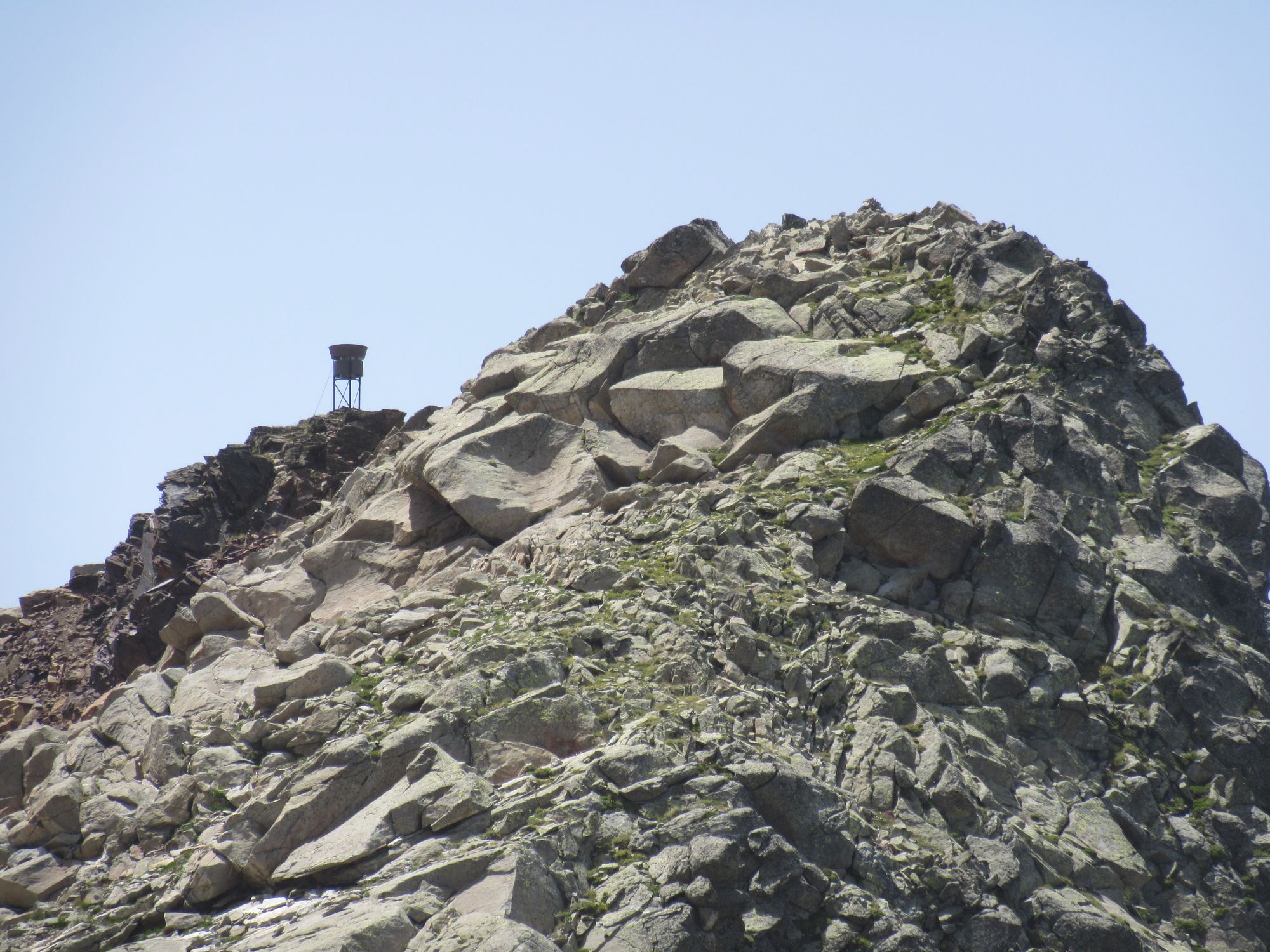 Snow protection hardware (ice-axe and crampons) remained stowed throughout today. I did meet a couple of eastbound HRPers descending from Col Inferieur de Literole who were insistent that crampons were needed on the west side, but in practice it seemed to me that what snow and ice there was there that was useful to step onto was so covered in grit and stones it just wasn't an issue. I did find one useful bit of snow to walk on: descending from Col du Pluviometre there was a useful "snow road" ramp that avoided a bit of rockhopping on rough stony ground.
🧐
It was really interesting to see all this terrain almost devoid of snow: in July 2018 it was still well covered and an axe and spiky footwear was essential. Back then I witnessed one axeless HRP walker helicoptered off Gourgs-Blancs after they took an uncontrolled slide down a snowy ramp between rocks and got badly cut and bruised on the way. And I saw a couple of other folks slipping and breaking walking poles when they attempted (and failed) to self-arrest with them, fortunately without injury.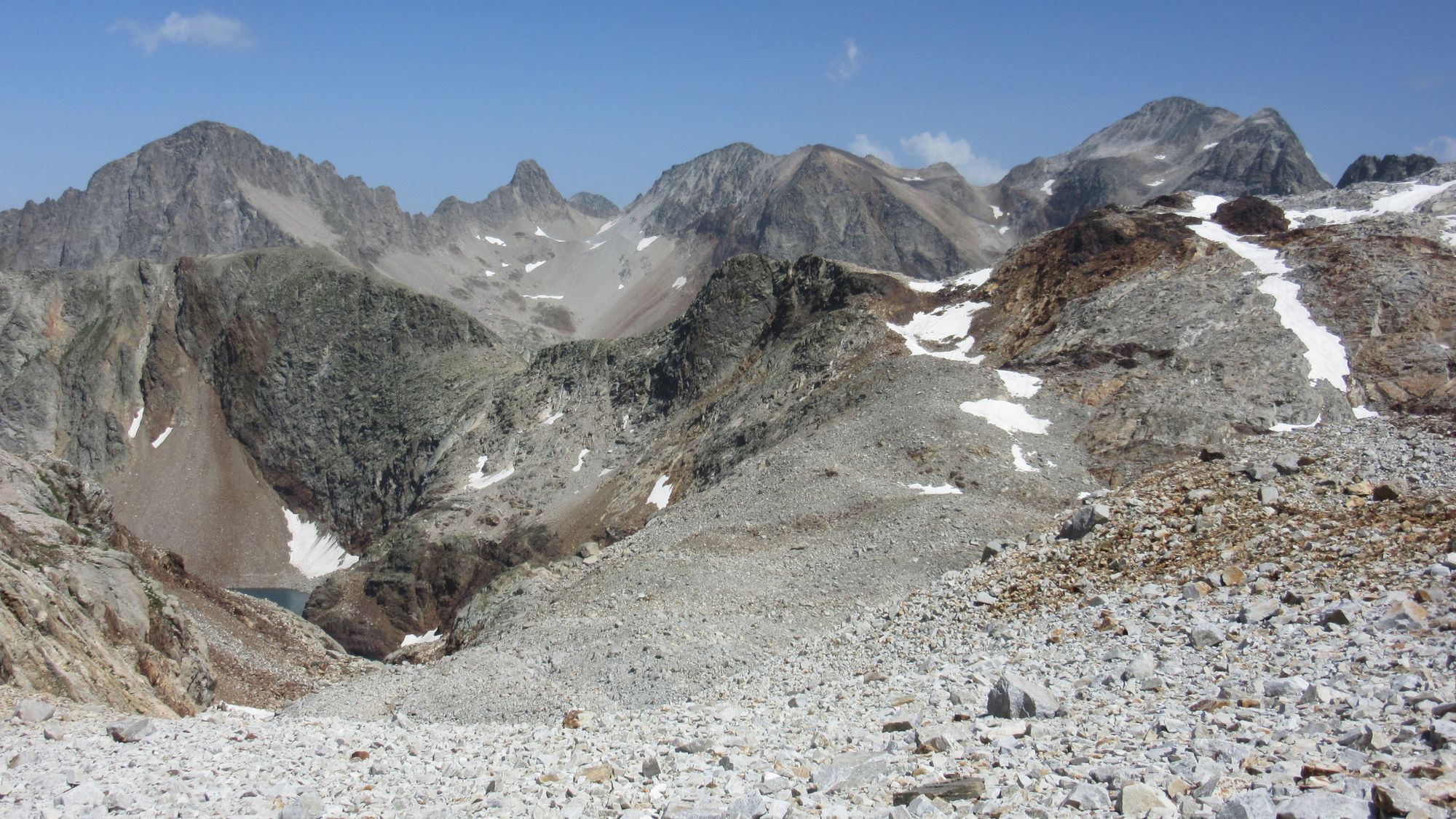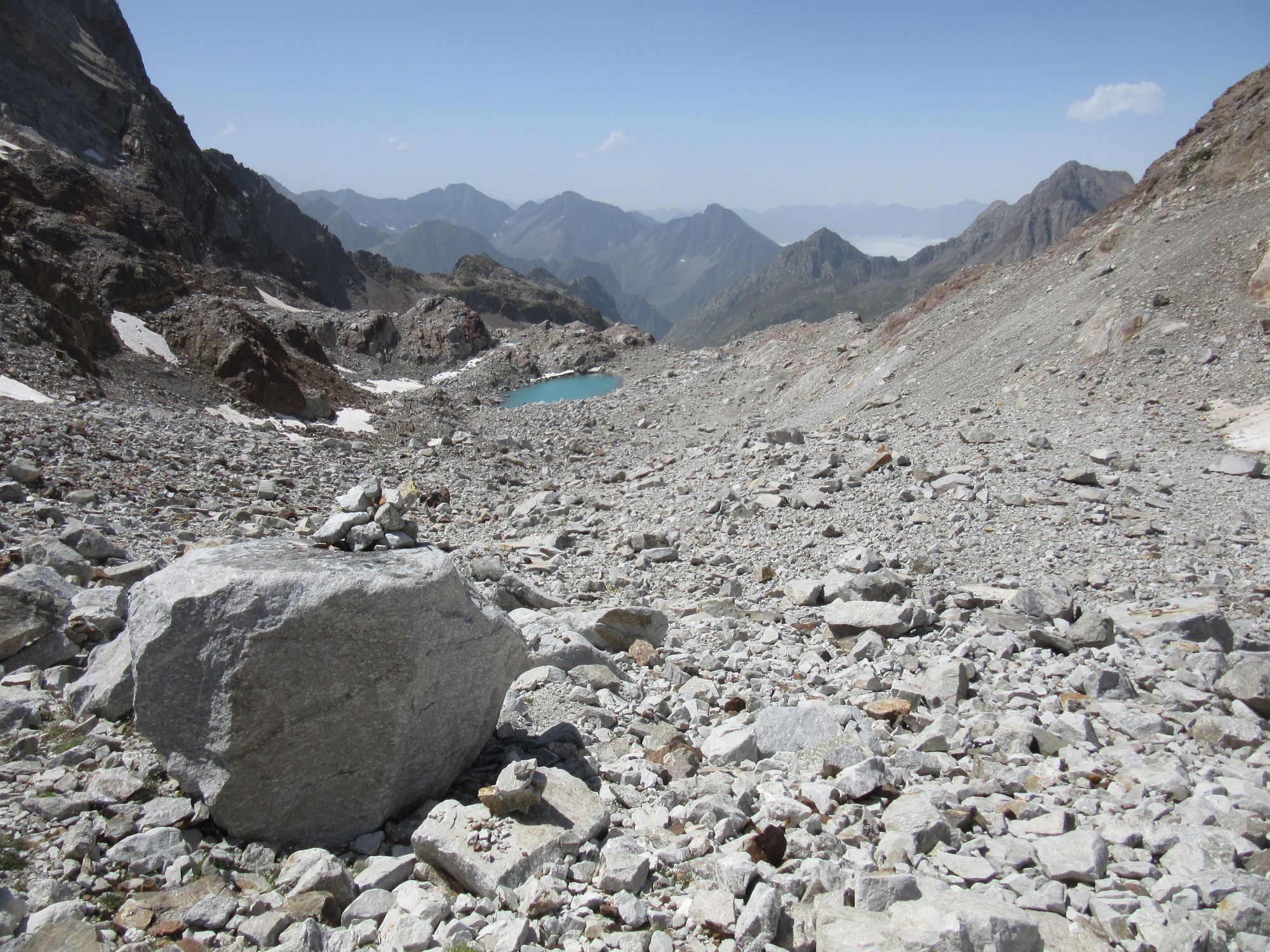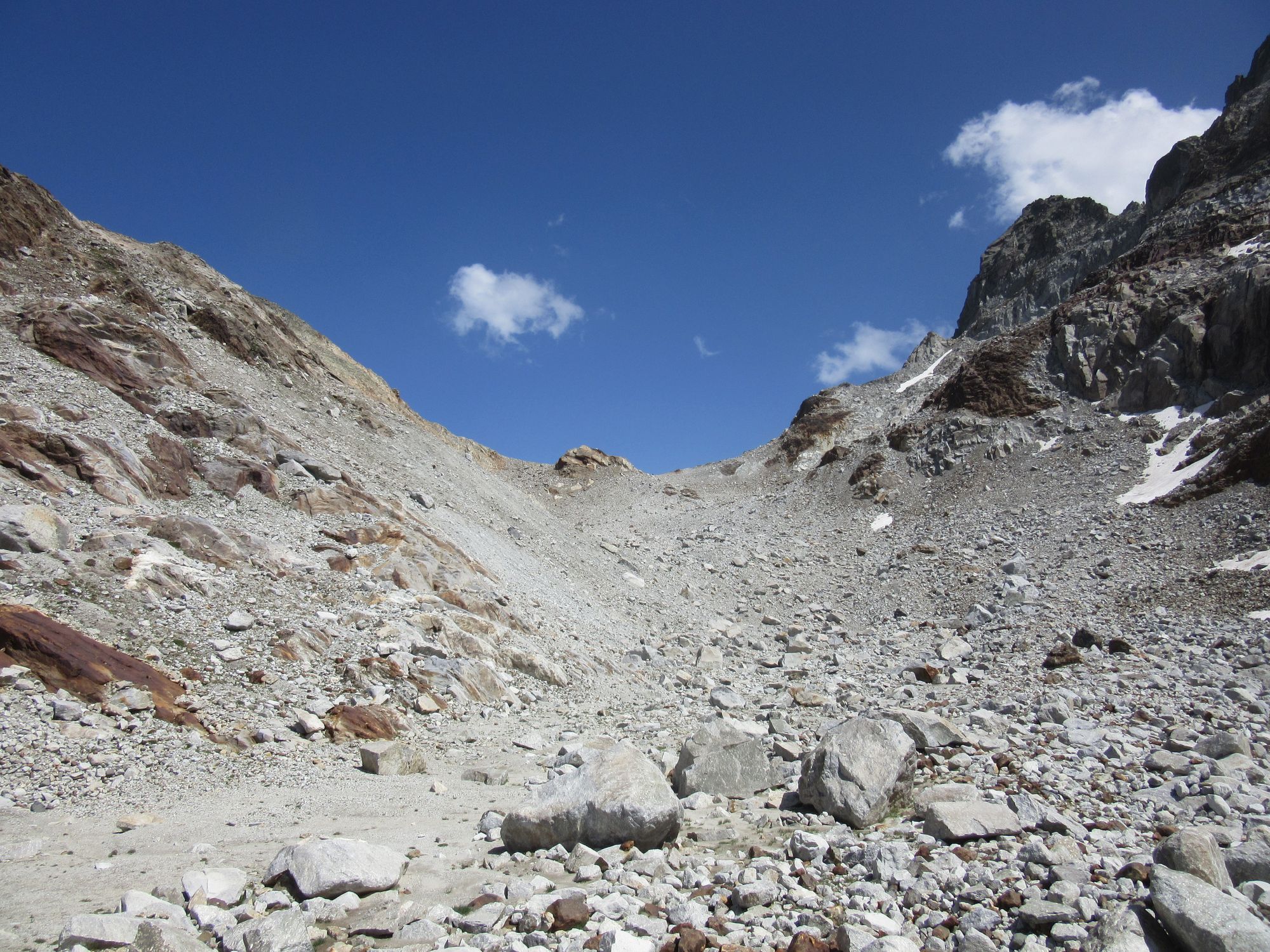 From the Col, I finally headed down from the seemingly endless rocks to more welcoming terrain.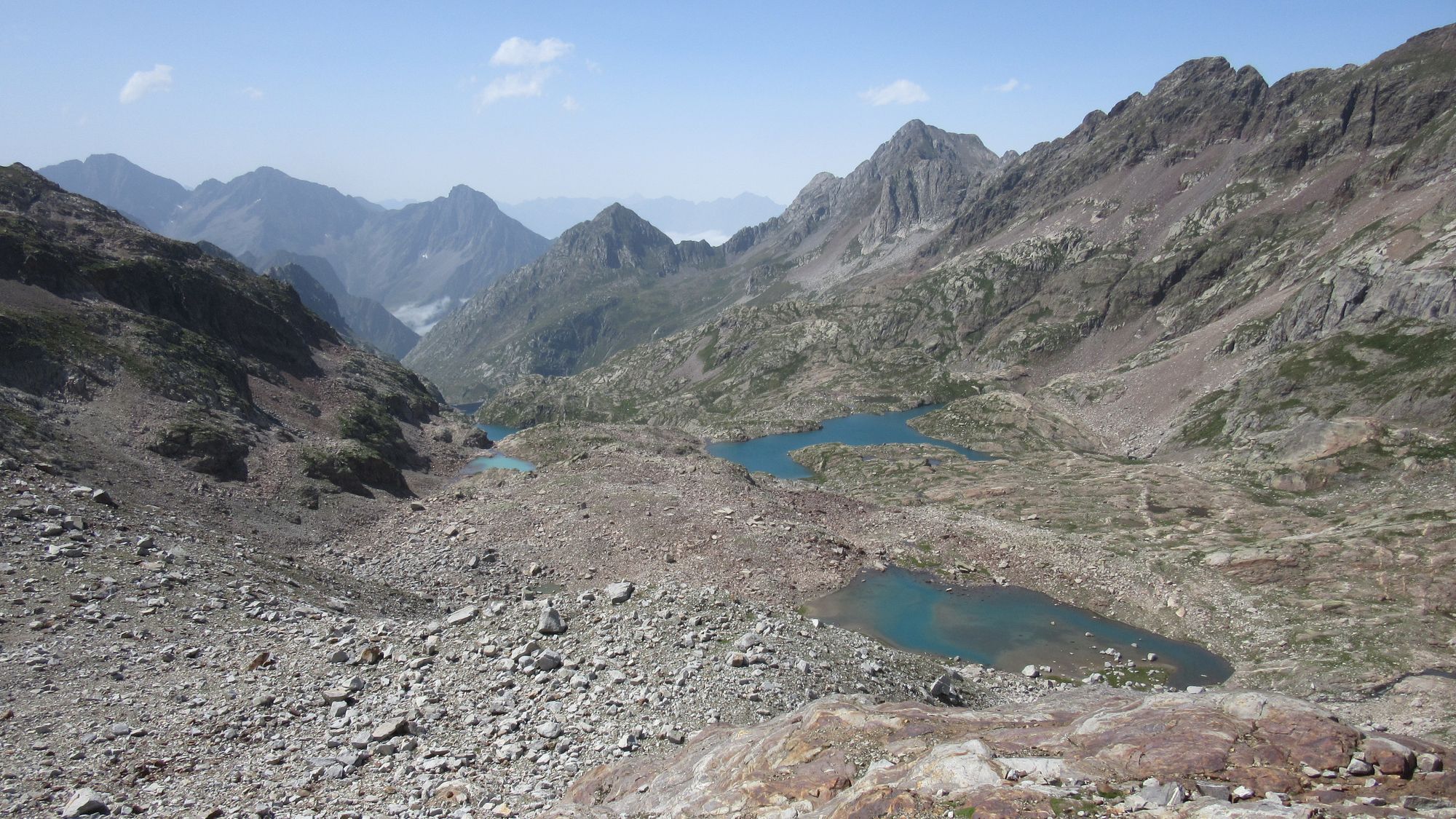 At Lac du Millieu (2510m) I found a nice tent pitch with a colossal (tent height) stone windbreak. After all the battering the tent had been taking from overnight winds recently, that clearly had to be the place to stop.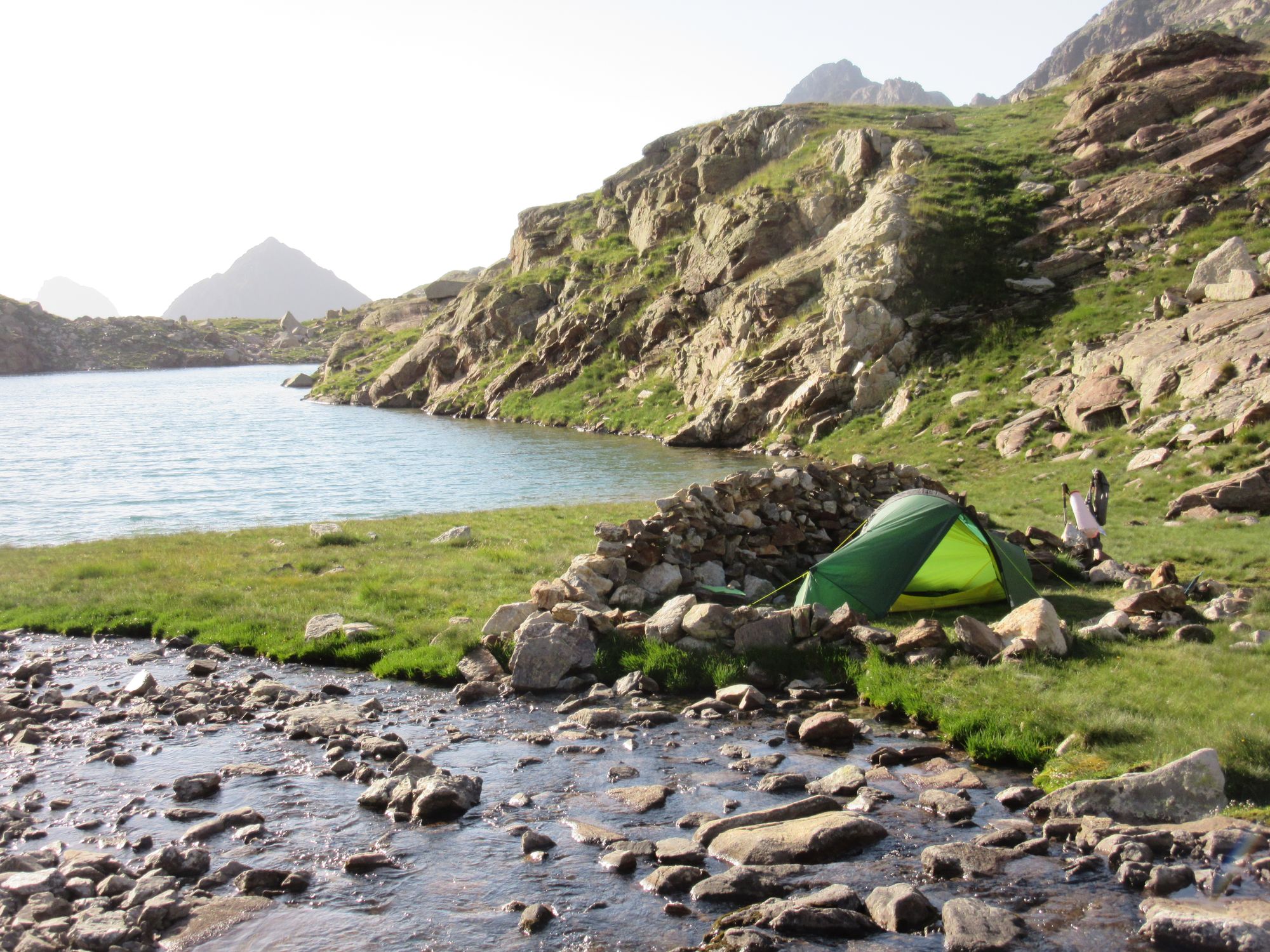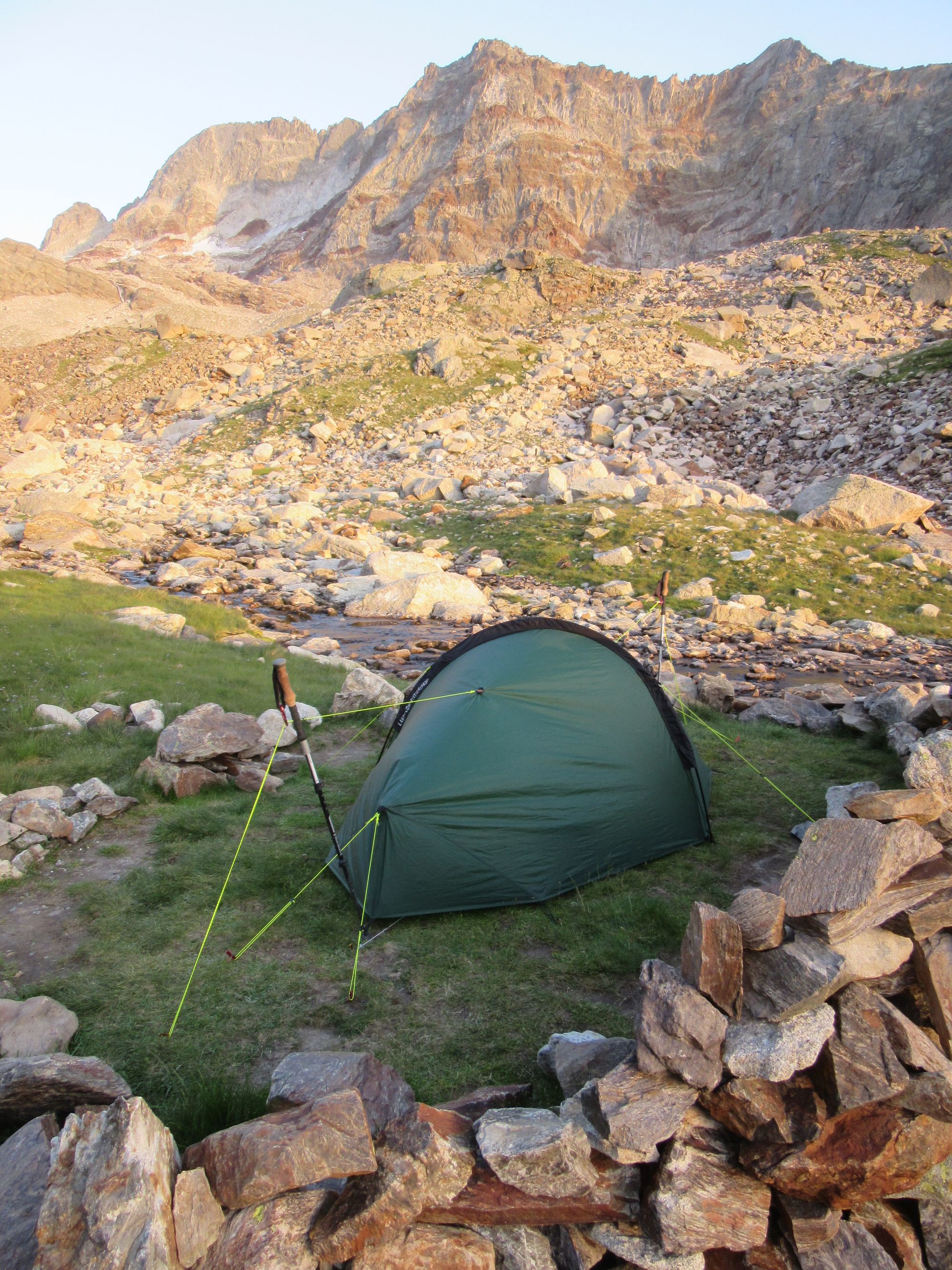 A quiet night was had; not sure if because of the windbreak or because the winds had eased off anyway or because I was completely knackered.
Day 22: Lac du Millieu to Cabana d'Anescruzes
Continued down past the other lakes and then along the interesting high-level route through the old mining works.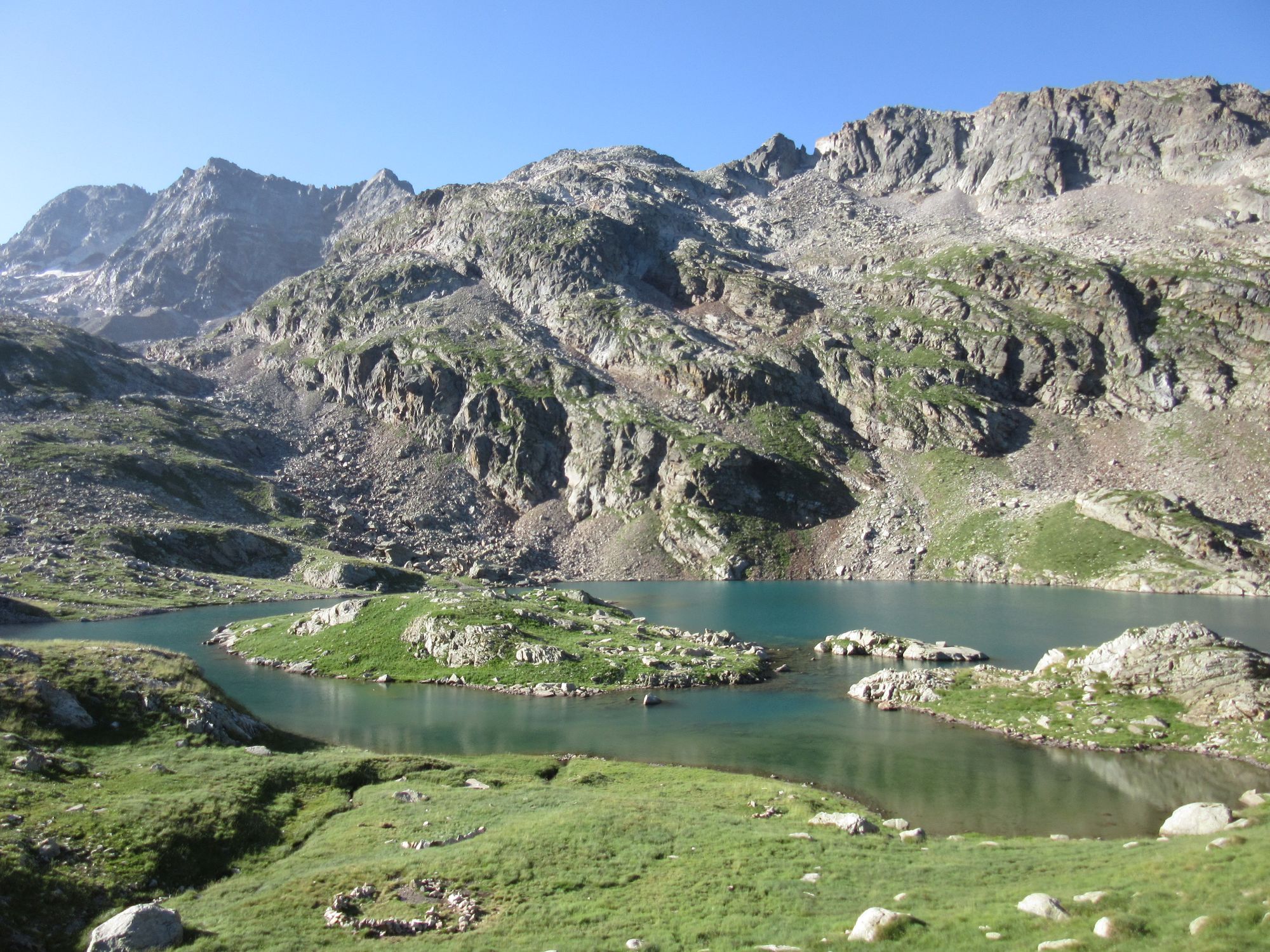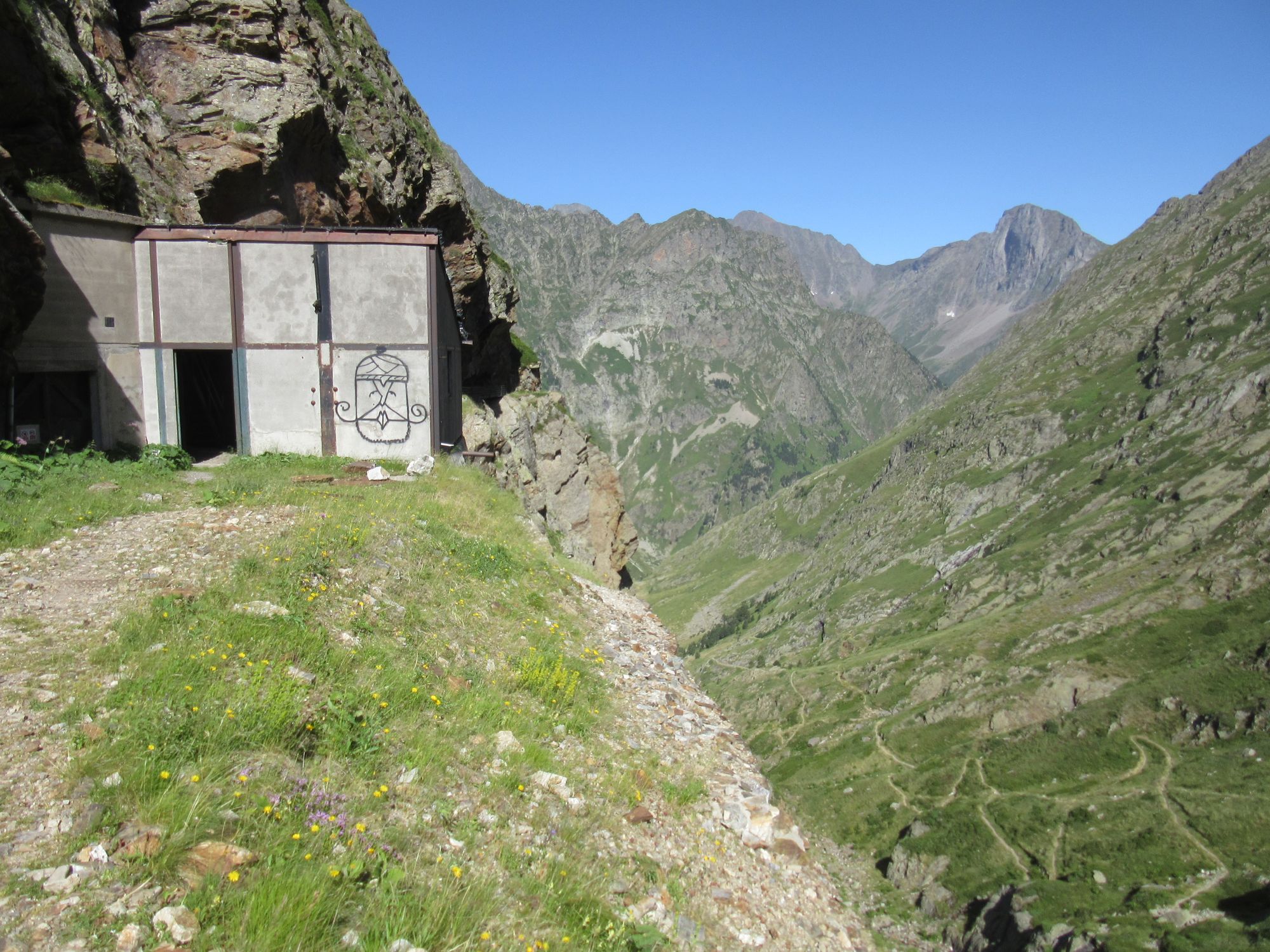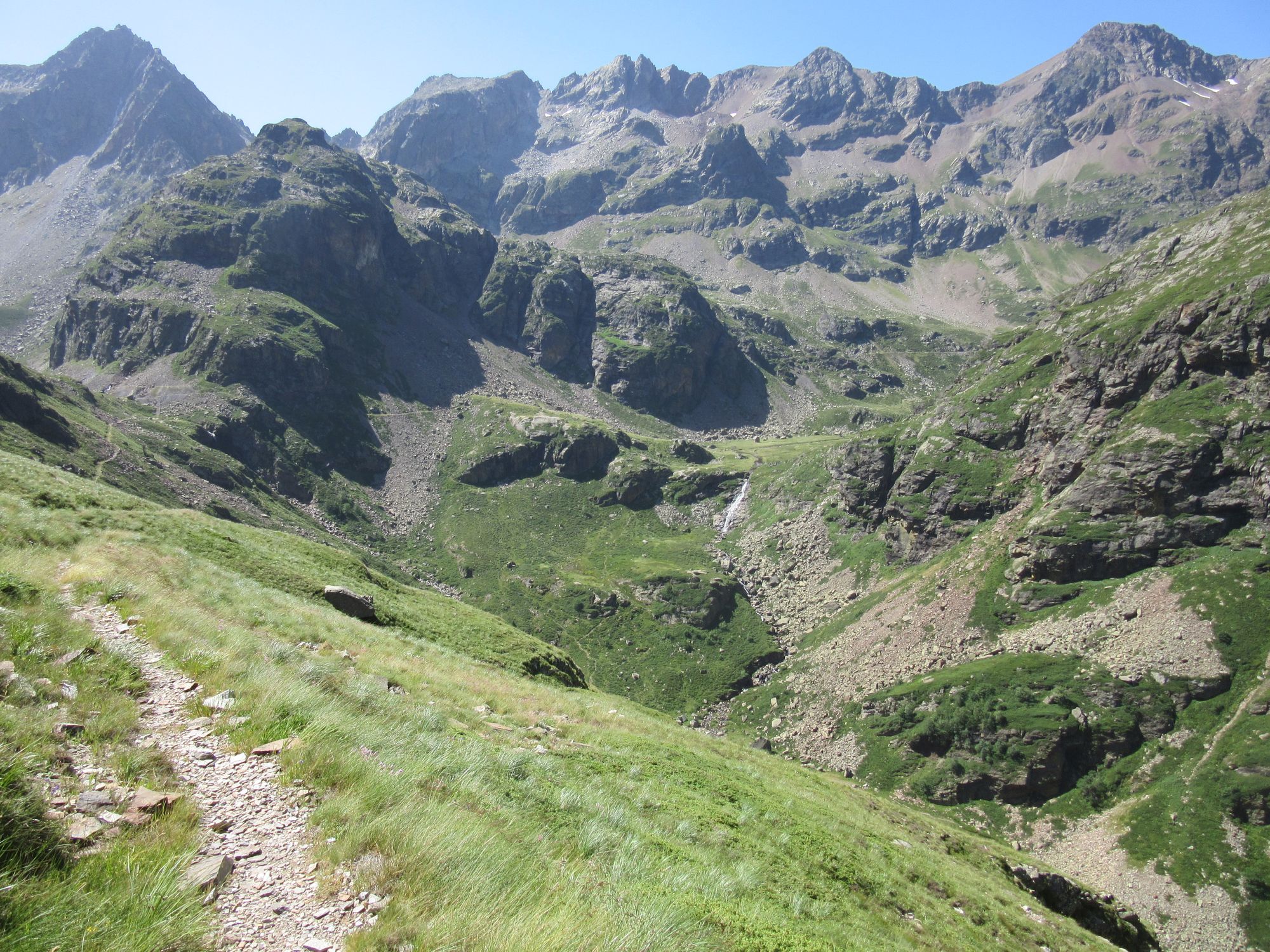 Stopped for lunch at the (unmanned) Cabane de Prat-Cazeneuve. I sat outside, there were more flies in than out.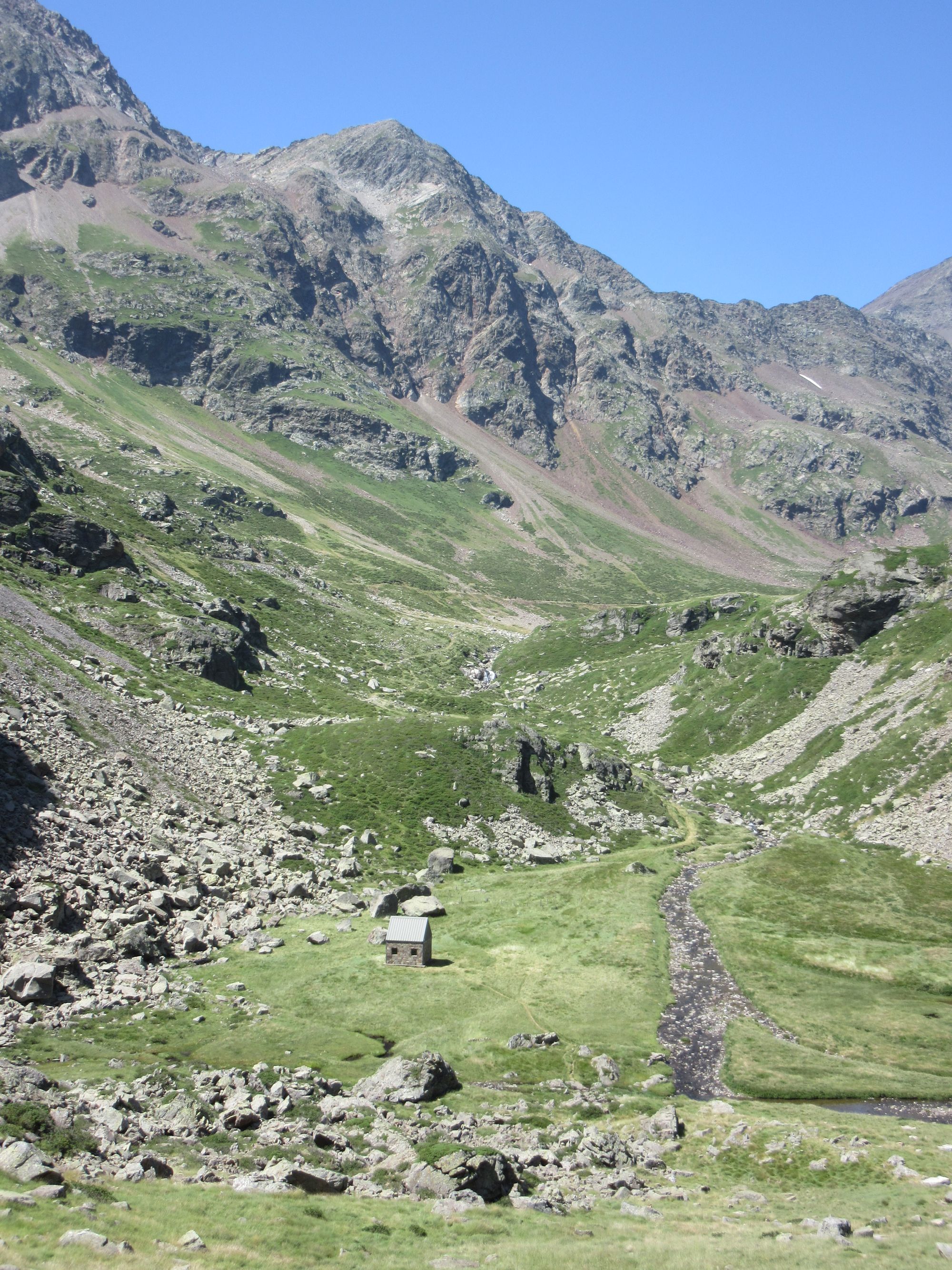 Then over the Port d'Aygues Tortes, the south side just as nasty as I remember it being from last time.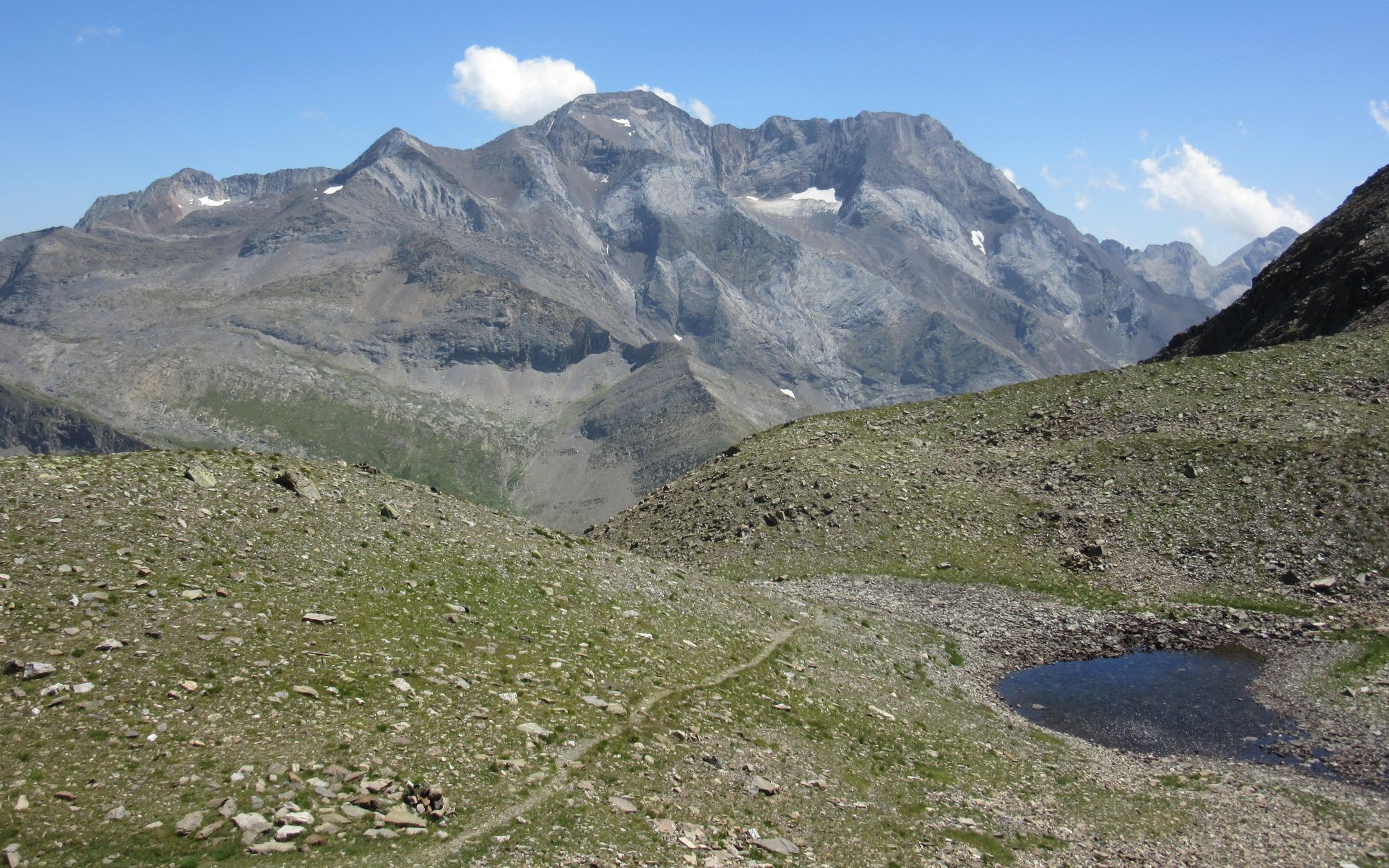 It was blowing a gale on the Spanish side so I decided on an early stop to make use of the tiny and basic Cabana d'Anescruzes rather than head down and find myself in the relatively developed (bivouac-unfriendly) country around Viados in the evening.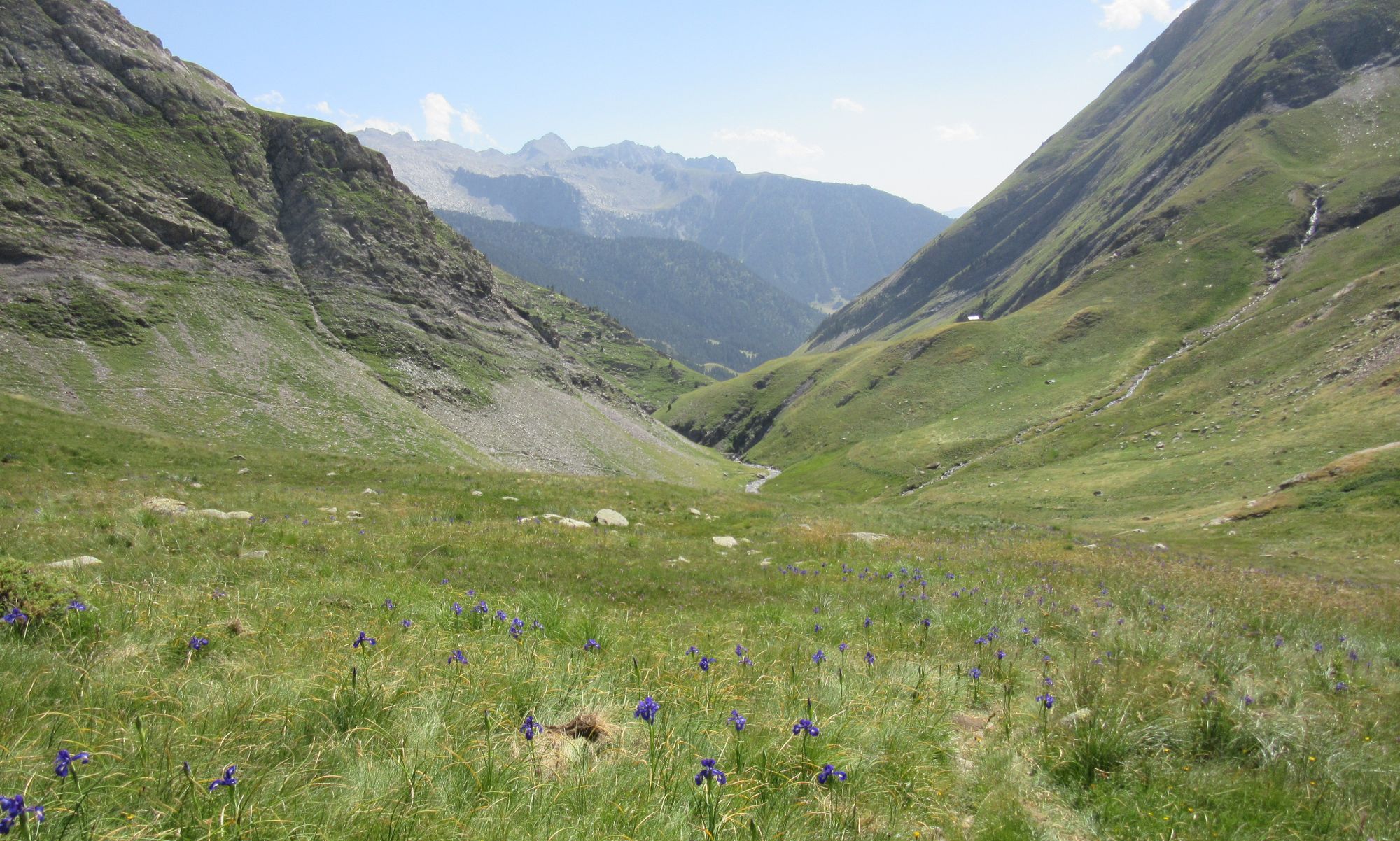 Day 23: Cabana d'Anescruzes to Refugio de Barrosa
Down to Refugio de Viados for second breakfast. They were expecting the first runners in the Posets-Aneto race - there were guide flags in place on the GR11 around here - to be passing by about one-ish.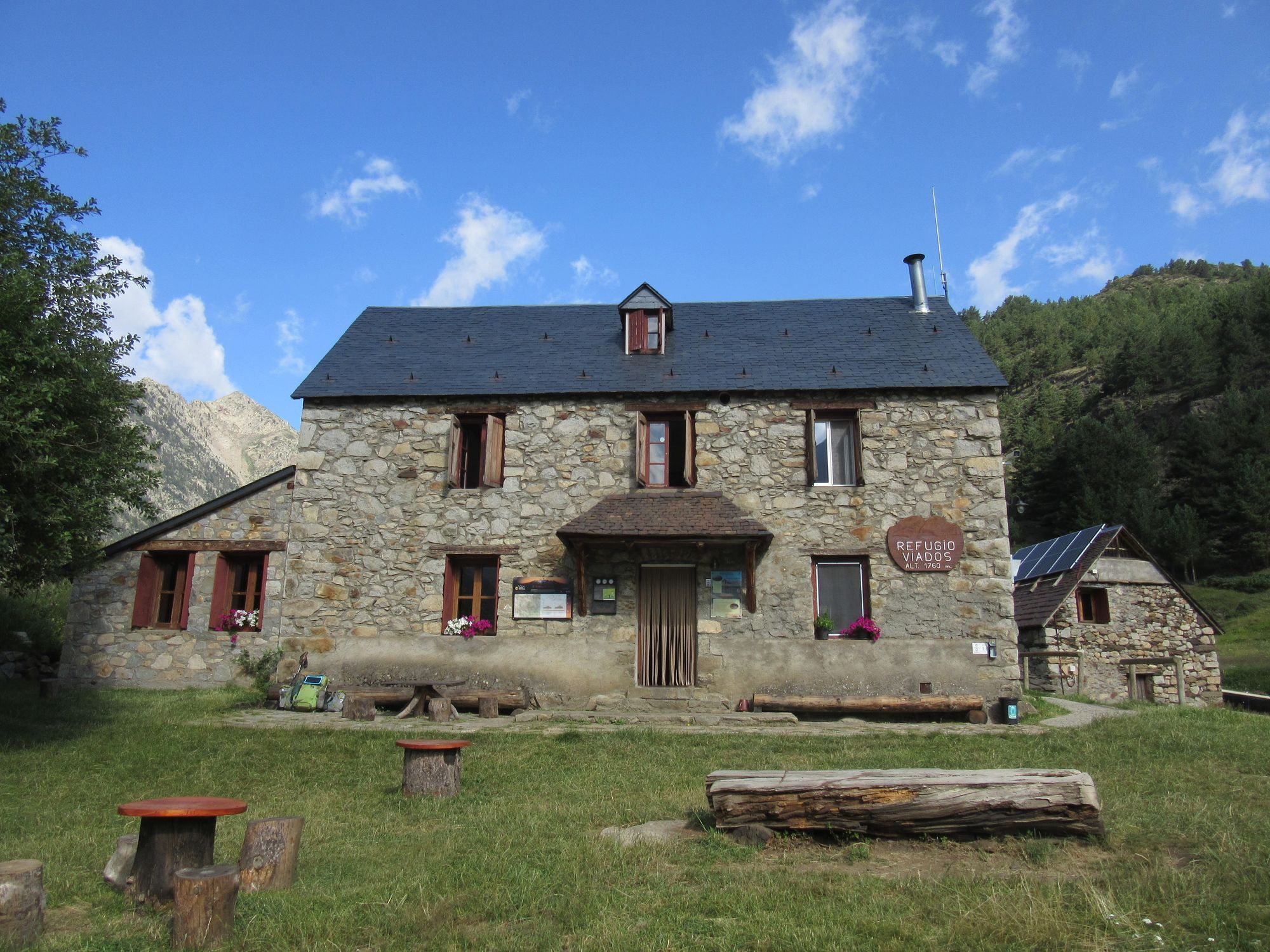 Then it was time for the long plod over Paso de los Caballos. I remember this as being one of the dullest days on 2018's west-to-east, but it's actually a little better in this direction I think; the climb is not without interest, then you can fly down the tedious boring dirt road bit on the west side.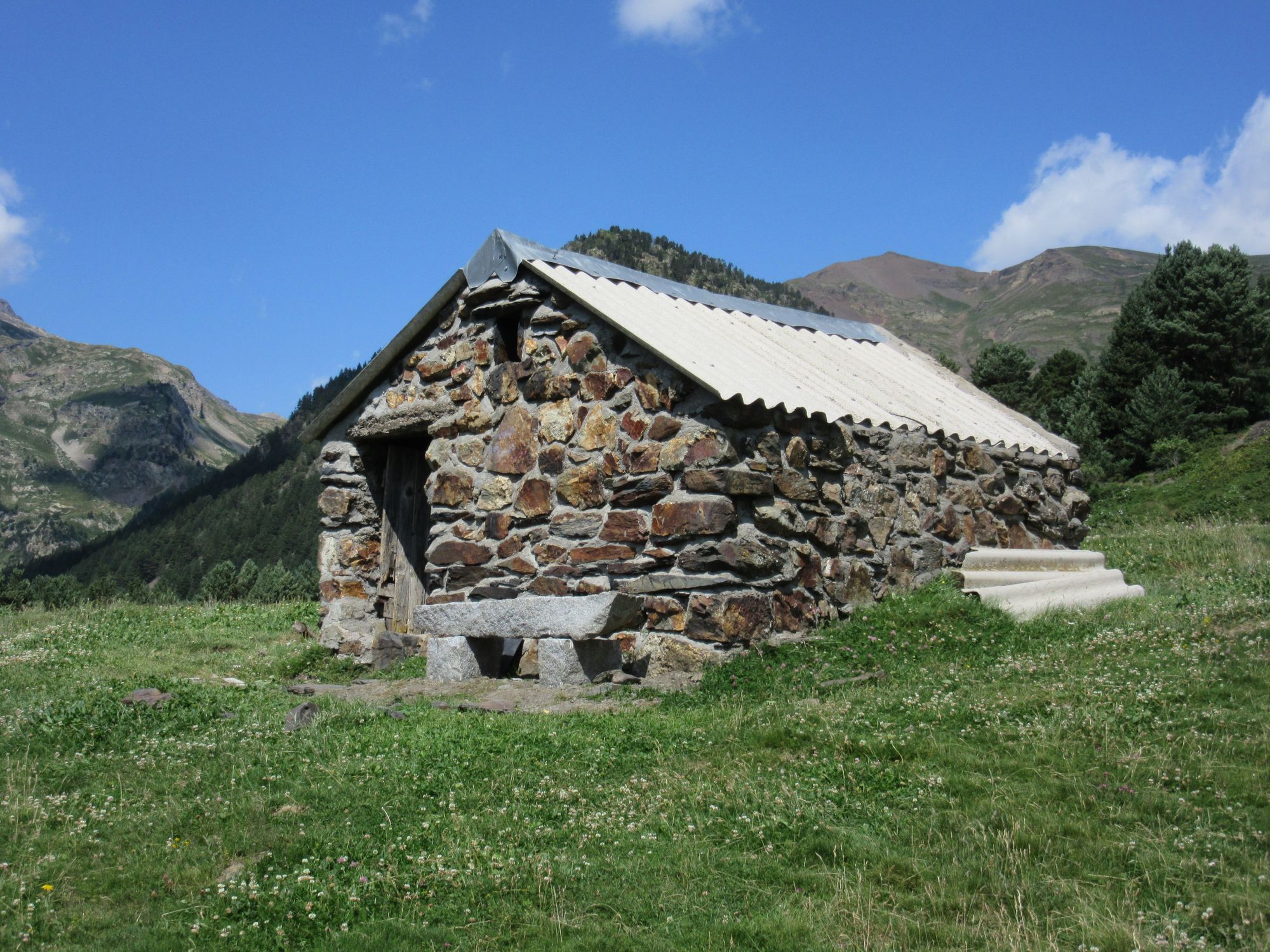 There is now an excellent bar/restaurant (La Pleta Bar de Montaña) at the junction with the A-138!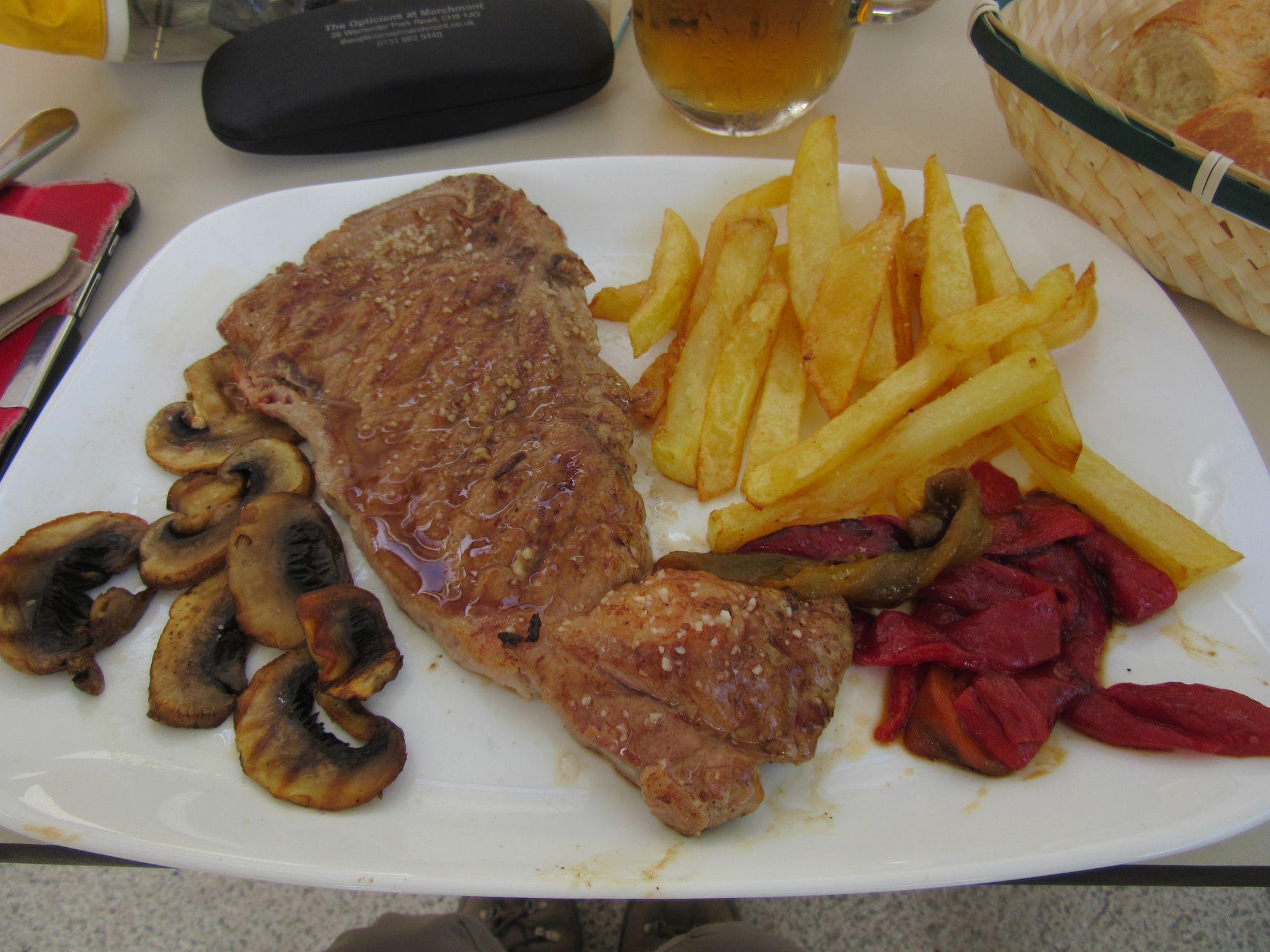 I was running a little low on lunch/snack supplies so decided to take a look at what Parzan had to offer (Google maps reckoned 10 minutes walk to the first supermarket but I think it's more like 15). Worthwhile... I got some peaches, bread, cheese, chorizo, snacks etc and port sold by volume for 3.55 euros/litre had to be taken advantage of. They were happy to let me fill a Platypus bottle with a 1l line marked on it after some consultation with an authority; I think you're normally supposed to buy & use the containers they sell.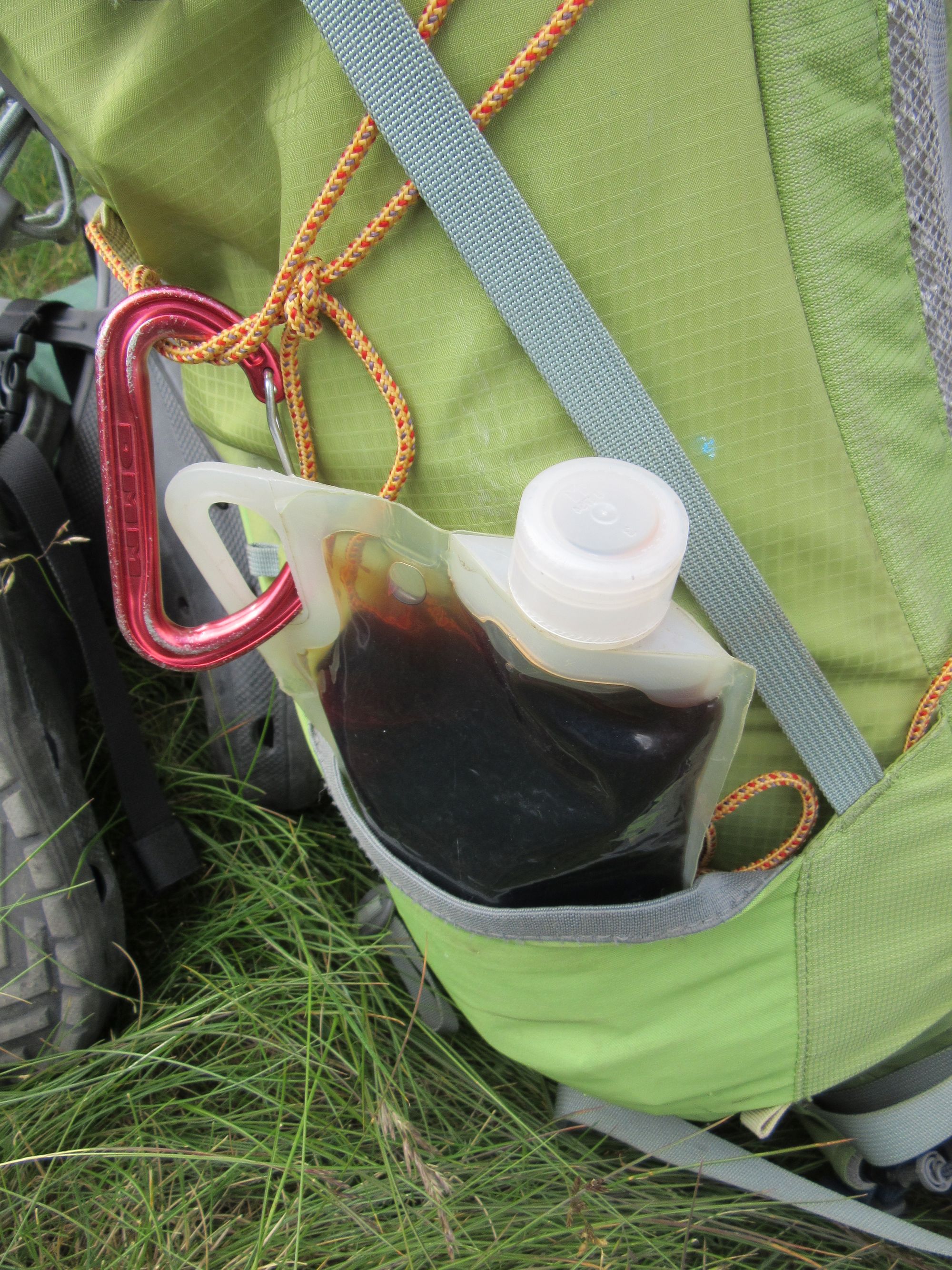 Of course that little excursion meant a bit more tedious tarmac bashing up the A-138 before the turn-off to the Barossa valley. There were a few possible tent pitches in the woods but cows had been through recently and it was quite messy, so I just ploughed on up to the Refugio de Barrosa and found I had it to myself. This probably shouldn't have been surprising: if the weather's any good - and it had been - any eastbound HRPers would surely prefer to bivouac up at the Lacs de Barroude.
There were a flock of isards outside... bergers had put salt-lick on the rocks in the area. When the isards fled, cows moved in.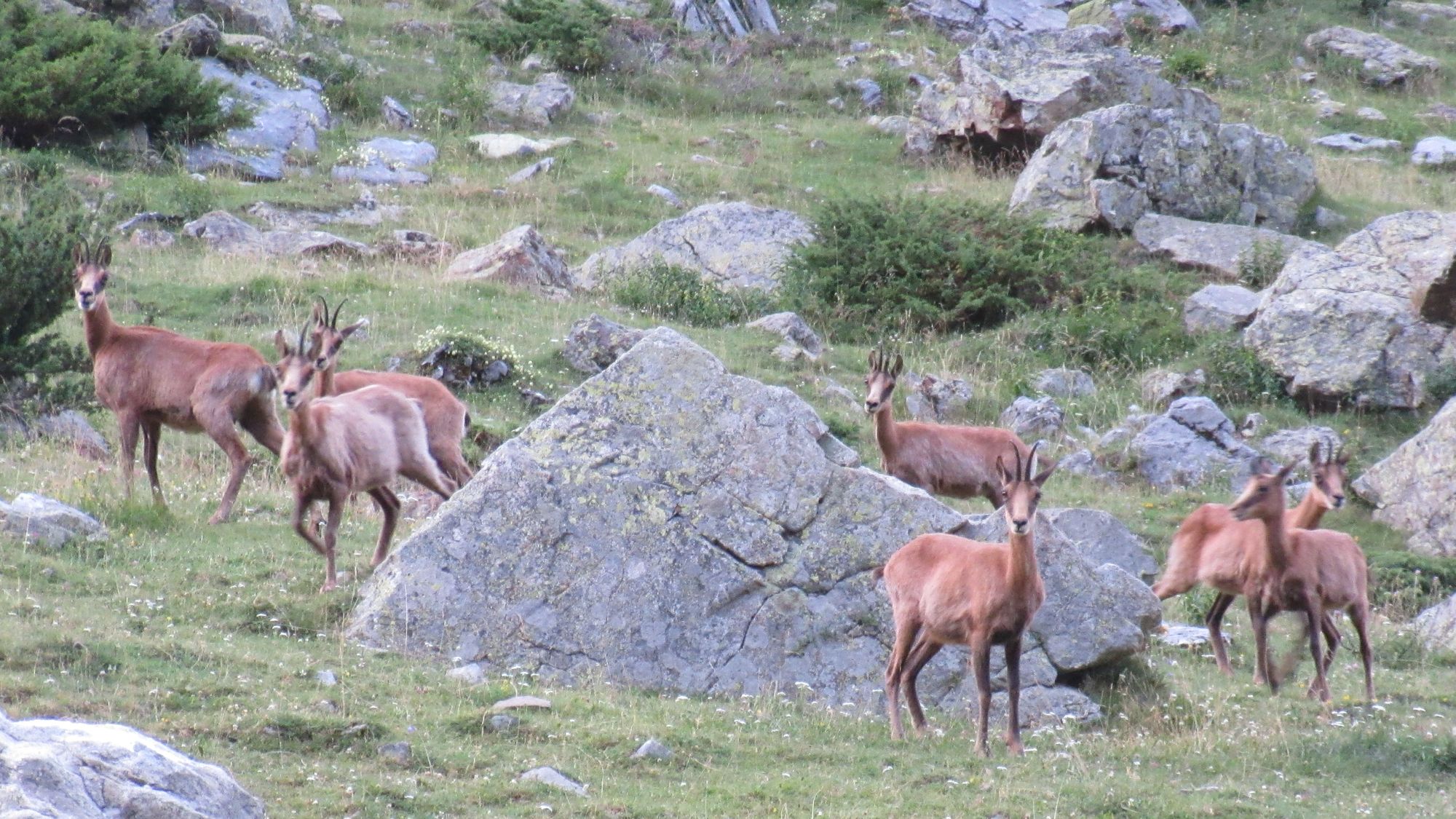 A thunderstorm and rain later.
🧐
I also stayed here on 2018's W2E (it was all foggy up at the lakes then) and remember it was a bit disgusting: lots of toilet paper and piles of crap just around the back, and lots of flies, and when those flies landed on your food... ugh! It seemed much cleaner this time though, thankfully.
Day 24: Refugio de Barrosa to Lacs de Barroude
Opened the Refugio de Barrosa's metal door in the morning to see surprised isards bolting in all directions.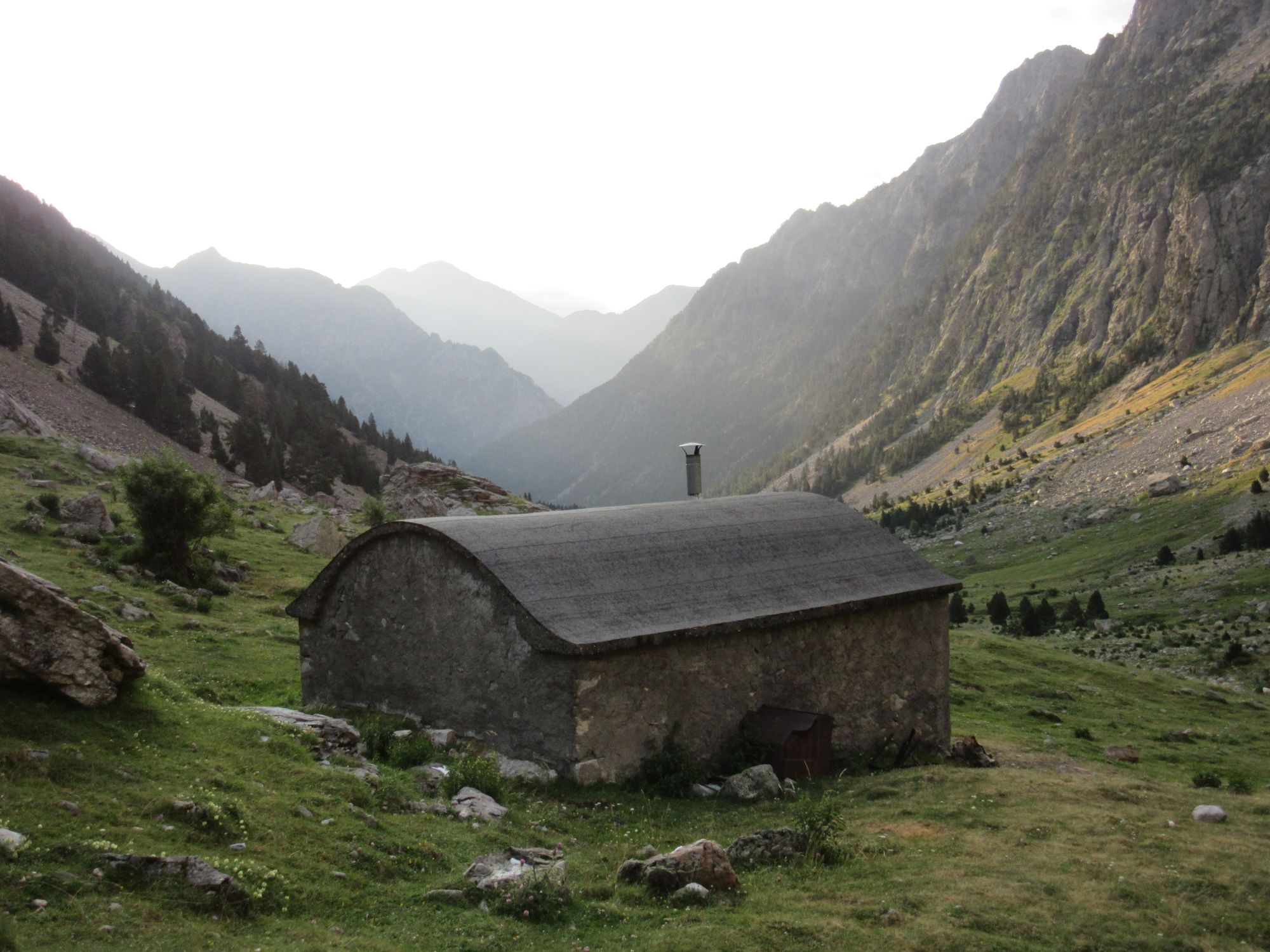 A slow start; no need to rush when I was just intending a short day up to the Lacs de Barroude.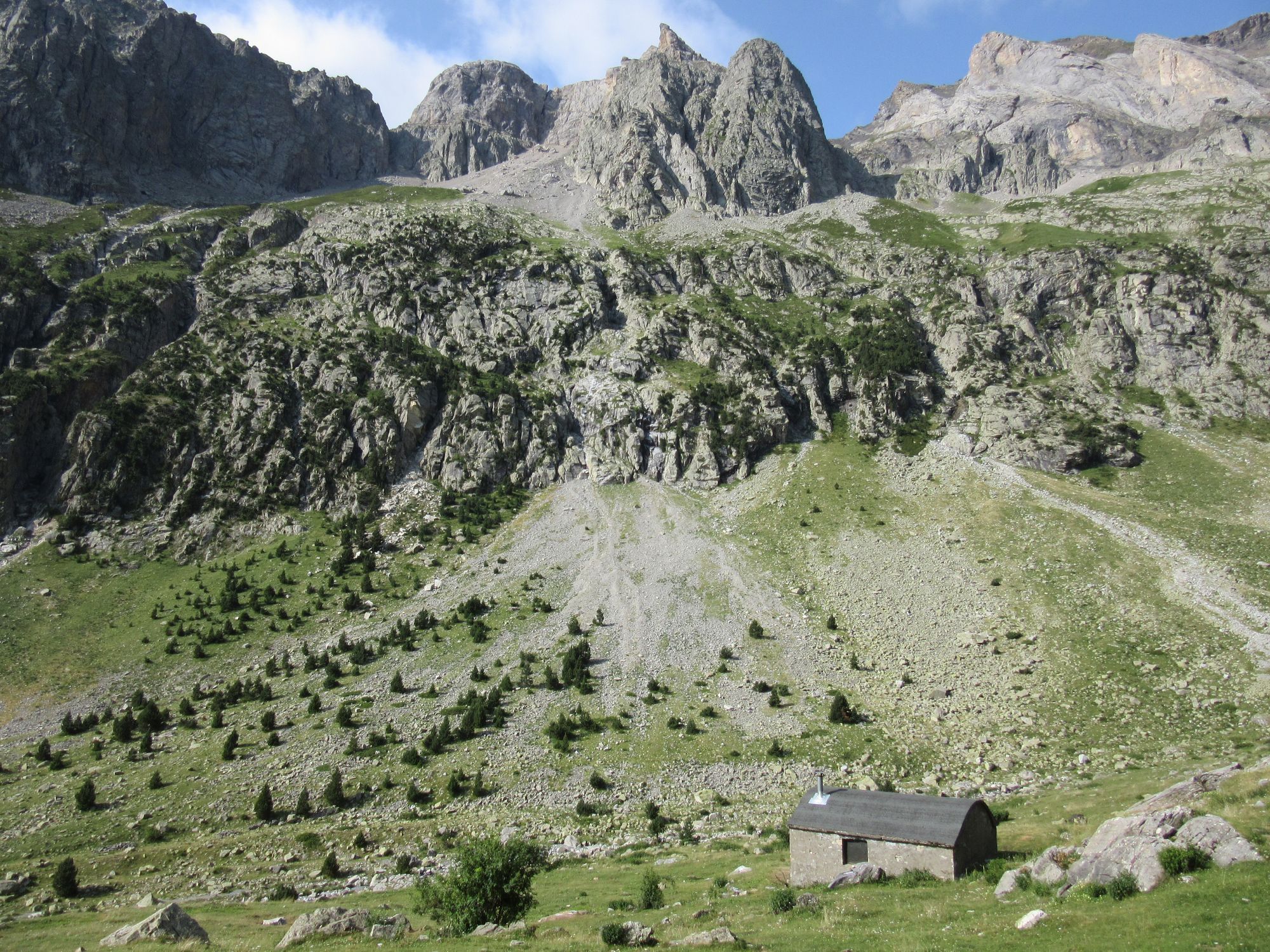 The climb is very well graded with long wide zig-zags... much better for this direction than as a descent, I think.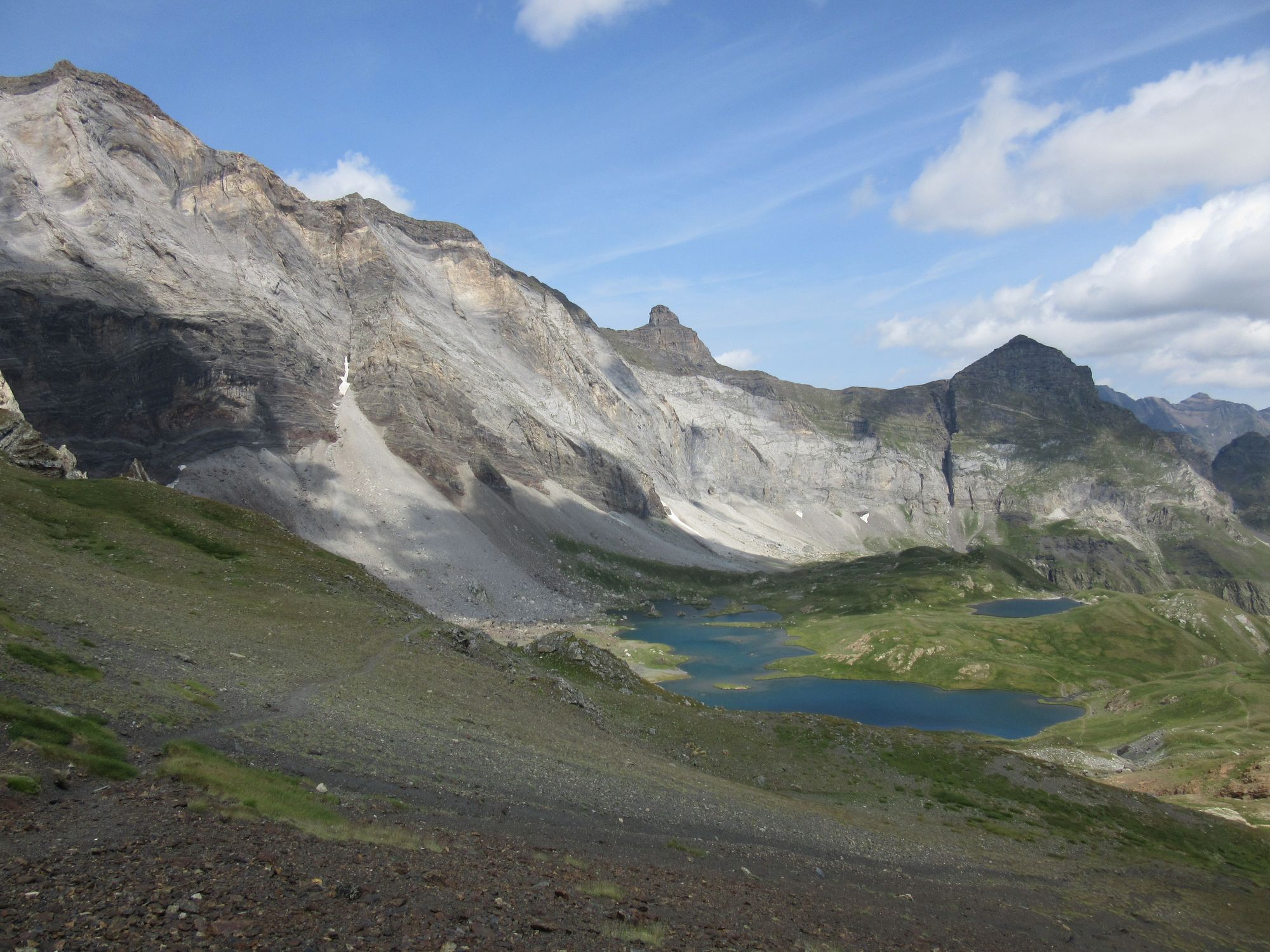 Had a leisurely lunch with all the fresh booty from Parzan, then did some laundry. Quite a lot of daytrippers and fisherfolk around, but then it was a Saturday. It was breezy around the lake but an InReach forecast claimed it would be easing off (which it did). Found myself a tent pitch between the "wall" and the lake behind a mound creating natural windbreak, and enough flat slabby rocks to build a bit of a seat. An afternoon off!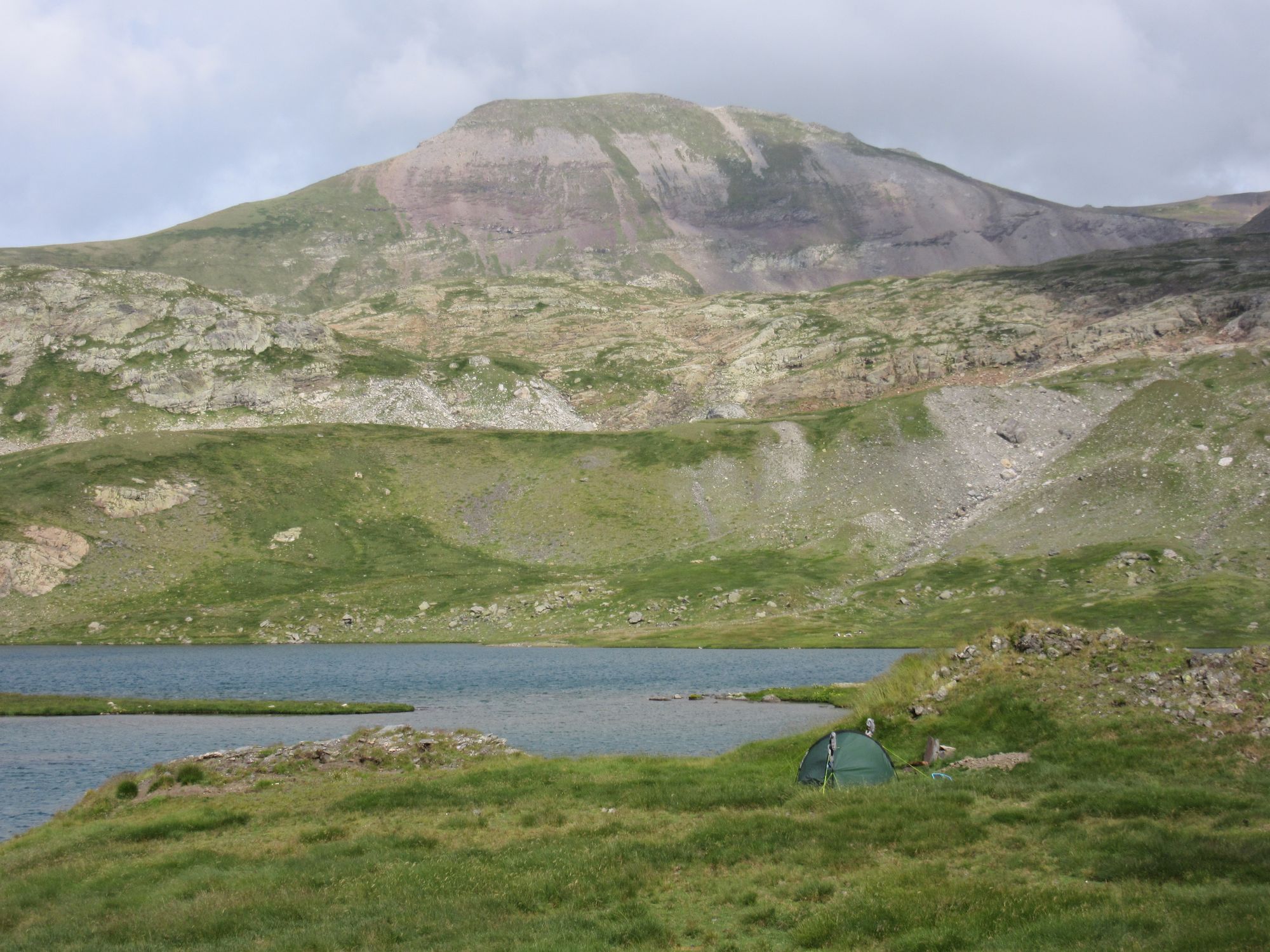 Day 25: Lacs de Barroude to Vallee d'Estaube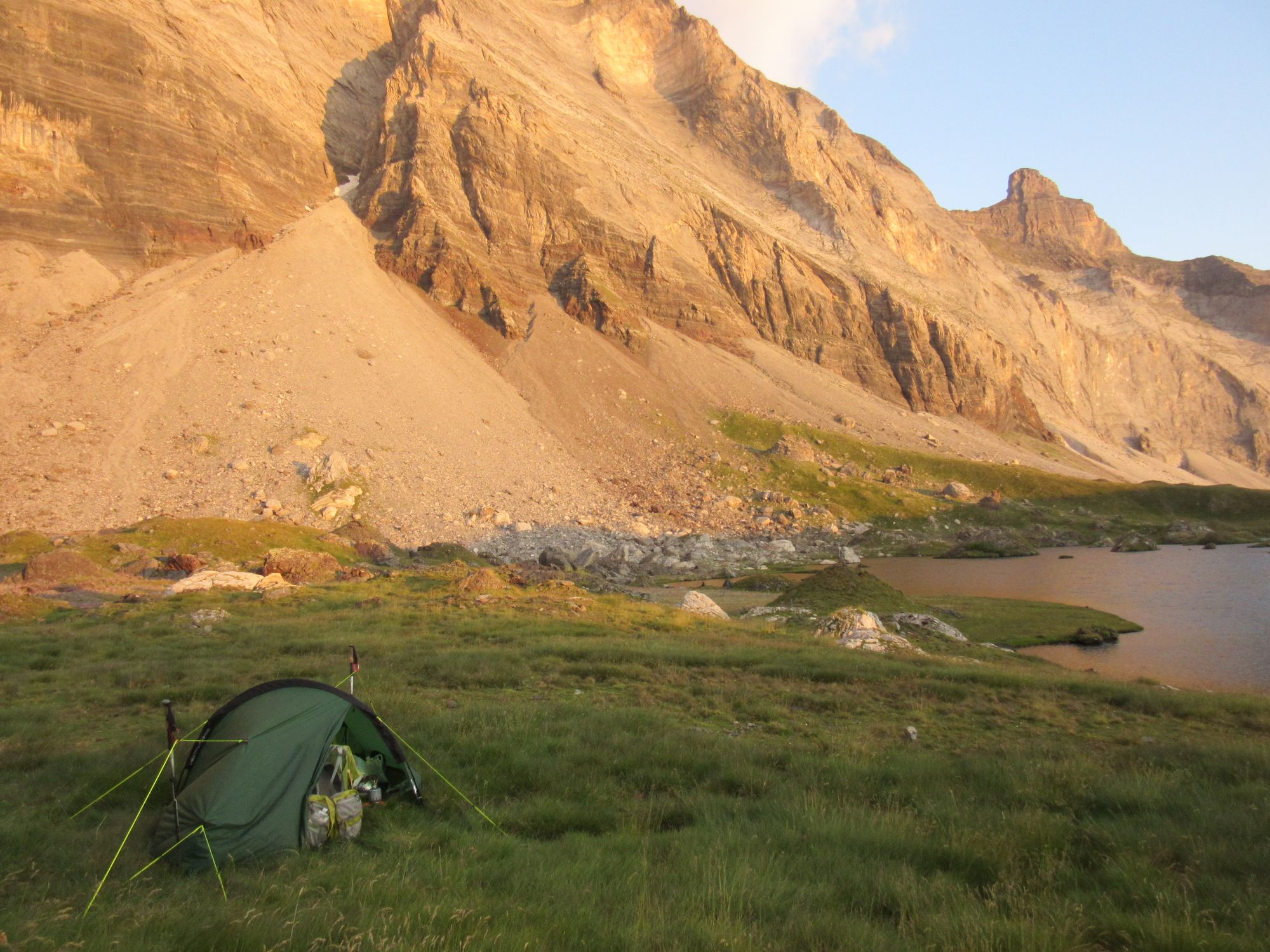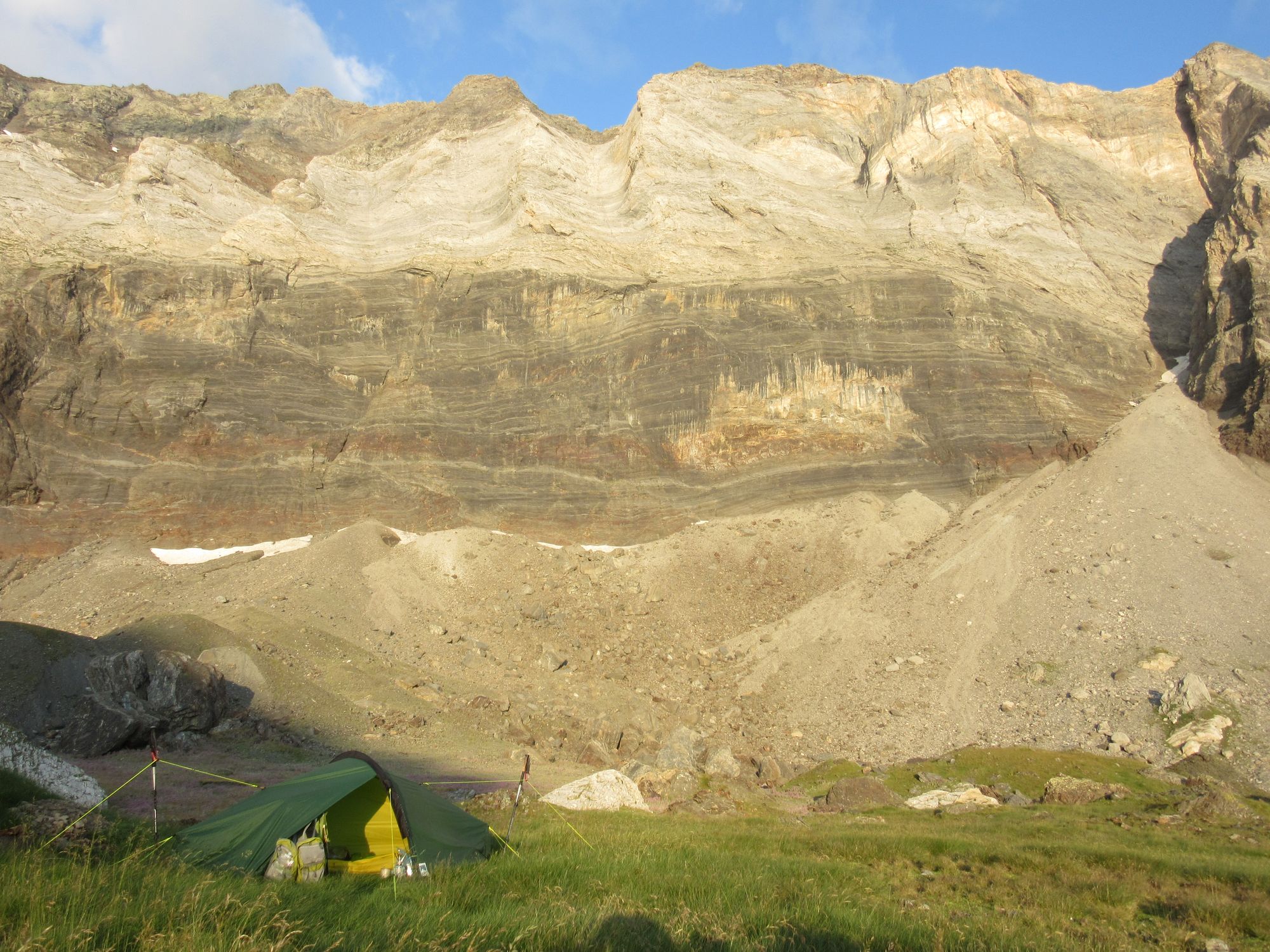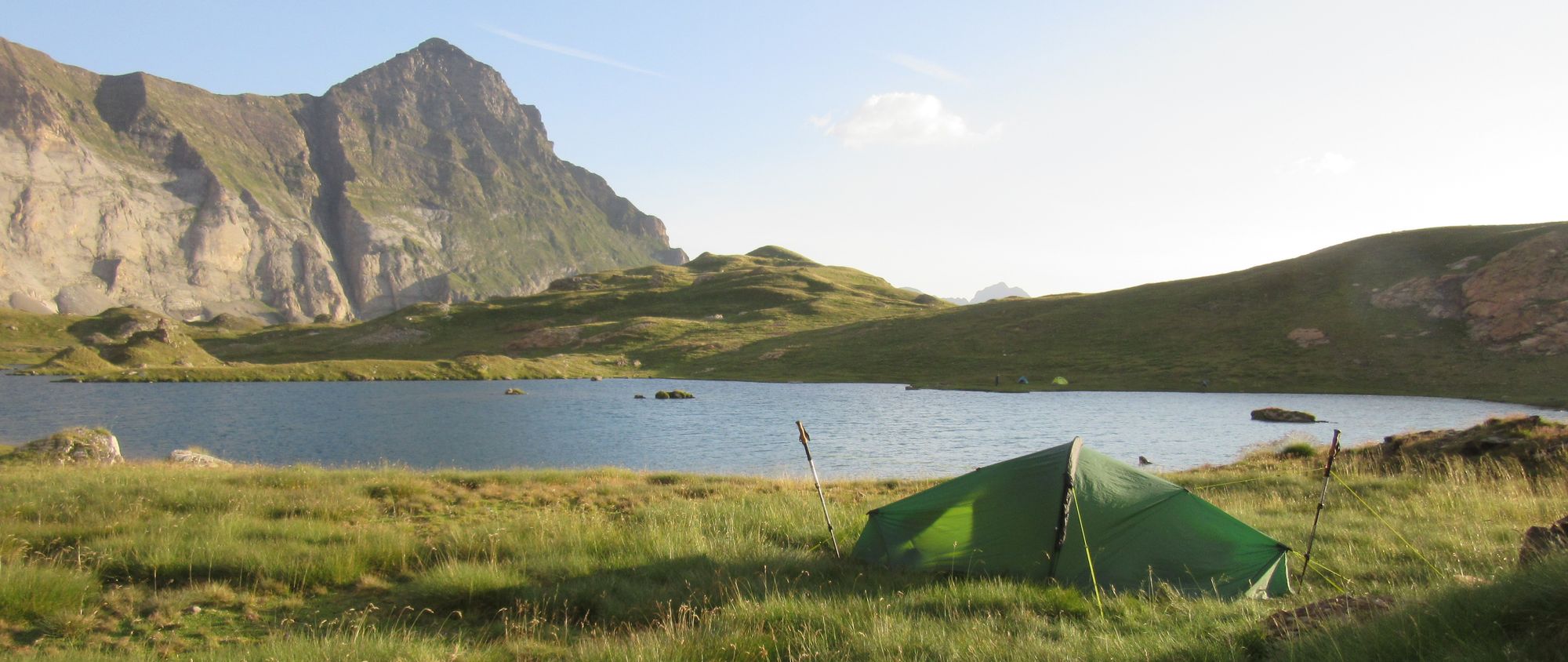 Broke camp and made the traverse under "the wall" and over the two "hourquette" passes.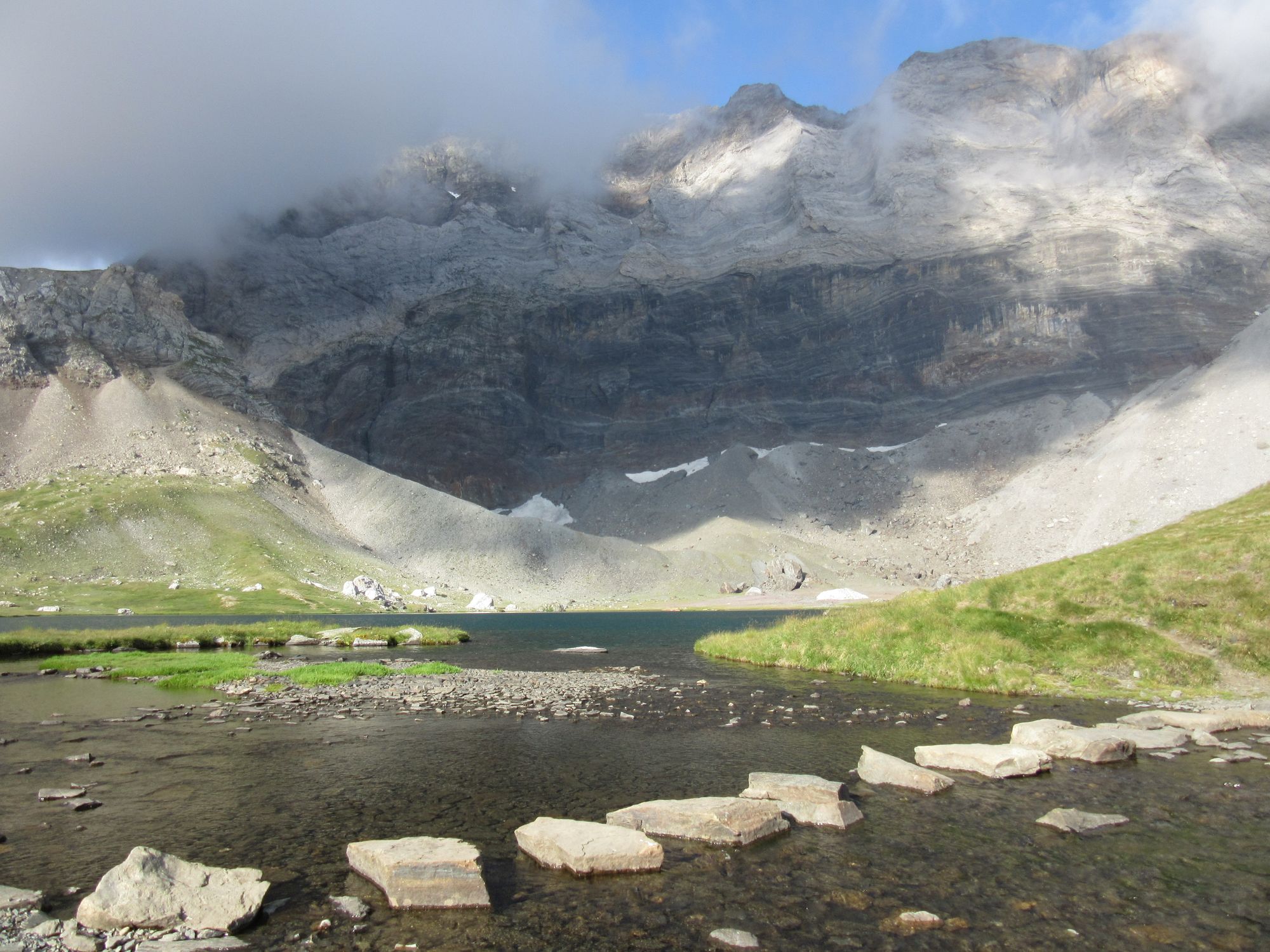 🧐
This time conditions were clear, but on my 2018 west-to-east most of this stretch and the lakes had been in cloud. There was still a lot of snow around here too then; crossing some of the snow-filled gullies in the mist with no idea what their run-out was like was, uh, "fun".
Overshot the Hourquette de Heas junction... the sign there is damaged and doesn't make it clear it's a junction and I went wandering on towards what I eventually realized was the Port de Campbieil instead. Ooops... that mistake probably cost me the best part of an hour and quite a bit of re-ascent. Pondered taking the guidebook's "variant 3" here, but I didn't like the wind and cloud seemed to be building, so I took the regular route down.
Then time for some dull and hot road-walking between Heas and Lac des Gloriettes, and being a Sunday it was quite busy with daytripper traffic. I stopped for refreshment and a crepe at the "buvette" by the dam, then headed up the Vallee d'Estaube in search of a pitch for the night.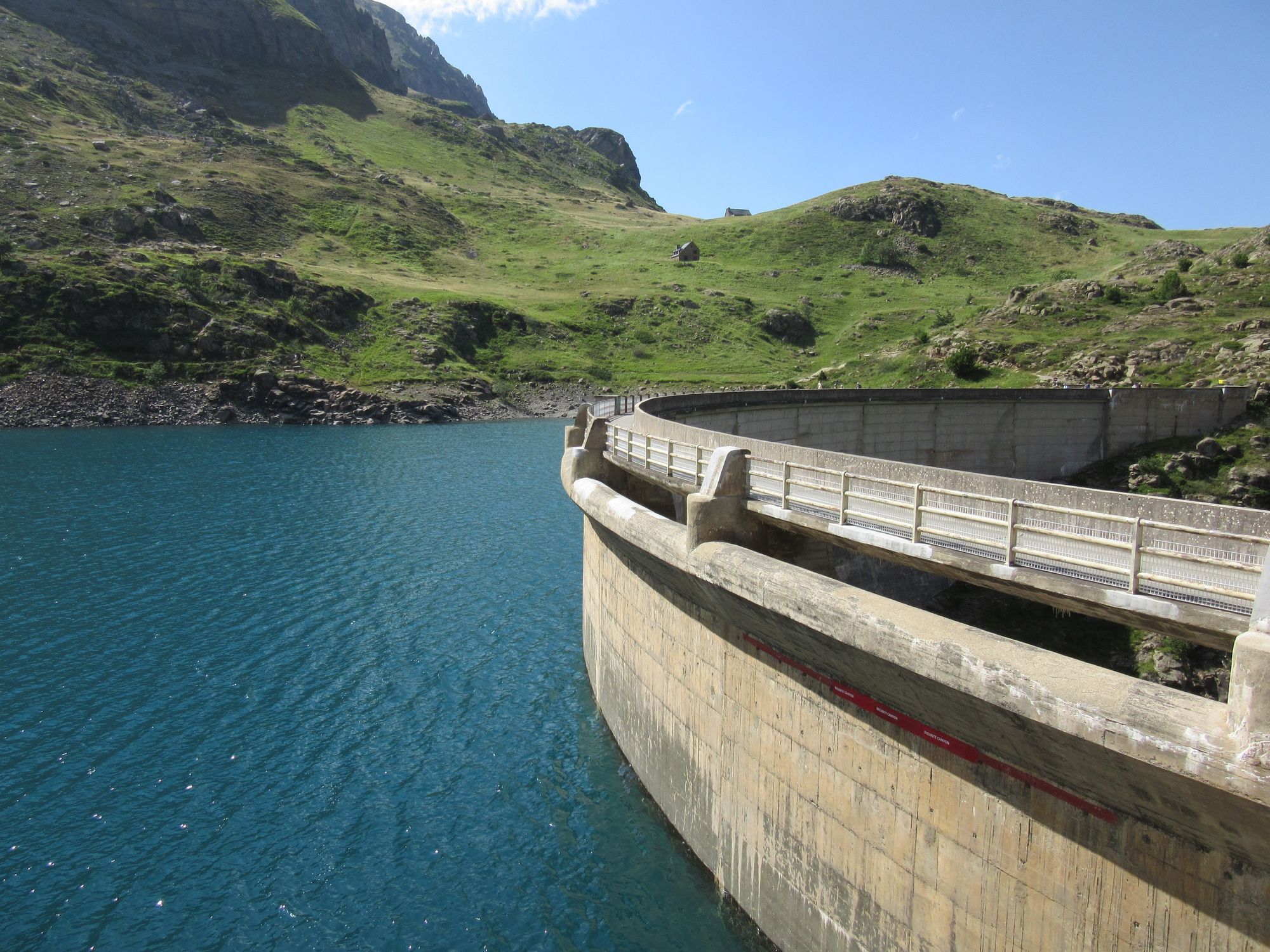 Unfortunately this was one of those "valley of the cows" places and it was hard to find a gap between the cow-pats that was big enough for a tent. I took a look in at the Cabane d'Estaube, but it was dark, austere and uninviting so I kept hunting for a tent site and eventually found something acceptable near the river opposite the Cabane.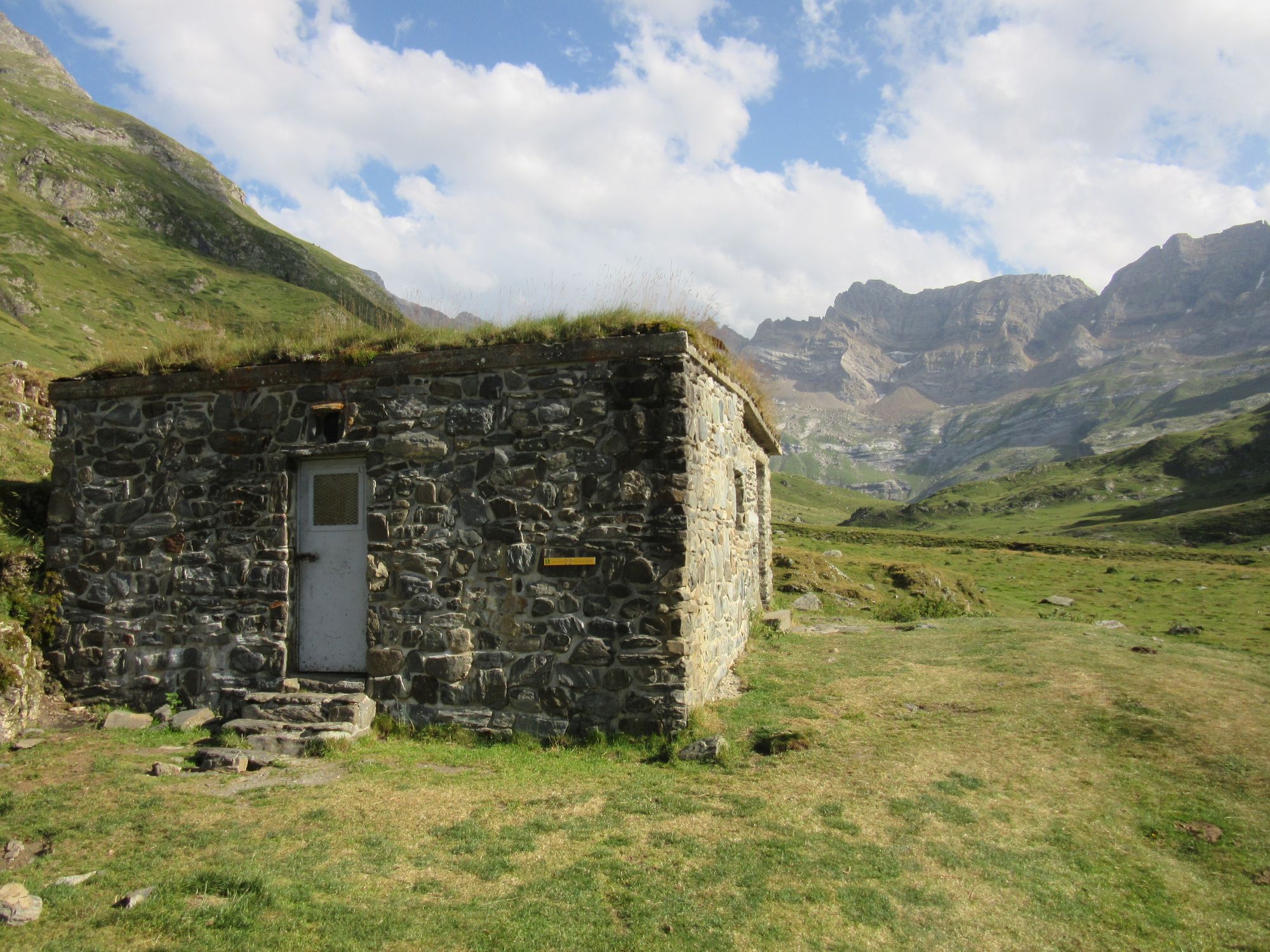 Day 26: Vallee d'Estaube to Gavarnie
Short day over the Hourquette d'Alans and down to Gavarnie, with a brief stop at Refuge des Espuguettes for coffee and cake.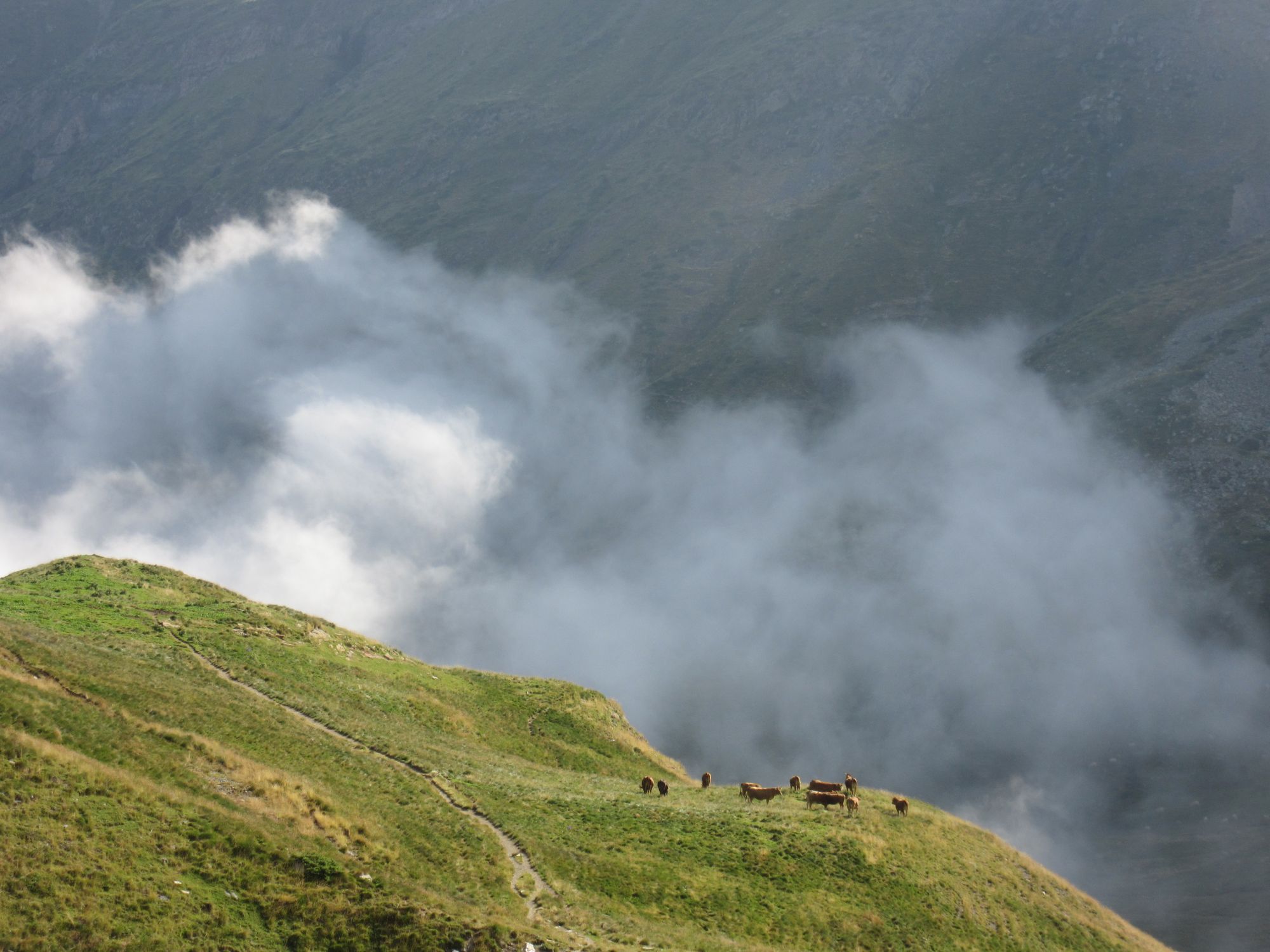 Ended up in a room at the "Oxygene" gite which seemed to be the cheapest option in town (€55 cash, including breakfast) for a single without being in a dorm or camping: basically they charge €50 for a 5-bunk en-suite room so could be very cheap for a group. Gite standard: bring your own towel and a bag liner. Good lunch at "Claire Montagne" and dinner at "Le Mourgat".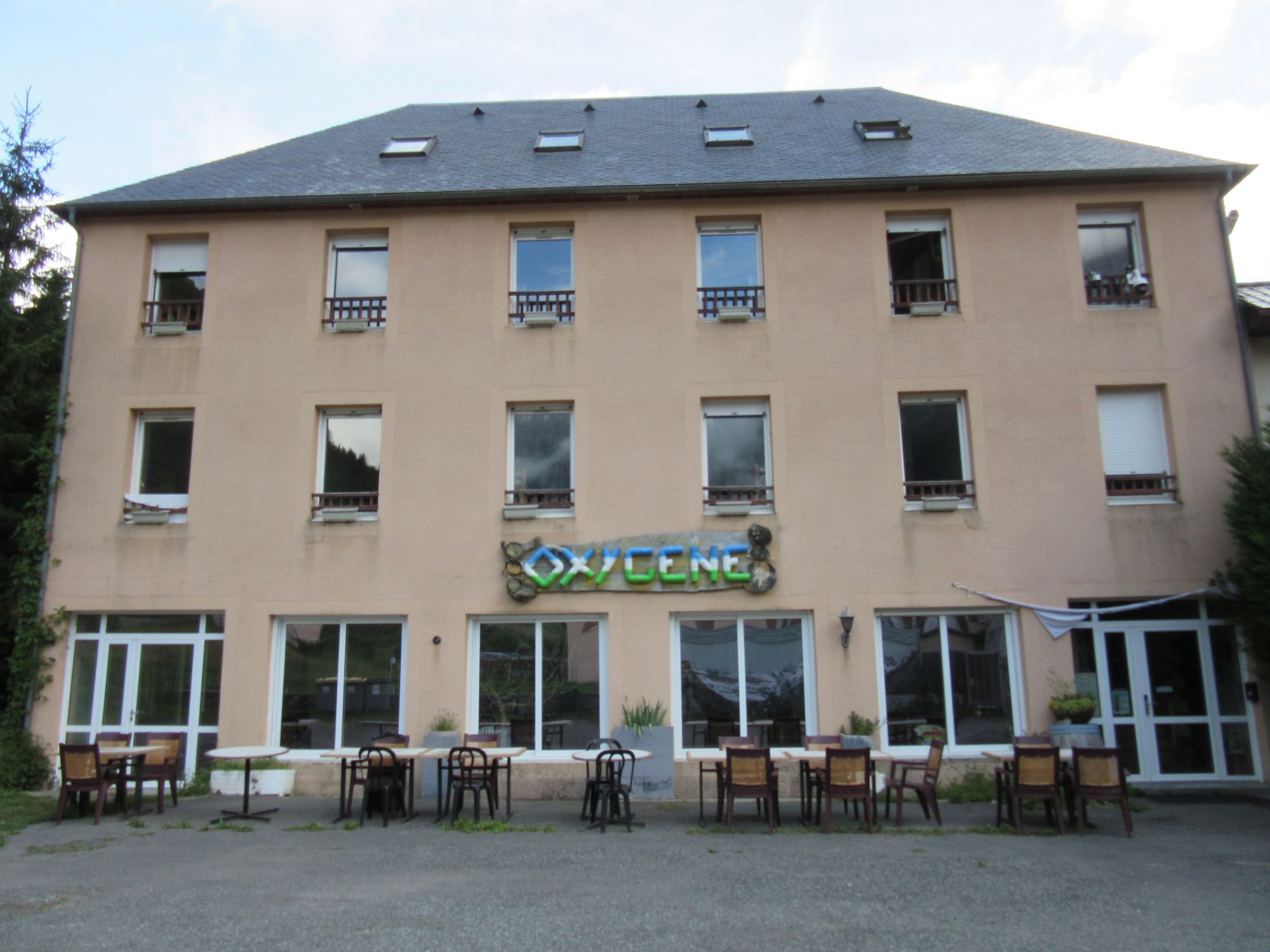 A good resupply at the shop; milk powder was available here. Had to buy 100g of instant coffee though (Salardu's shop had 75g packets and 50g jars). More couscous and dried sausage and peaches too of course.
Bought another can of gas (Coleman "C300 performance" 9€ at "Les rochers blancs", the other more obvious place opposite the tourist info had some other brand for €9.5). I'd bought three of these (Coleman C300) in the Toulouse Decathlon; I finished one just before Salardu (didn't use the stove so much in the far east... too hot!) and finished another one just before Gavarnie... figured the two I have now should last me to the coast (and they did, with plenty to spare).
The next stage to Lescun is described here.